Bonjour de Paris ...    
      "The way things are going these days… I got no explanation!"   
Chers Amis,  
I have started this newsletter several times over the past few weeks.  Every time I sat down to write, something came up that was more pressing and caused me to put this on the back burner. Getting everything in place for the release of our new CD and creating the material needed for booking the new "Funky Ella" band has taken many, many hours. For many of us there is no longer any balance between work and play, a consequence of having spent almost all of our time working at home over these past 17 months. I believe this is one of the reasons why things have seemed a little out of sorts for me lately. 
As is true with many of you, we have been vaccinated and have been looking forward to having a life beyond our home.  Sadly that has not worked out very well. Due to the populace who remain unvaccinated, soon people will have to show proof of having been vaccinated in order to do just about any social activity including being served in a restaurant or bar and going to a concert, movie or play. For now we are still basically homebodies with the rare exception of a sharing a meal with friends who have also been vaccinated. Speaking of meals, we had a great dinner at La Jacobine with our Dallas based friends Bobby and Sue (whom, pre-pandemic, we would see here several times a year). 
France allowed jazz clubs to open about a month ago. We have really enjoyed doing our gigs in Paris. It feels good to get out and about. Happily we have seen some friends from America who came to hear (and see) us while on vacation here. Earlier this month Leslie was touring with Rhoda Scott, next week she'll be down south with the Philippe Duchemin Trio. She has been sounding great. I think that having all those many months with no work was really good for her voice. We are looking forward to doing a little touring later this summer. However I can also see the wisdom of taking a break from all of that and spending some down time at the beach. It is really just a change of scenery that is the antidote to shake the COVID confinement blues.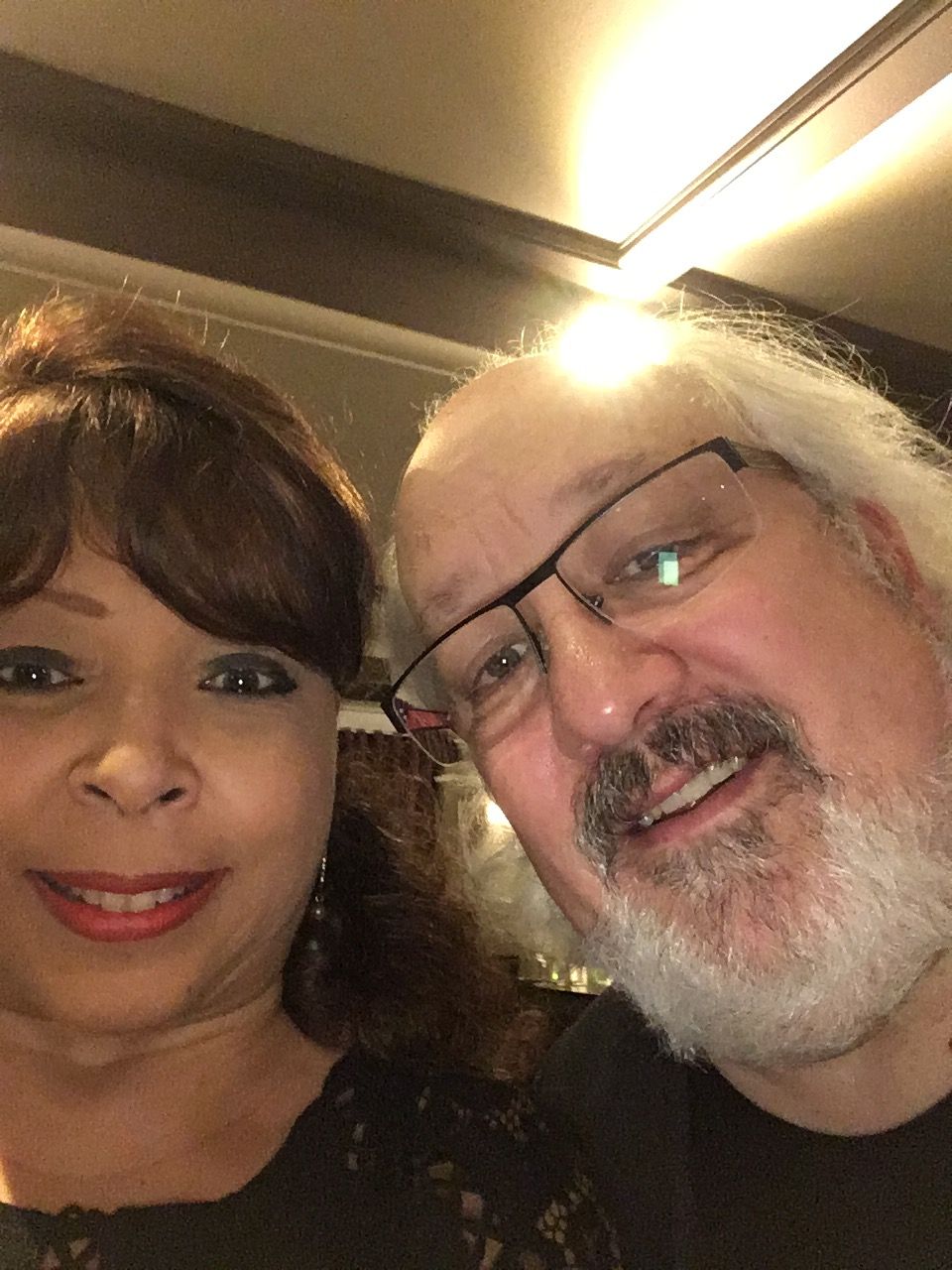 Leslie took this selfie at our gig at "Café Laurent".  February 2020 was last time we had worked there prior this month.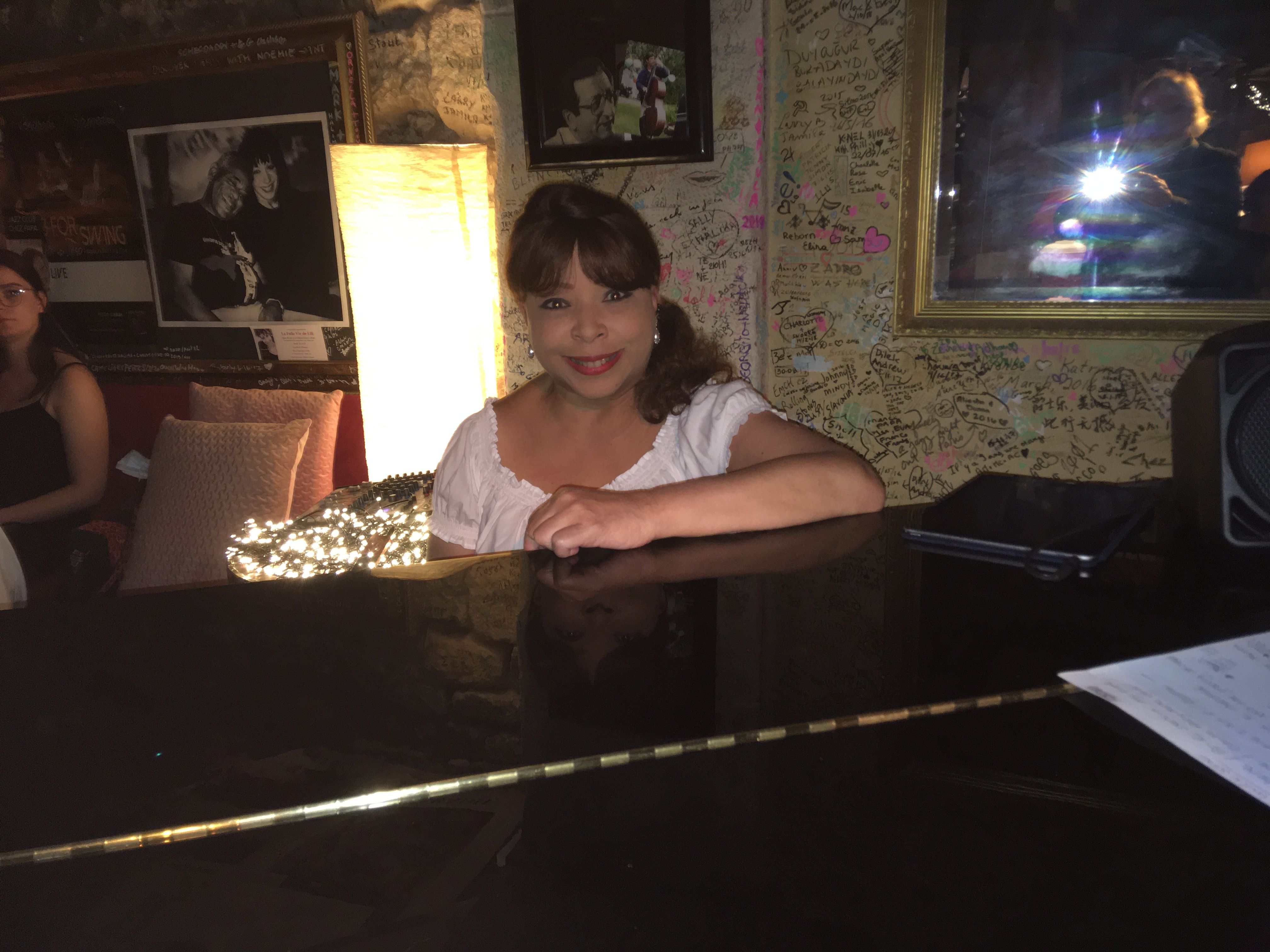 Leslie at Chez Papa Jazz Club, June 2021.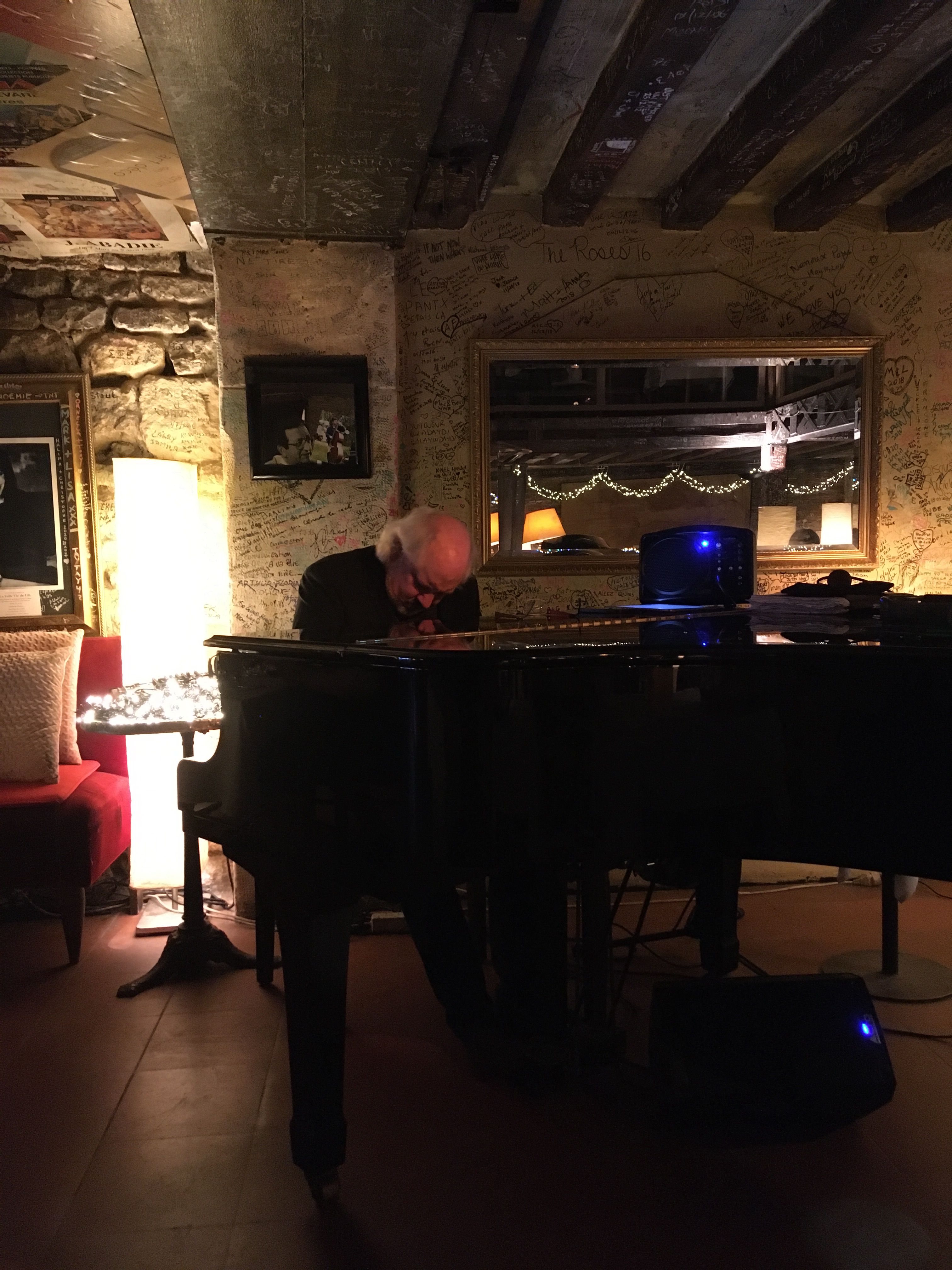 Gerard at Chez Papa Jazz Club, June 2021.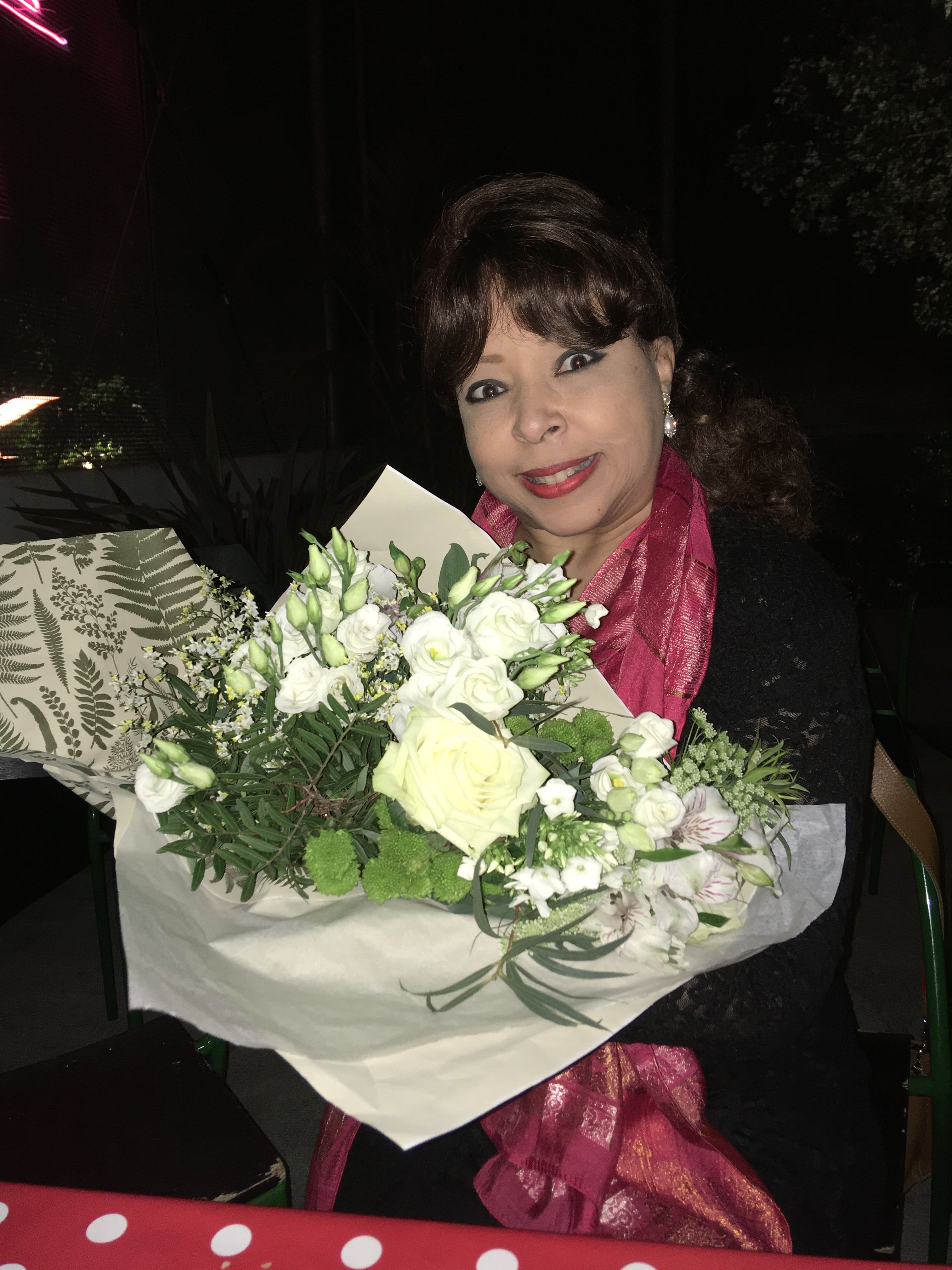 Leslie on tour with Rhoda Scott, showing her the after-concert bouquet.
Fortunately Leslie took the initiative to get us out of Paris for a few weeks. Nothing fancy, a week at the beach in La Baule followed by a week with friends in Bordeaux will be the right prescription to put things right after another trying year. Later in August we will be meeting a friend in Lausanne, Switzerland, spending a week in a place that is brand new to both of us. 
Leslie has become good friends with Sara Lazarus, an American jazz singer who has had a splendid career in Europe.  Sarah and her husband Eric Breton had a Fourth of July dinner at their home just outside of Paris. We were happy to be invited. It was a little bit of a jazz singer hang with an appropriate Americana dinner complete with ribs and potato salad and of course some great gig stories.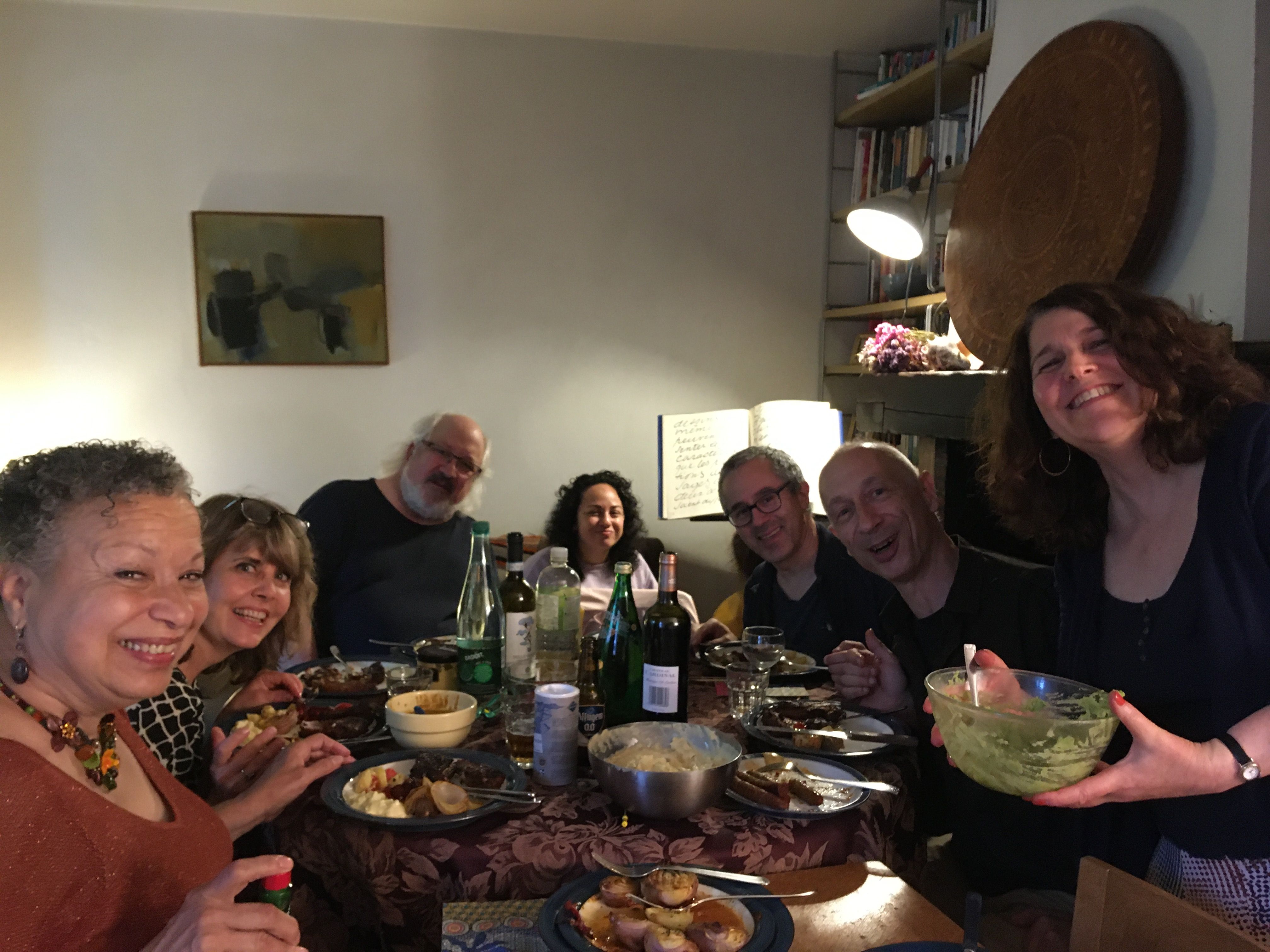 July 4th dinner at Sarah & Eric's. From left to right-Sarah & Eric, Manuel Rocheman & wife, Gerard, Gilda Solve & Michelle Hendricks. (Leslie took the photo.)
Everything is on track for a fall release of "I Put A Spell On You" our new recording with "Funky Ella".  We will be playing two nights (October 26-27) at Sunside Jazz Club https://www.sunset-sunside.com/2021/10/artiste/1852/7608/   This recording will be available on Spotify, BandCamp, Apple Music, etc., so it will be easy to access even though it will be on the French label "AHEAD".  I will let you know how to purchase the actual CD in the U.S. 
Some of the students at IMEP https://www.imep.pro/en/ were very interested in having private lessons with me this summer.  So I spend Thursday afternoon teaching at the college. We are having a mild summer so far, not too hot, the normal amount of rain, so I have been walking to the school trying to lose some of the confinement baggage that I currently carry. By the way, Peter Giron (a founder of IMEP) did a very nice interview of Kurt Elling which is available to view here: https://www.facebook.com/imep.pro/videos/365951054845923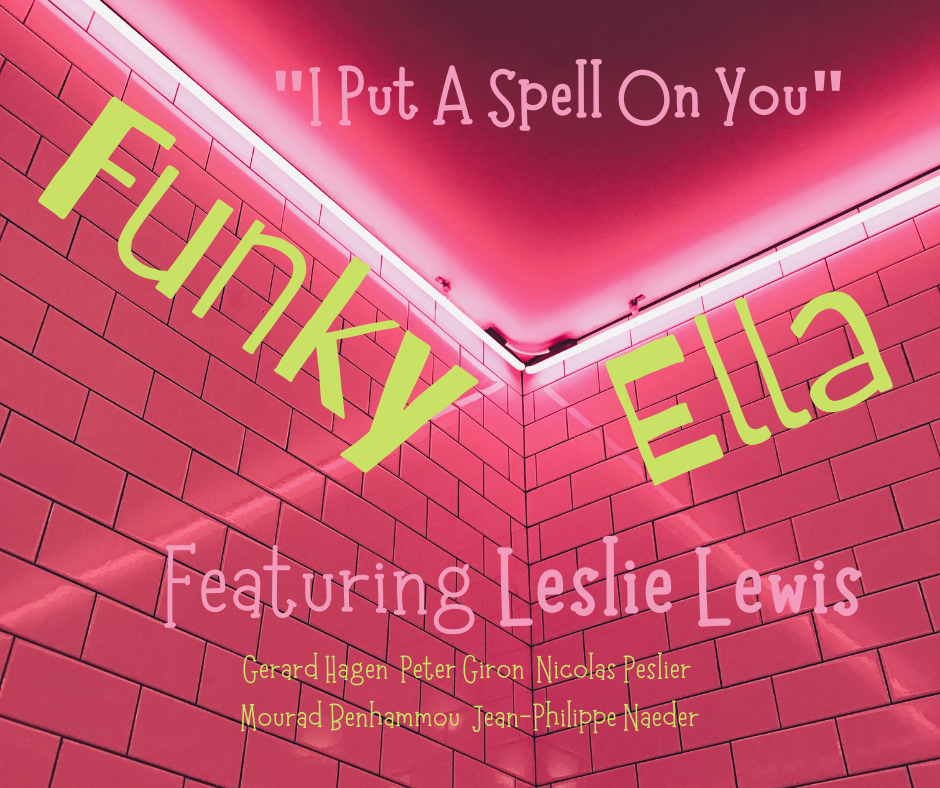 Cover of "I Put A Spell On You".
Thank you for giving us your time and attention, we appreciate it very much. Please check our website for news and updates as we get back up and running. While you are there please sign up for our weekly email blast to learn where you can hear us. http://www.surfcovejazz.com   We hope that you are all healthy, safe and looking forward to better times ahead. Thanks for staying in touch with us. 
Until next time,  Leslie et Gerard