Bonjour de Paris ... 
                                 "We were home well before daybreak" 
Chers Amis, 
We have been very fortunate to end 2021 and begin 2022 with a lot of great music. Leslie and I worked with Bruno Rousselet at Chez Papa Jazz Club for the New Years celebration.  It was quiet this year (we were home well before daybreak)  but still enjoyable.  In fact maybe even more enjoyable. Recently Leslie has been working with Nico Peslier at the beautiful Hotel Lutetia and in fact she was there on January 1st.  Chez Papa decided at the last minute to open that night and even though it was a holiday, it was a Saturday and people were interested in coming out. I ended up doing the gig with a piano trio. It was so great to be able to play in that format again. I just don't have the time to pursue those gigs so when the opportunity arises it's always great fun. Speaking of fun, during one week in January, Peter and I accompanied Michele Hendricks (Jon Hendricks daughter) for a masterclass at IMEP College, the Funky Ella band played at Cercle Suédois and Leslie and I did three nights at Chez Papa. Then, based on our two nights in October, Sunside Jazz Club asked the Funky Ella band to replace Eddie Henderson's band (who cancelled due to Covid) on the first Saturday in February.  It was a last minute booking so we were unable to get everyone from our regular band.  As it turned out we needed a bassist, drummer and guitarist. It is a long story but because of Covid we didn't get a drummer booked until two hours before the sound check.  We were fortunate to get Philippe Soirat to play drums and Bruno Rousselet to play bass. Both of them did a great job playing new arrangements of music they had never seen before. Rather than booking a guitarist we decided to take this opportunity to hire violinist Luis Mascaro to come to Paris from his new home in Rotterdam to play with us. Some of you will remember hearing him with us a few times in Laguna Beach. Luis is a wonderful musician who we love working with and he did not disappoint. For me it was a lot of fun to hear my arrangements played by these guys who were playing the show for the first time (with no rehearsals).  Leslie and I were a little worried that because we had done two nights at Sunside at the end of October it would be difficult to get people to come out again so soon. Normally we wouldn't book another date there until summer at the earliest, but we managed to have another sold out show.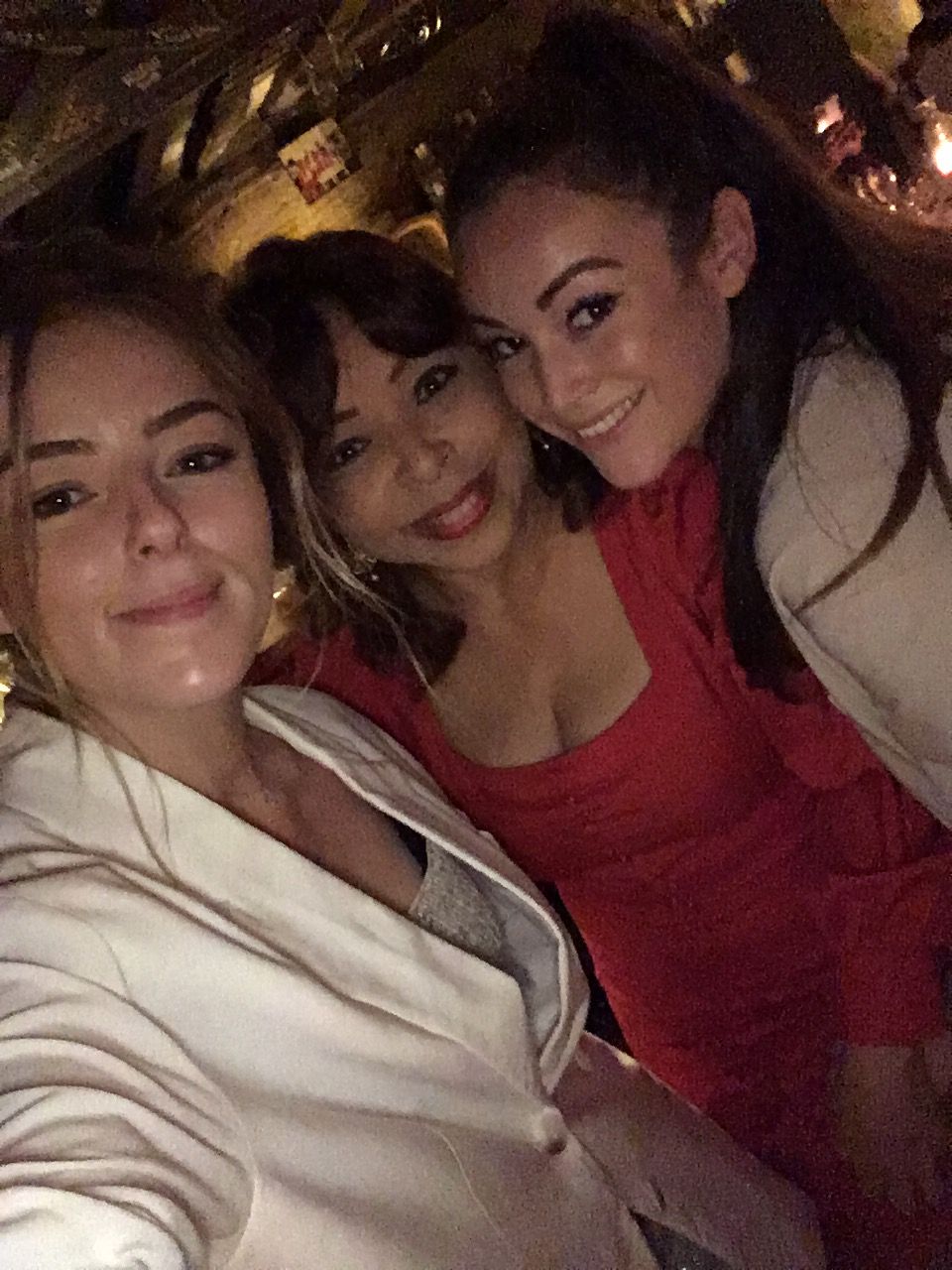 Leslie with Marie & Marie Laure, the serving team at Jazz Club Chez Papa, on New Year's Eve.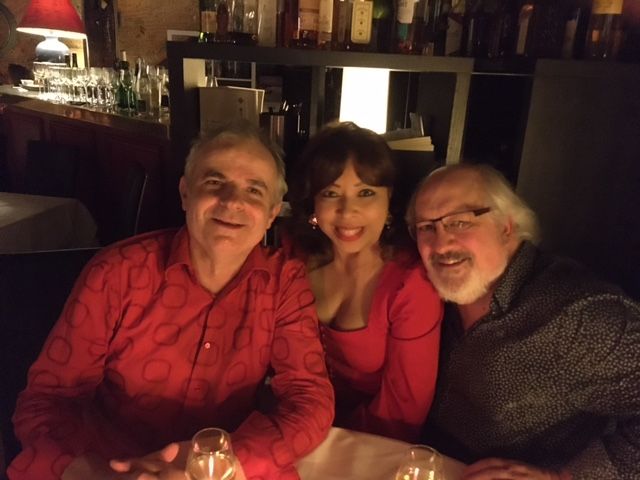 The band, Bruno Rousselet, Leslie & Gerard also on New Year's Eve.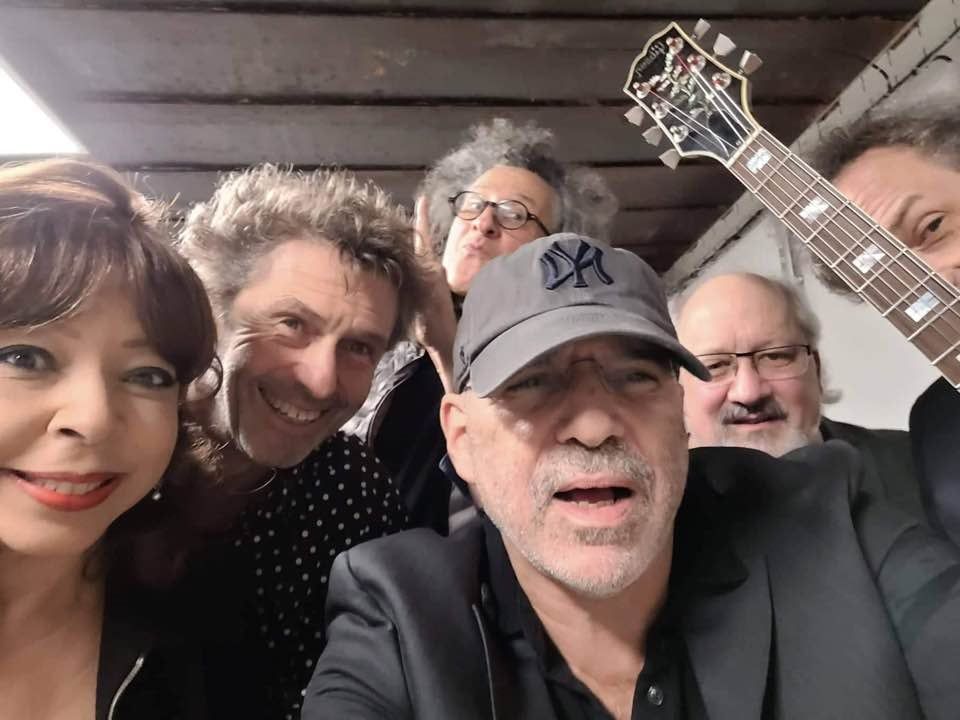 A Funky Ella band selfie before a show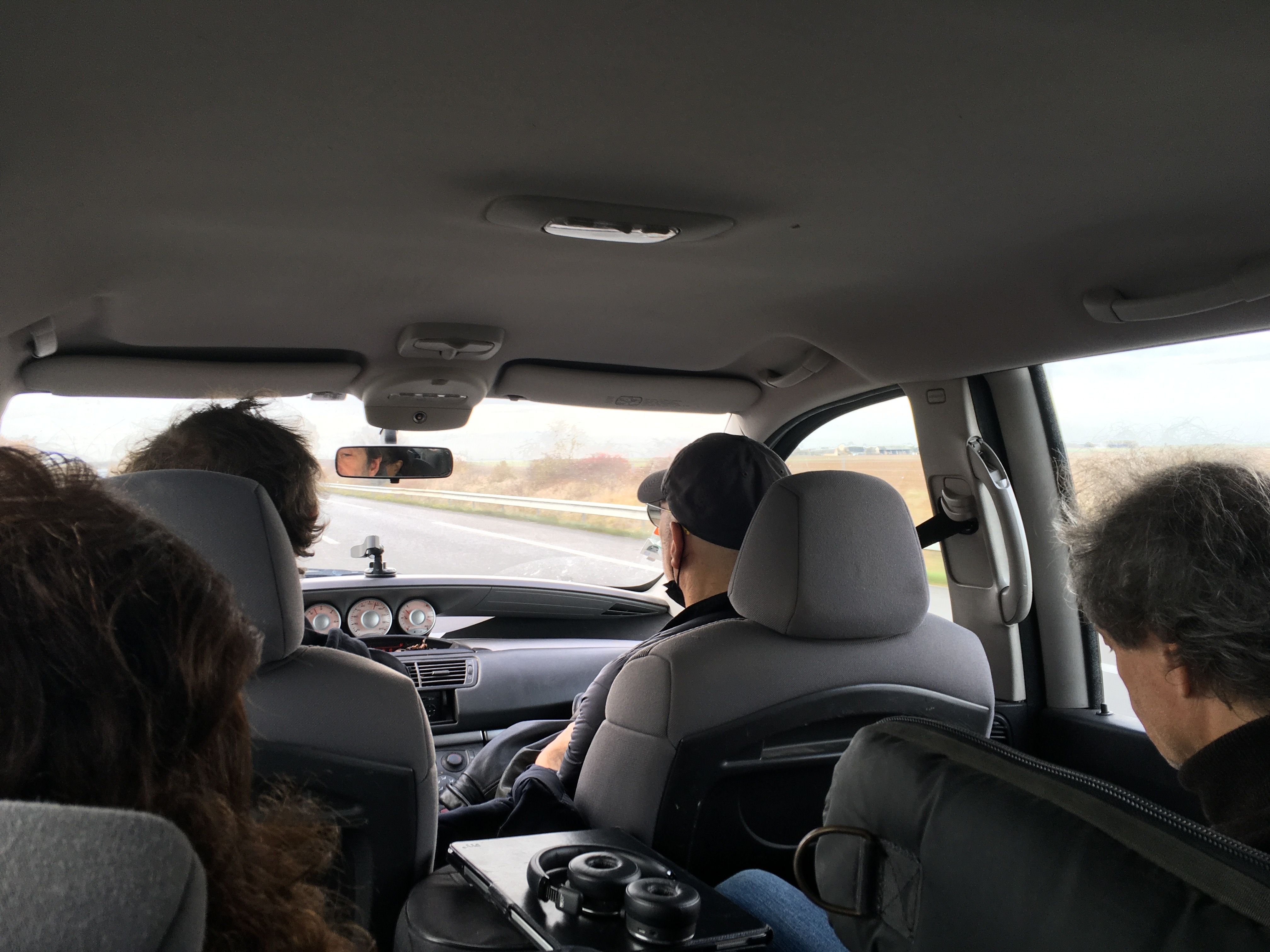 Funky Ella on the road in the van.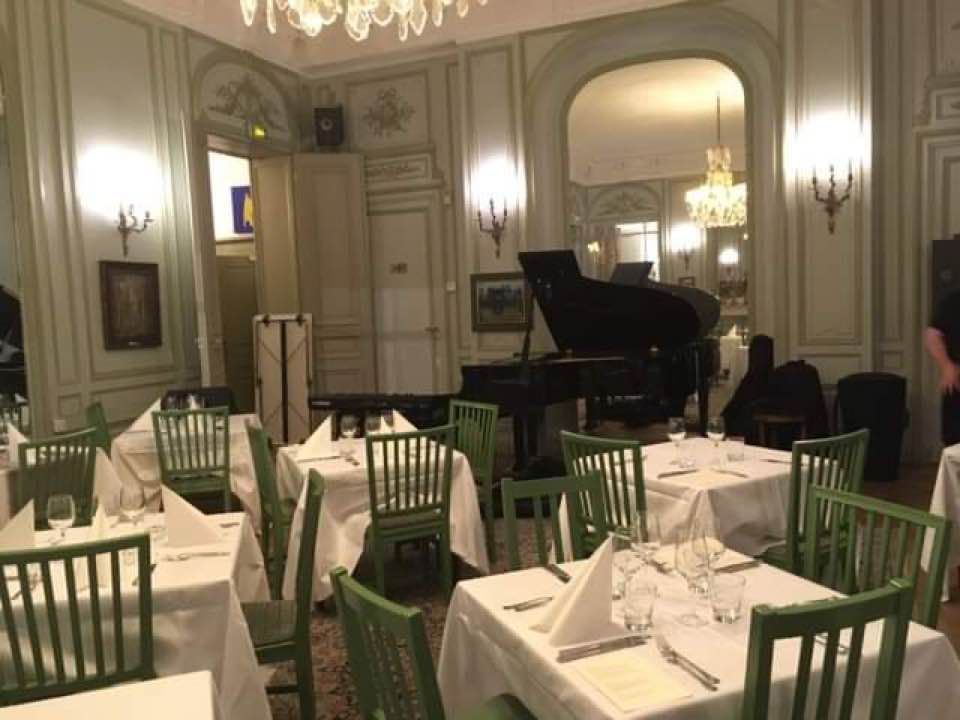 A Funky Ella Band pre-concert set up at Cercle Suédois in Paris.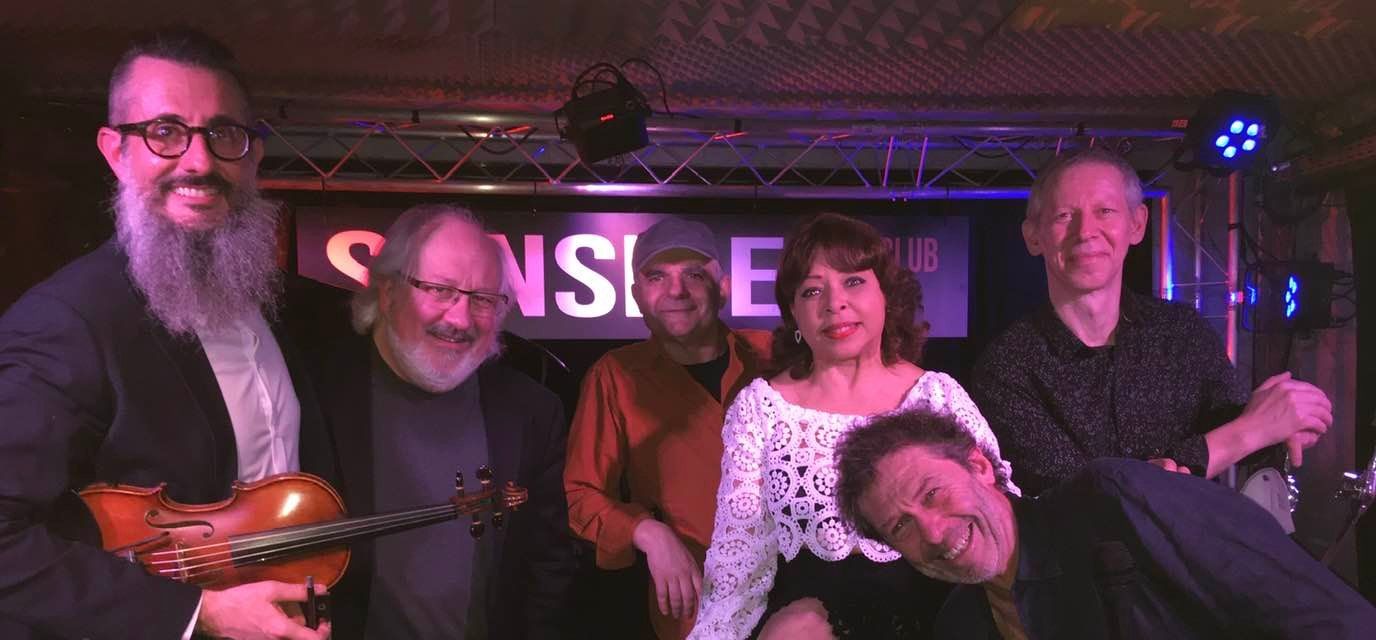 The Funky Ella band (with subs) after our last Sunside Jazz Club concert. From L-R is Luis Mascaro,                                                                                        
                            Gerard, Bruno Rousselet (bass), Leslie, Philippe Soirat (drums) & Jean-Philippe Naeder (percussion).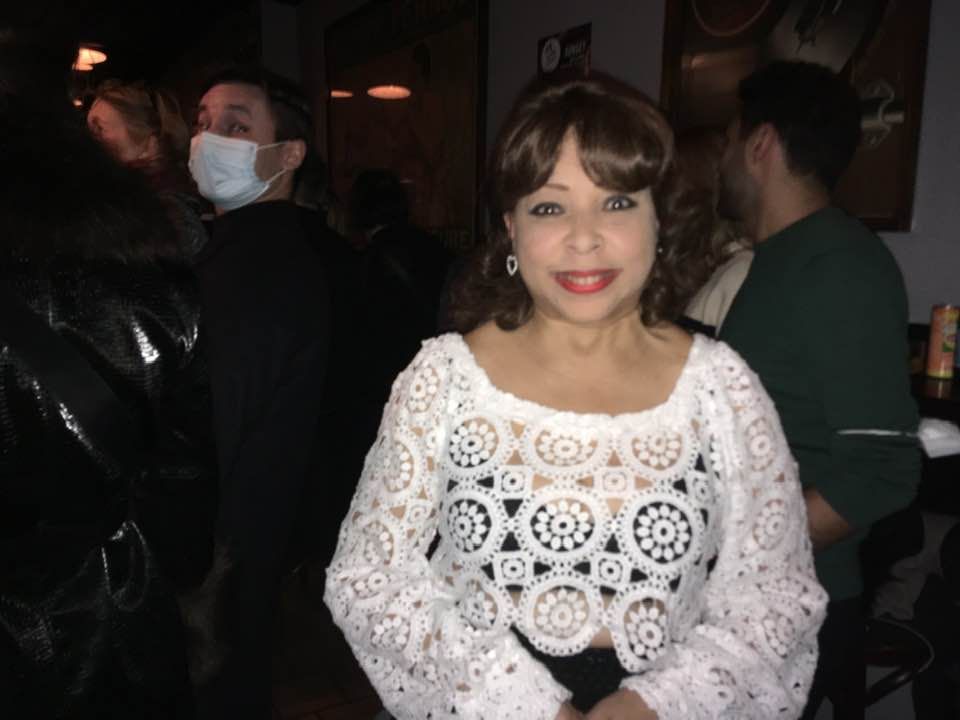 Leslie waiting in the bar before the Funky Ella band show at Sunside Jazz Club.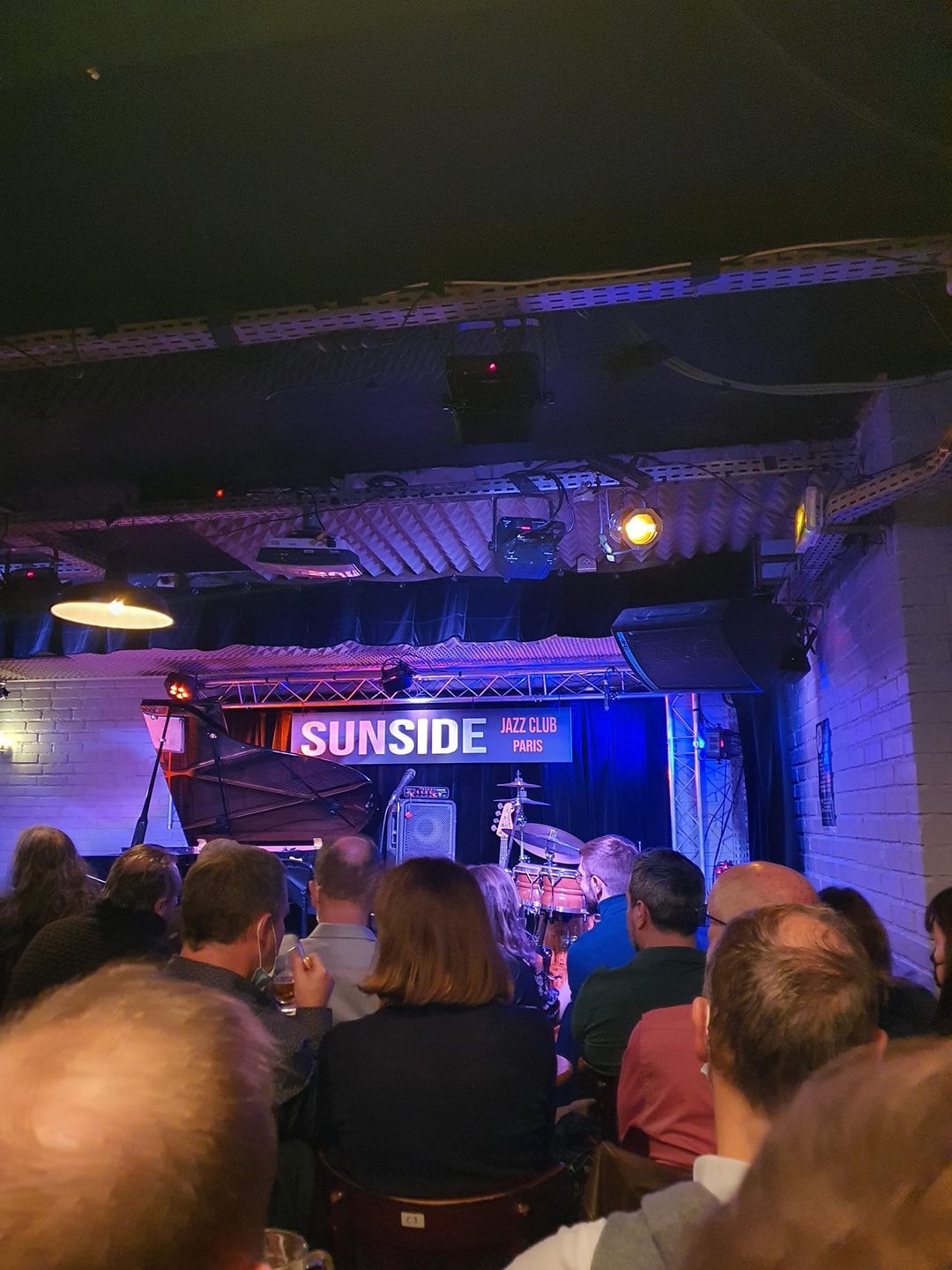 The audience at Sunside Jazz Club.  
                             This photo is a pre-concert stage shot at Sunside Jazz Club. 
Things in Paris are more or less back to what the new normal will be. Clubs, concert venues, theatres and the like are open to capacity.  We're still wearing masks when we use public transportation, go shopping and in general when we're inside any public space. There are still groups of people here who won't get vaccinated but it is becoming more and more difficult to function here without having a pass sanitaire. Our regular work here in Paris has come back and there are even a couple of new venues that we are in discussions with to book the Funky Ella band. I am happy to say that we have Funky Ella concerts booked into 2023. The summer concert season is going to be a nice combination of band dates and trio dates. Playing in Funky Ella has opened up some opportunities to work with individual band members on other projects including some trio dates with percussionist Jean-Philippe Naeder and also with guitarist Nico Peslier. We are so used to working in a duo or in a trio with a bassist that it is always a nice experience to hear our music with the sonorities of percussion or guitar. 
For the next two weeks the school is on a trimestre break and not a moment too soon.  We have work in town so we are staying in Paris but we plan on having a few days without anything on the schedule. The school ensembles, including my ensemble, are performing their second trimestre concert at Sunside Jazz Club on March 13th. https://www.sunset-sunside.com/2022/3/artiste/4015/8172/  My ensemble was added mid-trimestre so we are behind a bit compared to the other groups.  My guys took it upon themselves to add four additional rehearsals (most of which take place during the school break) in order to be prepared for the concert. I am very proud of them for doing that, but it means that I'm going to end up at the school during the break at least a few times. 
On Tuesday Feb. 22nd Leslie is performing a concert after the screening of "Fighting For Respect: African American Soldiers in WW1". The screening is sponsored by Columbia University Global Center in Paris.  Joanne and David Burke, our American film maker friends here in town, were involved with the project.  Leslie will be singing with Vincent Bourgeyx (piano) and Darryl Hall (bass).  https://globalcenters.columbia.edu/events/fighting-respect-african-american-soldiers-wwi 
Last week Leslie was able to spend some time with Nancy Heffernan, Leslie's very good friend from her days at Opryland in Nashville.  We have seen Nancy a few times over the years when her tours have taken her to California and to Europe. This time she and her husband Sean made the trip from Chicago to Europe for pleasure.  They came to hear us at Chez Papa and a couple of days later we sat down to a great dinner at Le Coupe Chou in the Latin Quarter https://www.lecoupechou.com.  It doesn't matter how much time goes by between visits, Leslie and Nancy pick right up as if no time had passed at all.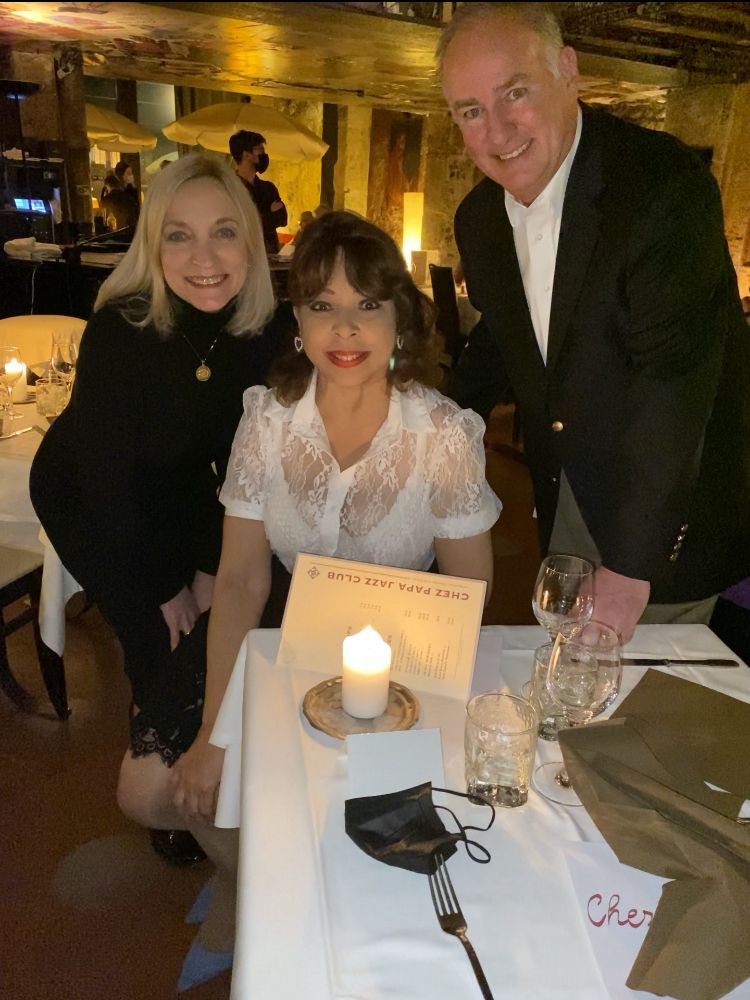 Leslie w/ Nancy & Sean Heffernan.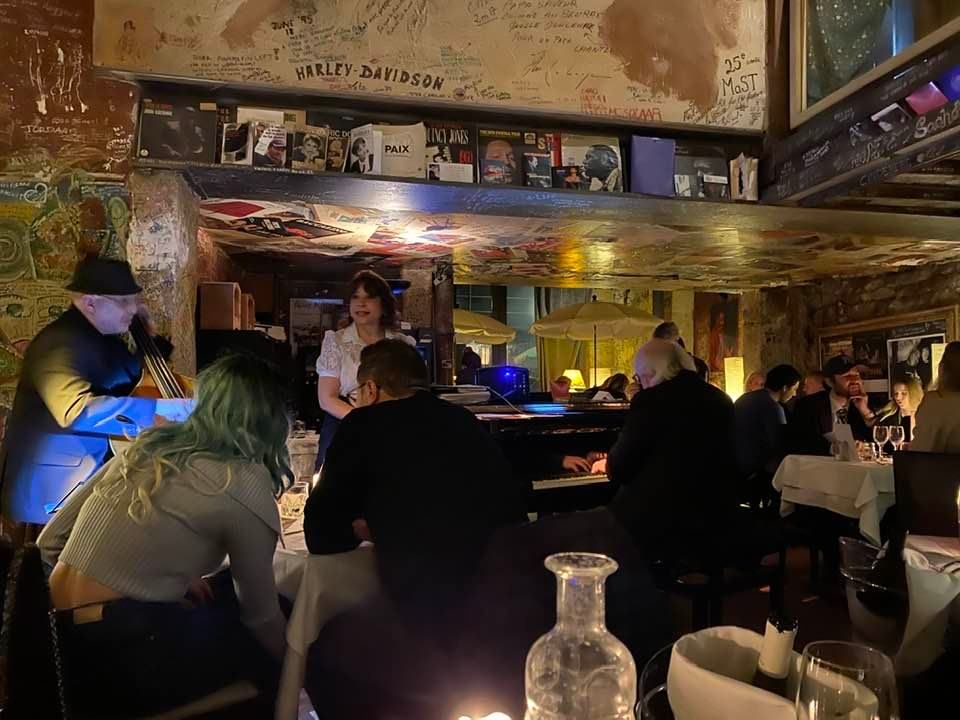 This photo is the trio with Peter Giron (bass) Leslie & Gerard at Jazz Club Chez Papa.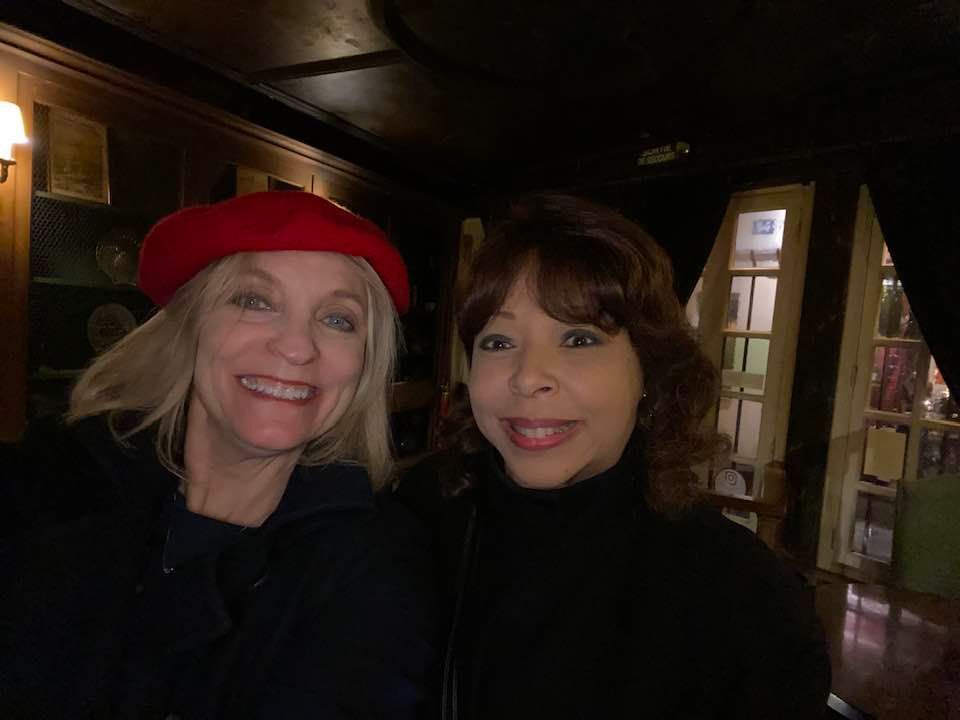 Leslie & Nancy at Le Coupe Chou.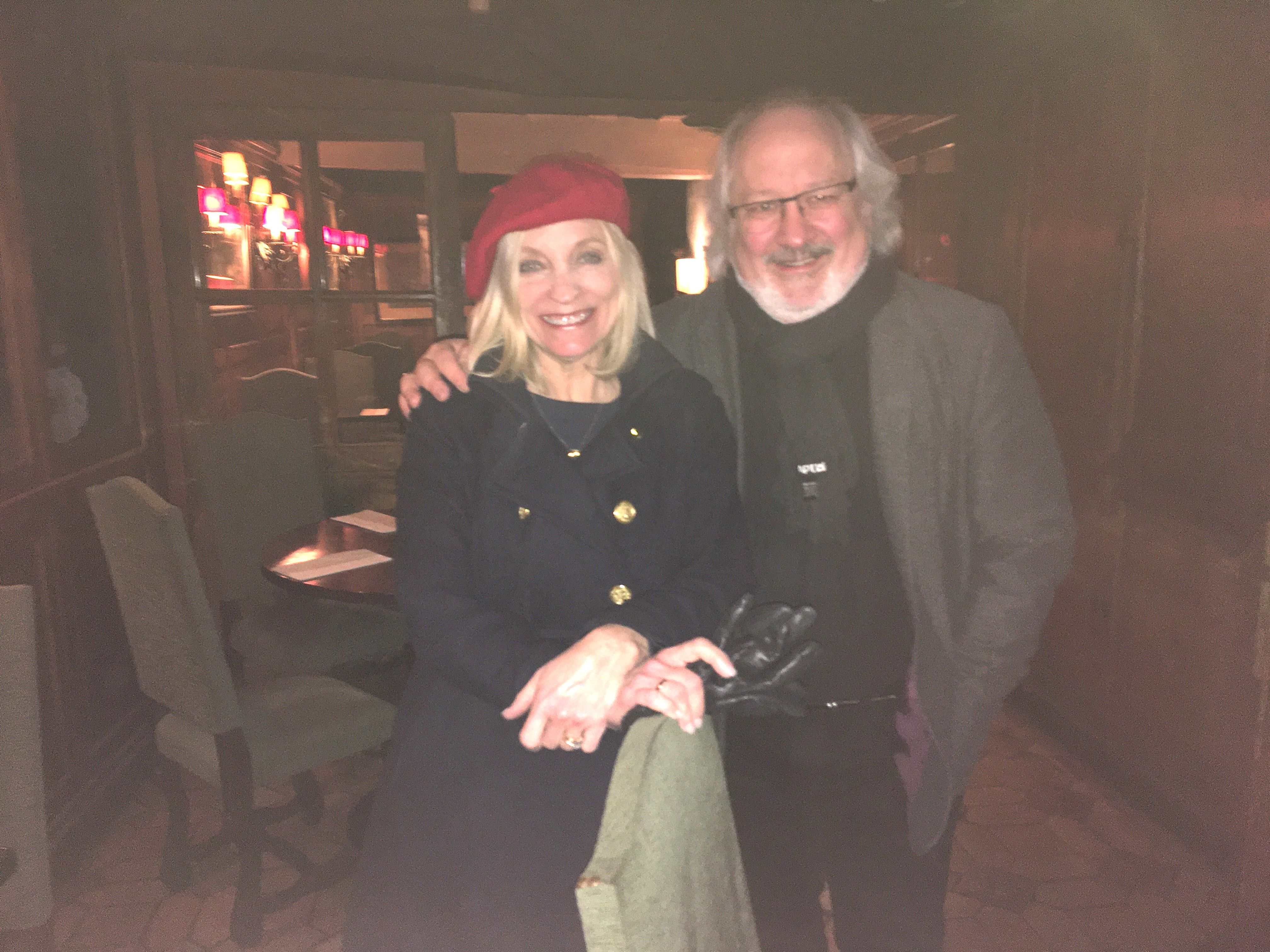 Gerard & Nancy at Le Coupe Chou.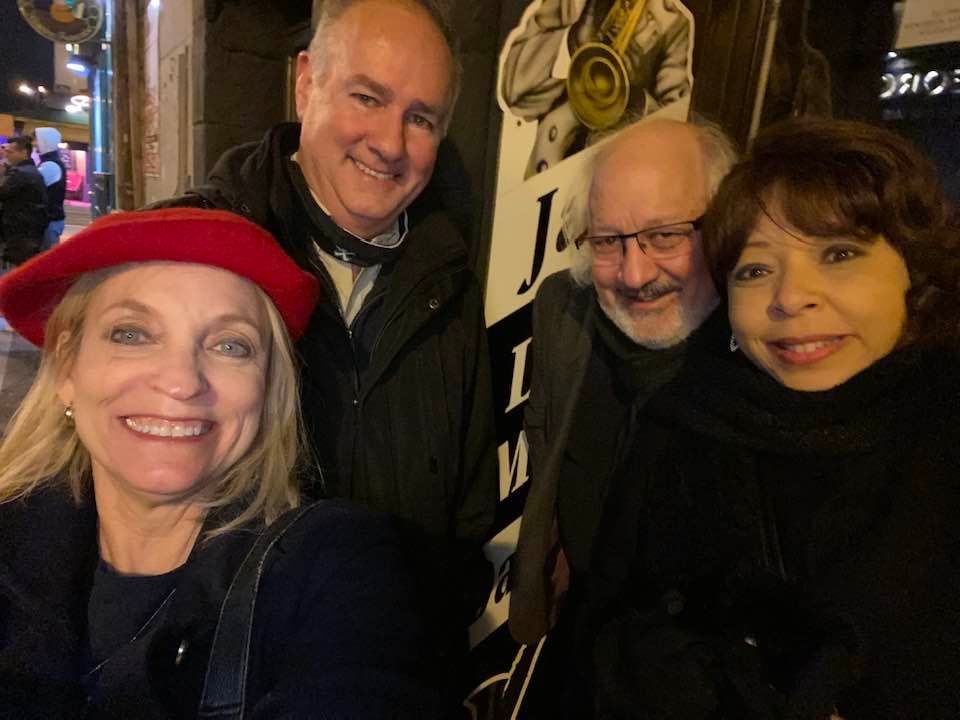 Nancy, Sean, Gerard & Leslie outside Le Caveau de la Huchette Jazz Club in Paris. 
The Funky Ella CD can be streamed on any number of platforms but the main ones are: 
- Bandcamp: https://leslielewisgerardhagen.bandcamp.com/album/i-put-a-spell-on-you 
- Spotify: https://open.spotify.com/album/6gkHqDEBeQSm8akBXBtofv 
- Apple Music: https://music.apple.com/us/album/i-put-a-spell-on-you/1587307010?uo=4&app=itunes 
- Amazon: https://www.amazon.com/gp/product/B09H2V1Z3S 
- Deezer: https://www.deezer.com/us/album/26111448 
You can find out more information about our Funky Ella project at: www.funkyella.com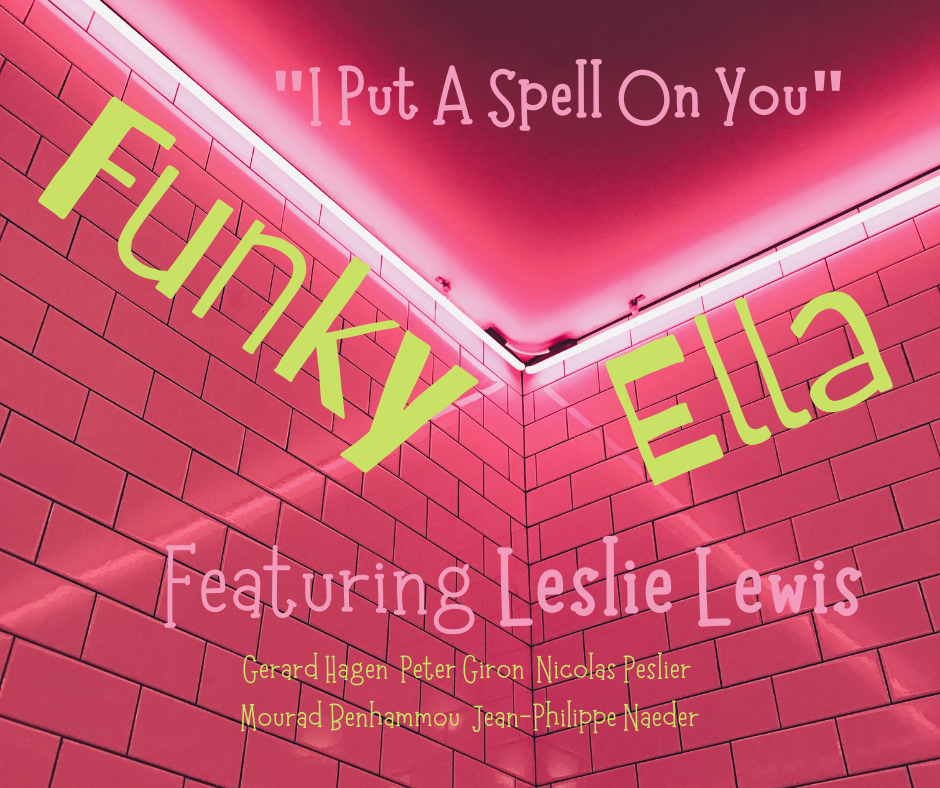 Cover of "I Put A Spell On You". 
For those of you in Paris, next week Tuesday Leslie is playing after the screening of "Fighting For Respect: African American Soldiers in WW1" and she is working with Nico Peslier at Bar Josephine in the Hotel Lutetia on Feb. 26 https://www.hotellutetia.com/bar-josephine.  On March 3rd we are working in Duo at Chez Papa Jazz Club and on March 4th & 5th we are there with bassist Peter Giron. https://papajazzclub-paris.fr So if you are looking for some music in Paris you know where to find us. 
Thank you for giving us your time and attention, we appreciate it very much. Please check our website for news and updates. While you are there please sign up for our weekly email to learn where you can hear us. http://www.surfcovejazz.com   If you have any comments feel free to contact me, I enjoy hearing from you. This email also appears on our website where you may also comment. http://www.surfcovejazz.com/blog/ We hope that you are all healthy, safe and looking forward to better times ahead. As always thanks for staying in touch with us. 
Until next time,  Leslie et Gerard