Joyeux Noël de Paris
Bonnes Fêtes 
Chers Amis,  
As we close in on Christmas later this week Leslie and I are enjoying some free time away from performing. So Leslie is devoting some time searching for new material for her repertoire. Next week we are working four nights in a row so a little down time is a welcome thing. We have managed to make Christmas pretty stress free by eliminating things that don't really add to our lives. We did get the booster shot a while ago but for the most part, Delta and now Omicron have made staying home the best option.  We did go to see the re-make of West Side Story. The theatre was not large but the audience was pretty meager so we were all socially distant from one another. We were happy that we went (Leslie has the original movie pretty much memorized) and it was fun to discuss our reactions to the film over a late night dinner at "Les Éditeurs" where one can eat at a secluded table later in the evening since they keep the kitchen open till 1:00 am. https://www.lesediteurs.fr An added bonus is that the theatre and restaurant are only about a 10 minute walk from our apartment.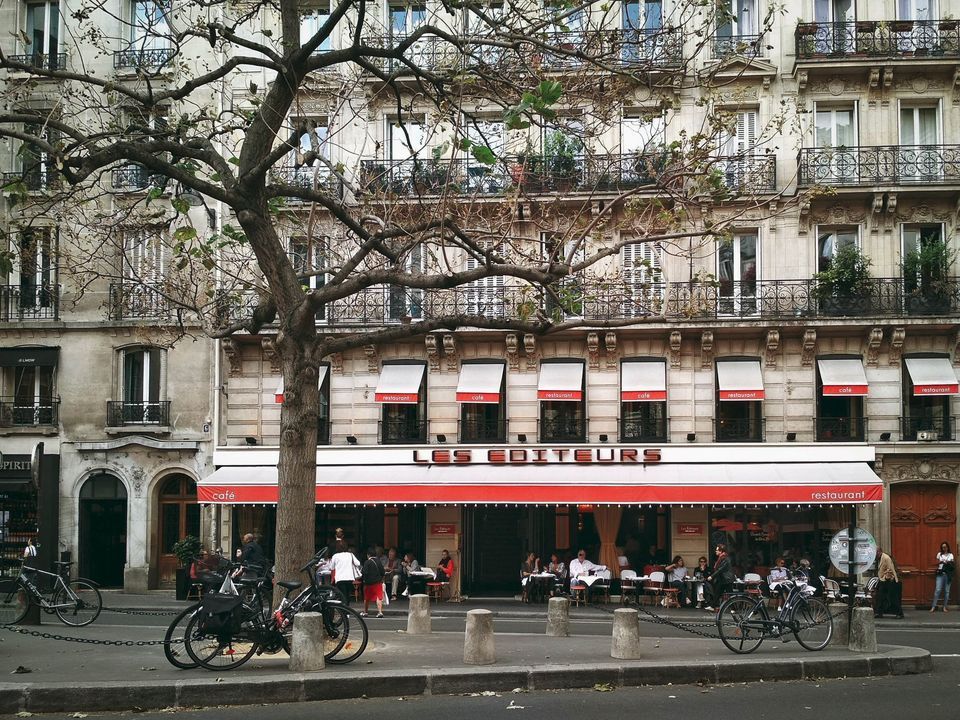 Les Éditeurs Café in Odeon, Paris.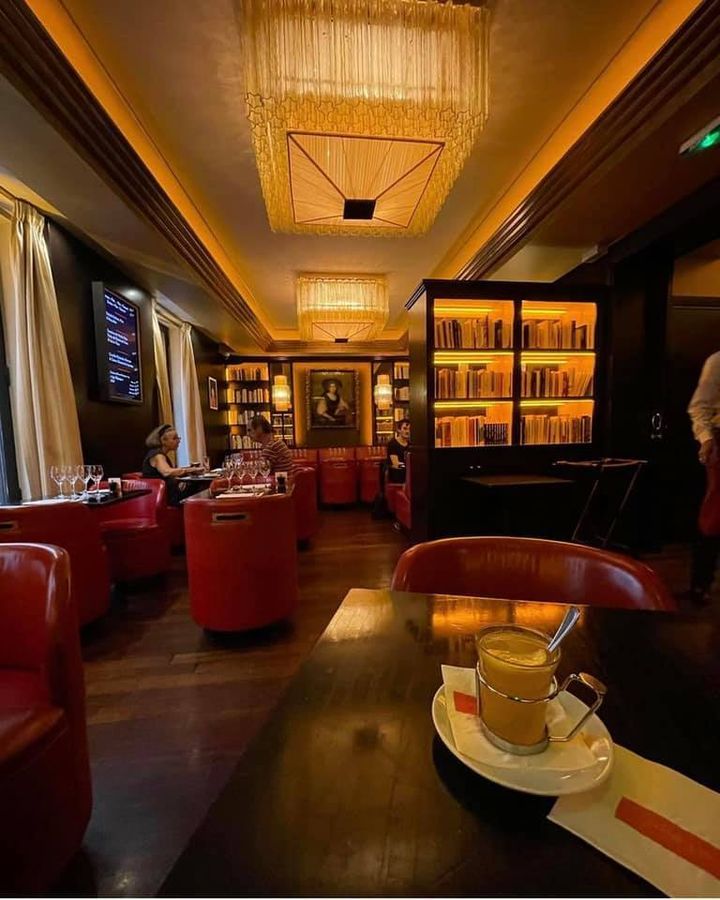 The cozy interior of Les Éditeurs Café. 
Last month the Funky Ella band travelled to La Baule to play a concert. We threw our equipment and luggage in a van and hit the road at the crack of noon.  Around 1:00 pm the youthful nostalgia I had towards touring in a van was long gone. By 4:30 pm we had finished the load-in and were doing the sound check. After a short nap at the hotel we had dinner and headed to the venue where we shared the bill with a local jazz quartet. There were some issues with the sound but we managed to have a very good concert which was followed by dessert and champagne.  We are booking into next year with this band and this summer will bring some exciting opportunities for us to get out and tour. More on that in the future. Next week we are in duo at Café Laurent https://www.hoteldaubusson.com/cafe-laurent on Tuesday night (12/28) and we are working with bassist Peter Giron on Wednesday thru Friday night (12/29-31) at Chez Papa Jazz Club. https://papajazzclub-paris.fr So if you are looking for some music in Paris you know where to find us.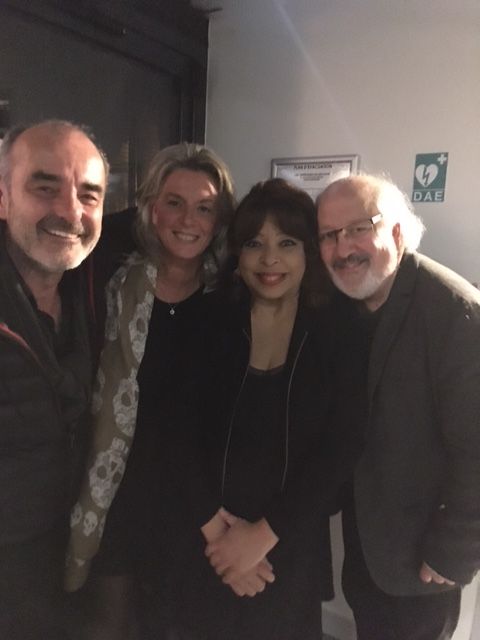 Pascal and Sandrine came to our concert in La Baule.  We met them on our first trip there back in 2012.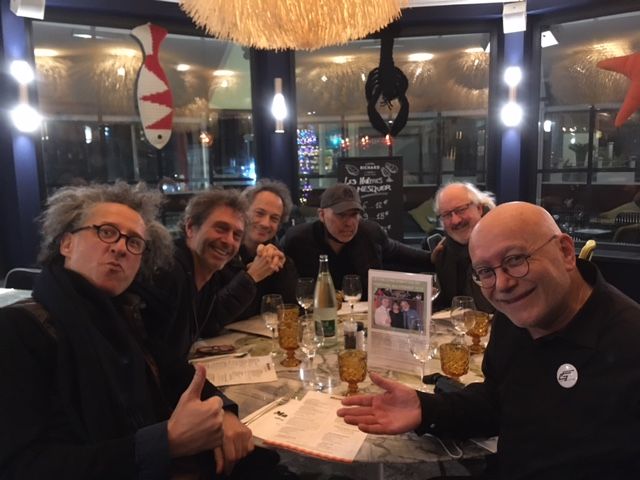 Pre-concert dinner with the "Funky Ella" band.  On the right is Franck who produced the concert. Leslie is taking the photo. 
We are planning a quiet (covid dictated) Christmas for just the two of us and we hope that whatever your plans are, you will all enjoy a very Merry Christmas. We send our best wishes for a healthy New Year and we hope that in time, we will be able to live with some normalcy. We hope that you know how very grateful we are for your friendship and support of our music, and that wherever you live in the world you have remained interested in what we are working to create.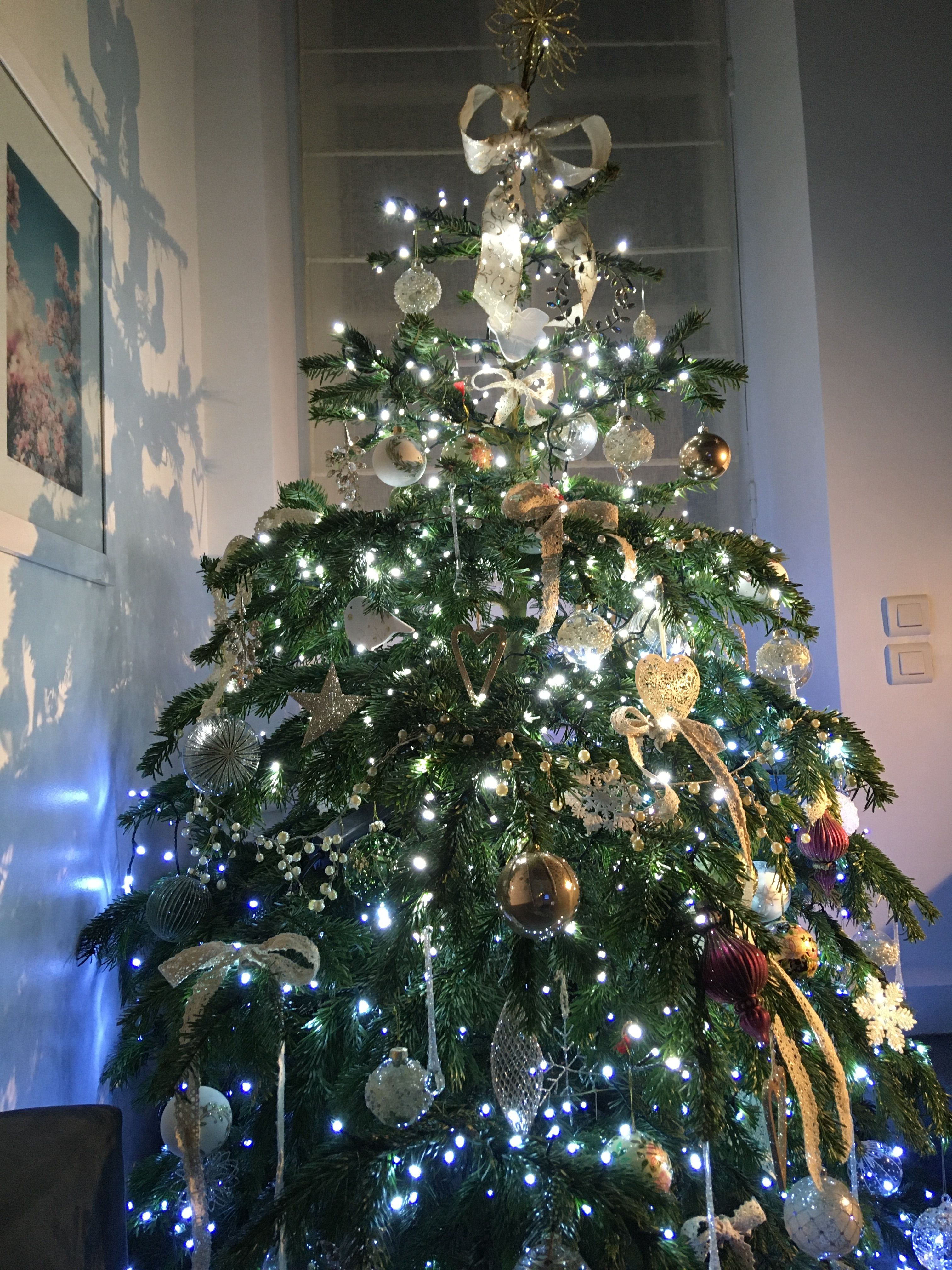 Leslie's Christmas tree 2021.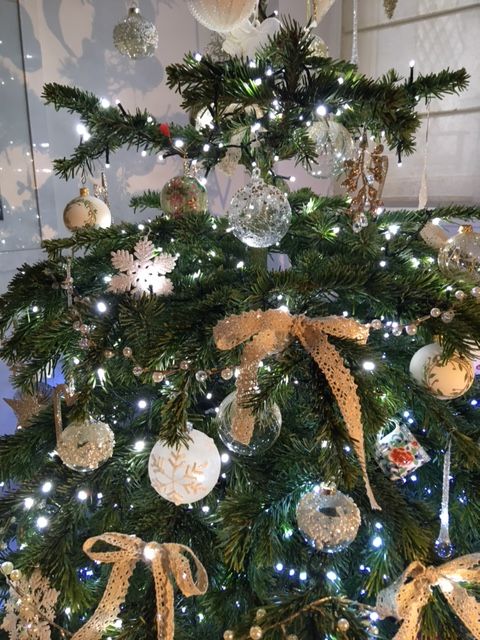 Another photo of Leslie's 2021 masterpiece.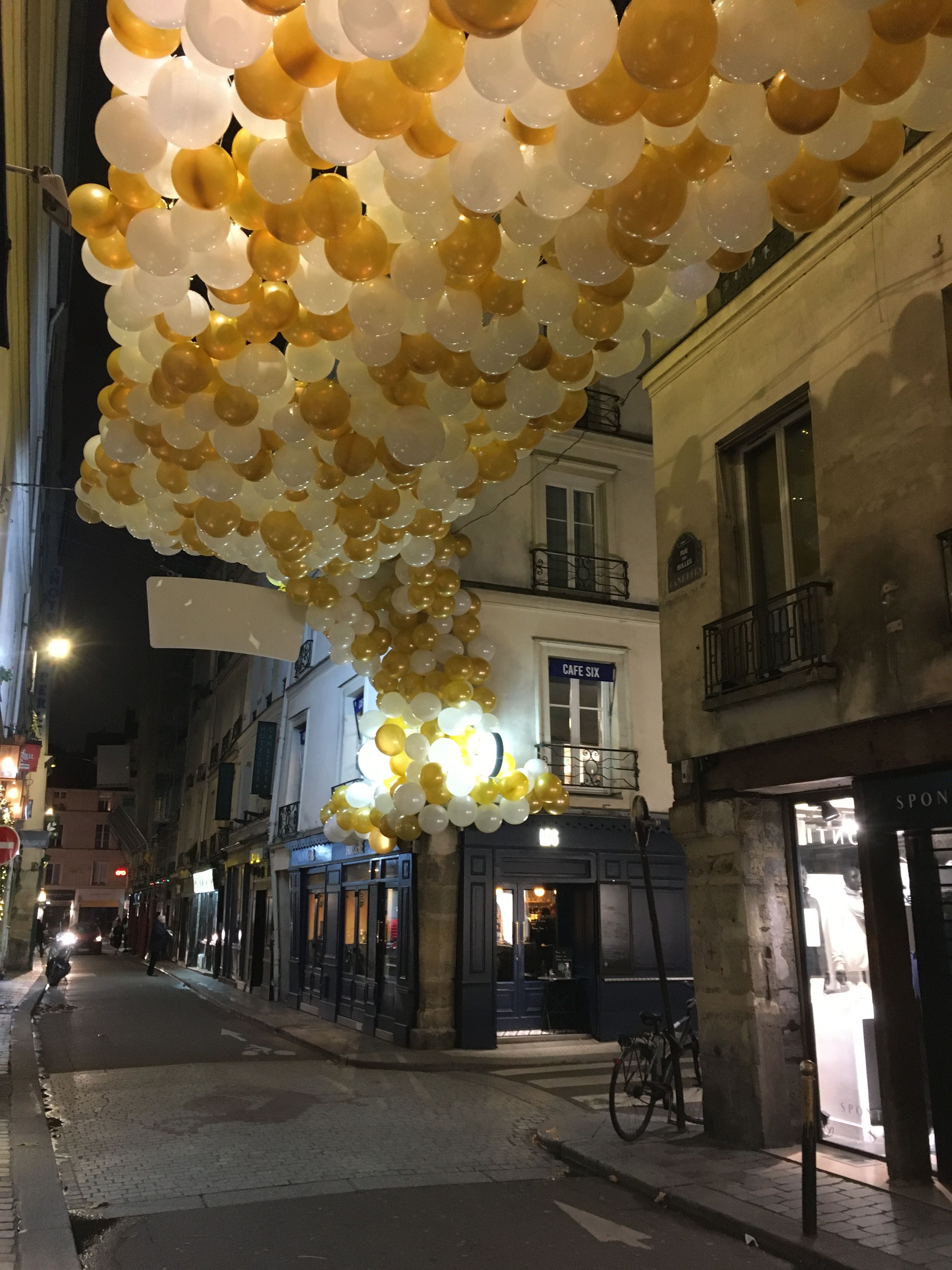 We found this holiday decoration round the corner from our home.  It's a ceiling of balloons stretching the length of a city block.  Ya gotta love Paris!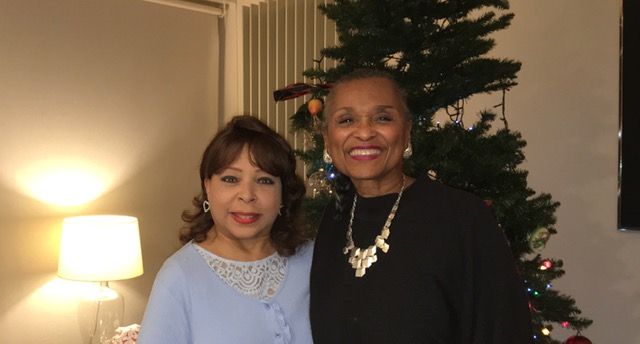 We enjoyed a great Thanksgiving meal in the home of our dear friend and fellow singer Joan Minor. She and her husband Paul are incredible hosts.  It was also a chance to celebrate Leslie's birthday. 
Leslie and I have much to be thankful for. We pray that those who are experiencing the pain of having lost a loved one are blessed with family and many friends who can help to heal those wounds. For the rest of us, let's all raise a glass in gratitude that we are able to have another Christmas and see the hopeful dawning of another New Year.  
Merry Christmas and Happy New Year, 
Joyeux Noël et une Bonne Année, 
Feliz Navidad y un Feliz Año Nuevo, 
Buon Natale e un Felice Anno Nuovo, 
 Leslie and Gerard  
Please if you have any comments feel free to contact me at .  I enjoy hearing your thoughts. This email also appears on our website where you may comment as well.  http://www.surfcovejazz.com/blog/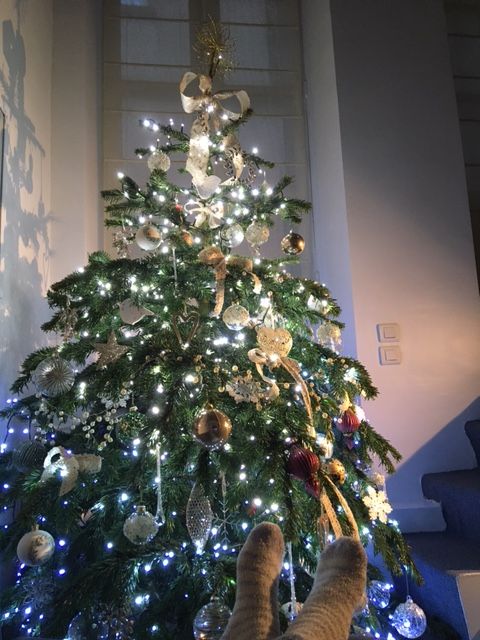 Here is a shot of Leslie enjoying the fruits of her labor. (Note her feet resting on the couch.)