Bonjour de Paris 
 "…the band was a bit amped when we started the concert…"  
Chers Amis,  
We returned to Paris from La Petite Pierre late this afternoon. We were there for the Au Grès Du Jazz festival.  It was our first time in the Alsace region of France.  La Petite Pierre is not far from Strasbourg which we are told is a very charming town that many people who travel in France will find the time to visit and after having spent a few days near there, we decided to find the time to return someday.  That area is absolutely gorgeous with the mountains, quaint villages, food, wines and the people are unbelievably friendly.  When we arrived by train in Saverne we were met by workers from the festival who were to drive us the remaining 20 kilo-meters to the village of La Petite Pierre which has no train station. But before we hit the road, we were given a little tour of the homes in town and learned that the designs on the homes as well as the color they are painted told the story of the family who originally built the house. The designs told whether the couple had children, how many boys and/or girls, even the relative happiness, or not, of the marriage!  The color signified what type of work the home owner did. We were taken in by the beautiful canals, village streets, restaurants and shops. I saw the homes as being quirky and unique, which I guess they are, but at one time they were much more than that. We promised ourselves that we will take some time to visit this area when we aren't working and have the time to really take it all in.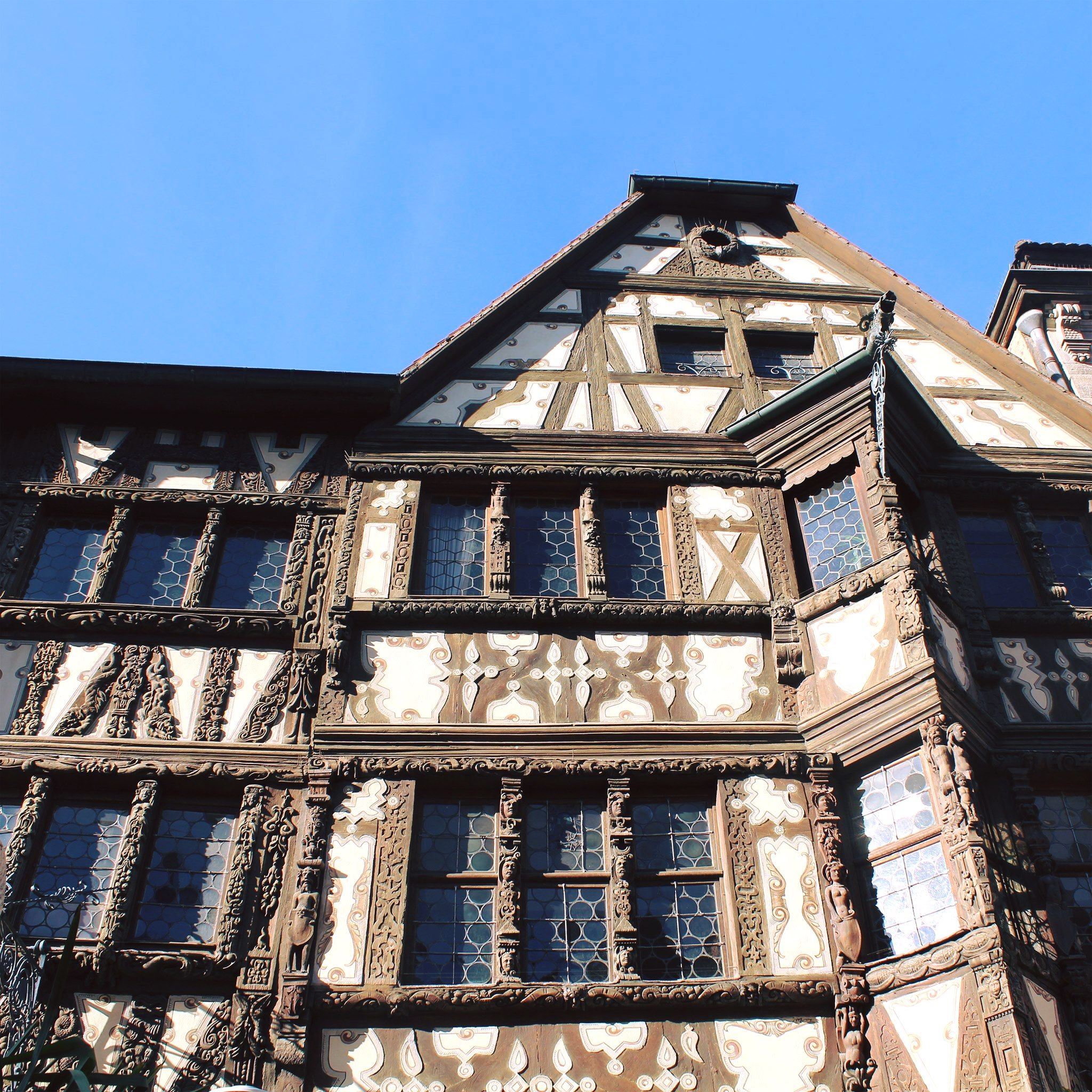 Here is an example of a house in Saverne, FR.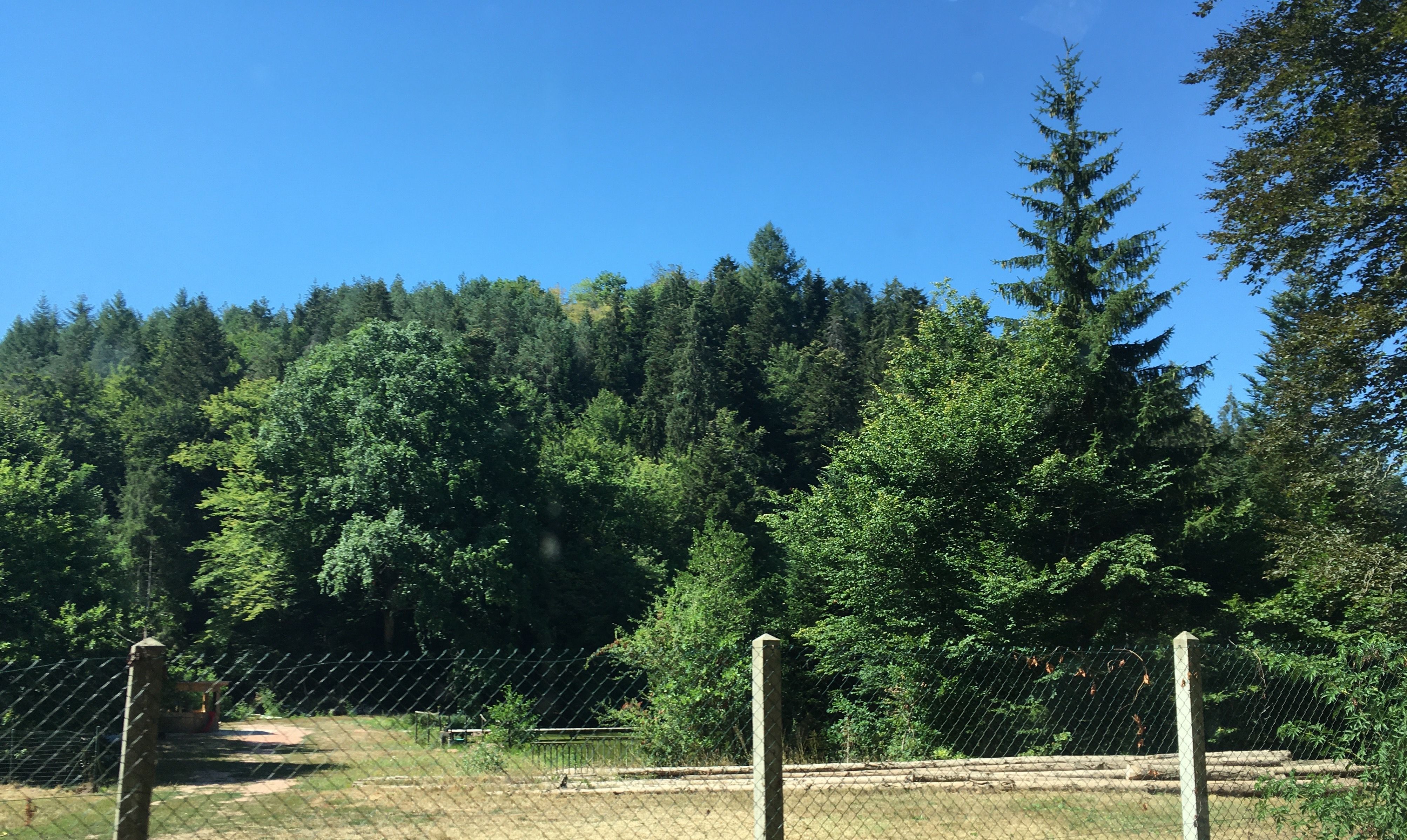 View of the countryside between Saverne and La Petite Pierre, FR.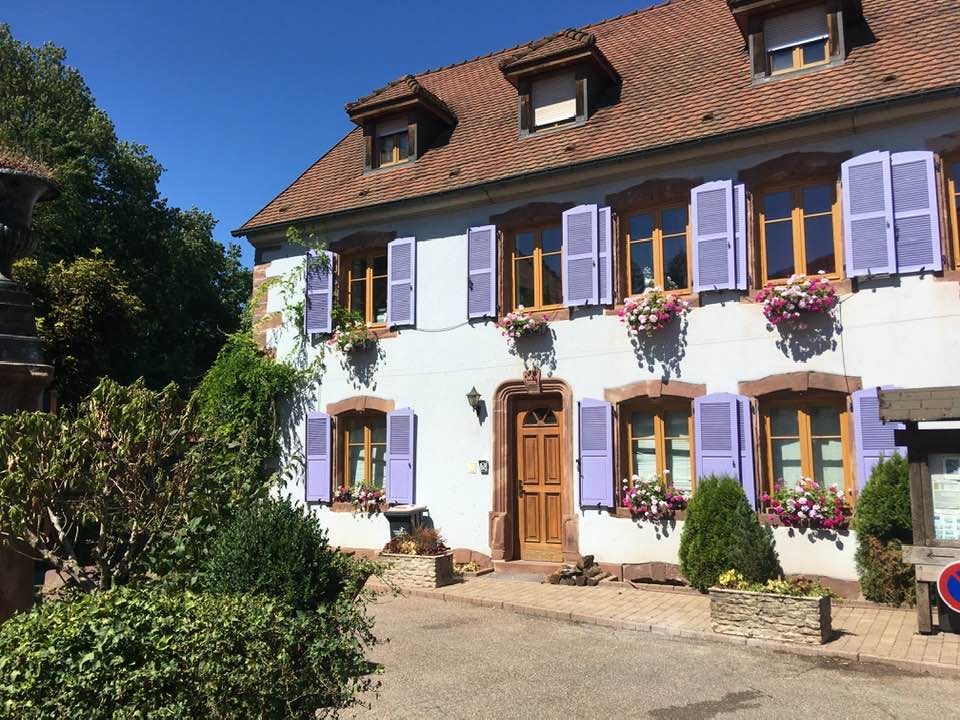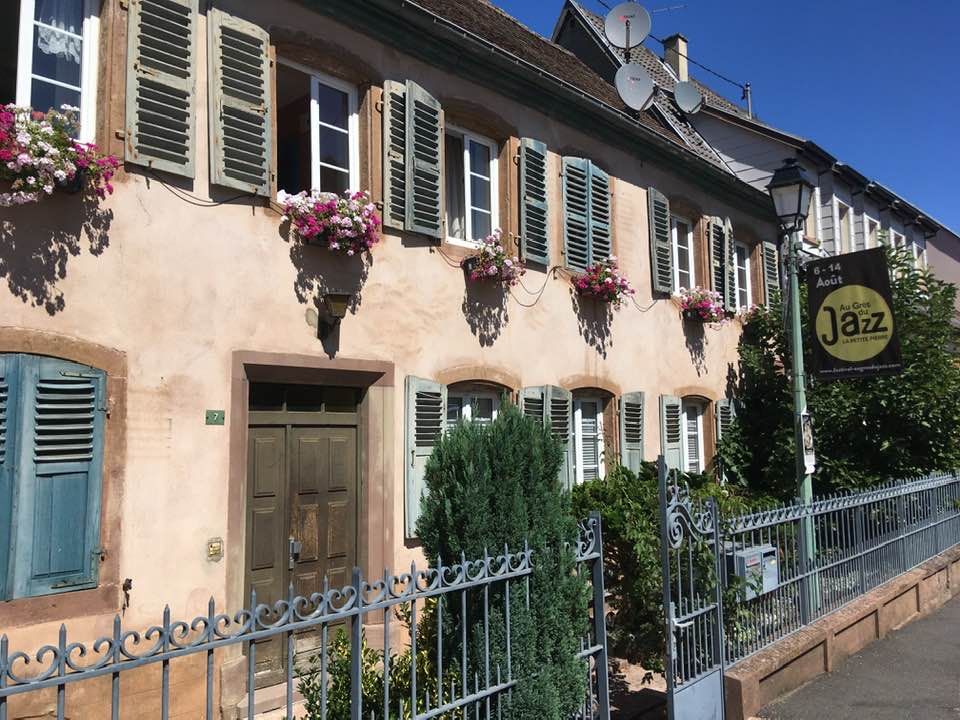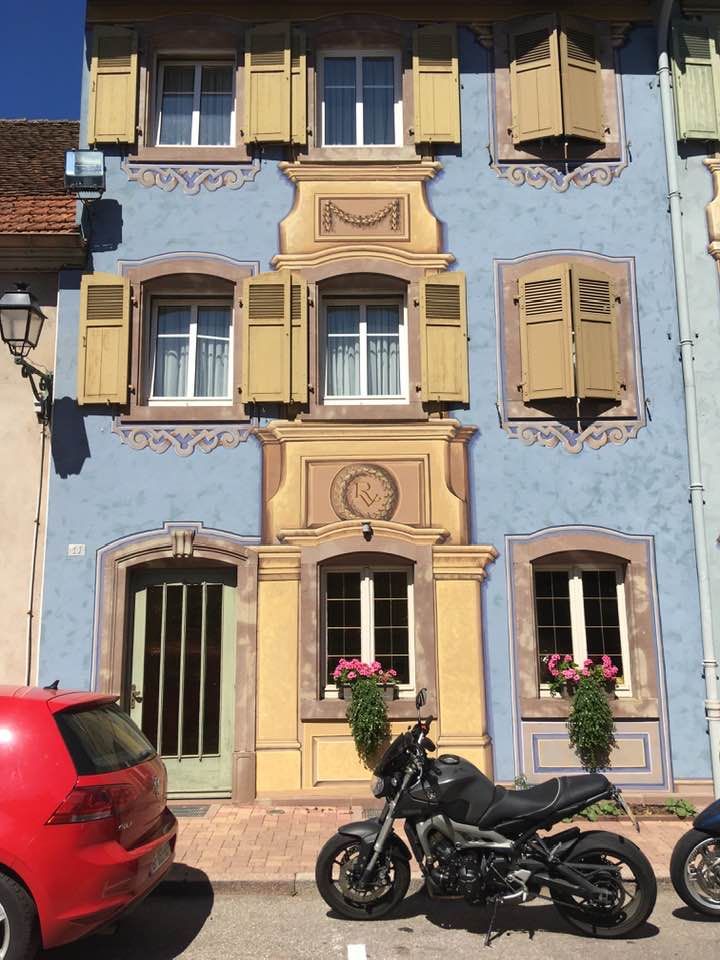 Here are some of the homes in La Petite Pierre, FR. Notice the sign for the jazz festival in front of one home.
The festival was another one of those week long events.  There was an educational component for local amateur musicians which culminated with them giving a Saturday afternoon concert. Leslie and I did two masterclasses for them the morning after we arrived. Later that afternoon we gave a short duo concert as part of a presentation by historian Jean-Marc Berlière on the roll of the voice in the development of early Jazz. The next day Leslie was on the closing concert with Rhoda Scott.  The Kenny Barron trio https://kennybarron.com with Peter Washington and Justin Falkner played before them. Jesse Davis (alto sax) also joined them to form a quartet.  We were listening to their set from back stage.  We have been on a roll lately. Last month we heard George Benson from back stage at Jazz A Vienne.  I have been a huge fan of Kenny Barron for a long time. To me his playing is flawless, so listening to his set was a very nice moment. Between his concert and Rhoda's, we had a chance to chat with him for a minute in the green room. So we spent four beautiful days being chauffeured between our hotel, which was a little bit outside of the village, into town for masterclasses, sound checks and concerts etc. But as France is a civilized country, mostly we were taken to restaurants for lunch and dinner.  And what restaurants they were! The food was indigenous to that region and fantastic. On Saturday afternoon we were able to use the swimming pool at our hotel for a short hour.  I think this was the first time we've actually pulled that off. We always say that we will go for a swim but then we never have the time. That night Rhoda and Leslie's concert was very well received. The band included Nico Peslier, our guitarist in the Funky Ella band. The combination of B-3 organ, guitar, tenor sax and drums along with Leslie singing music that was steeped in the blues, made them the perfect band to close the festival.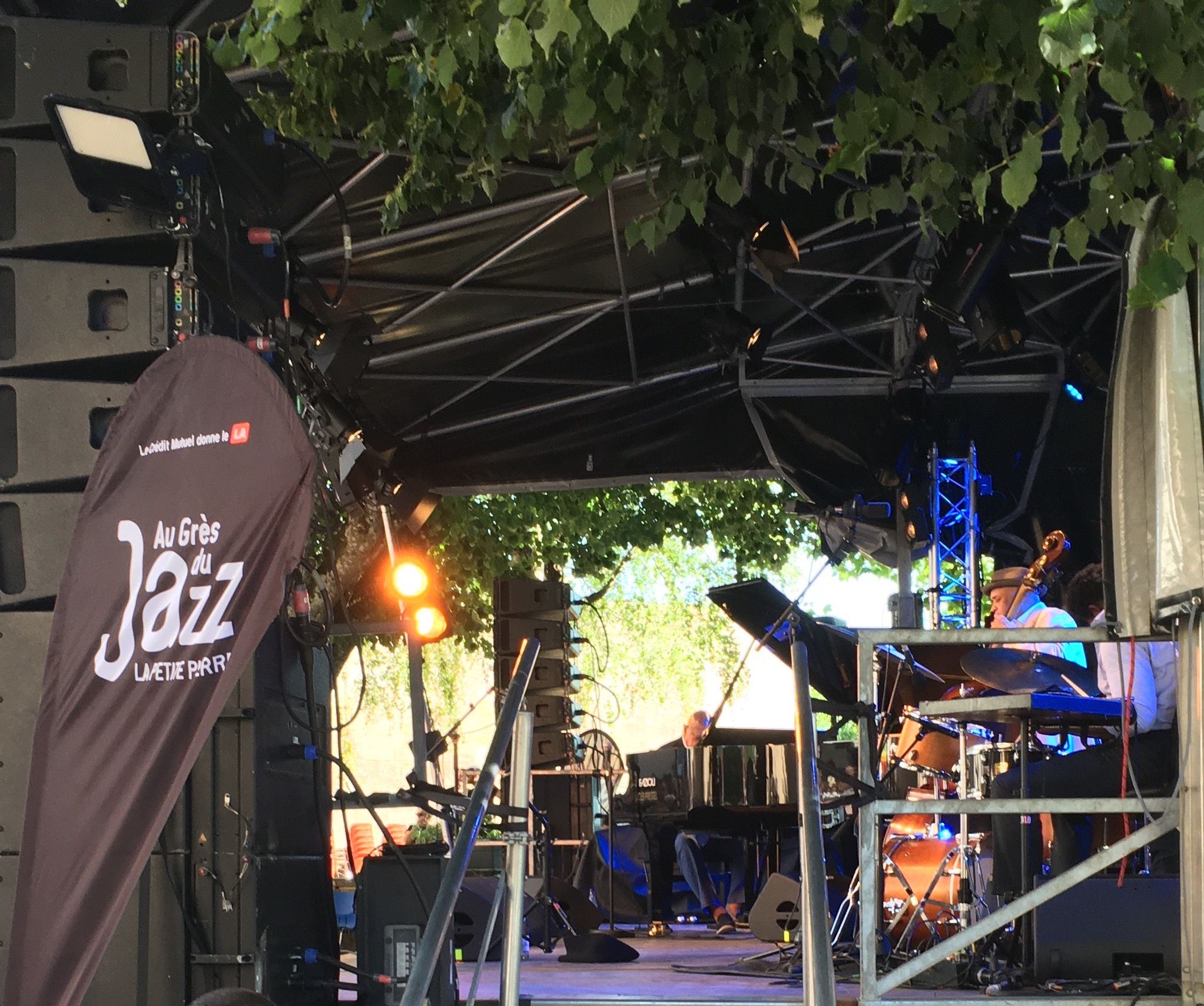 Kenny Barron Trio with Peter Washington & Justin Falkner, they were later joined by Jesse Davis, alto sax.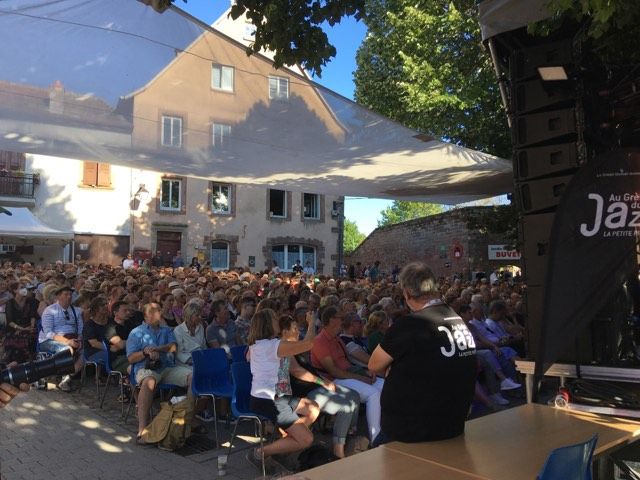 View of the audience for the Kenny Barron concert.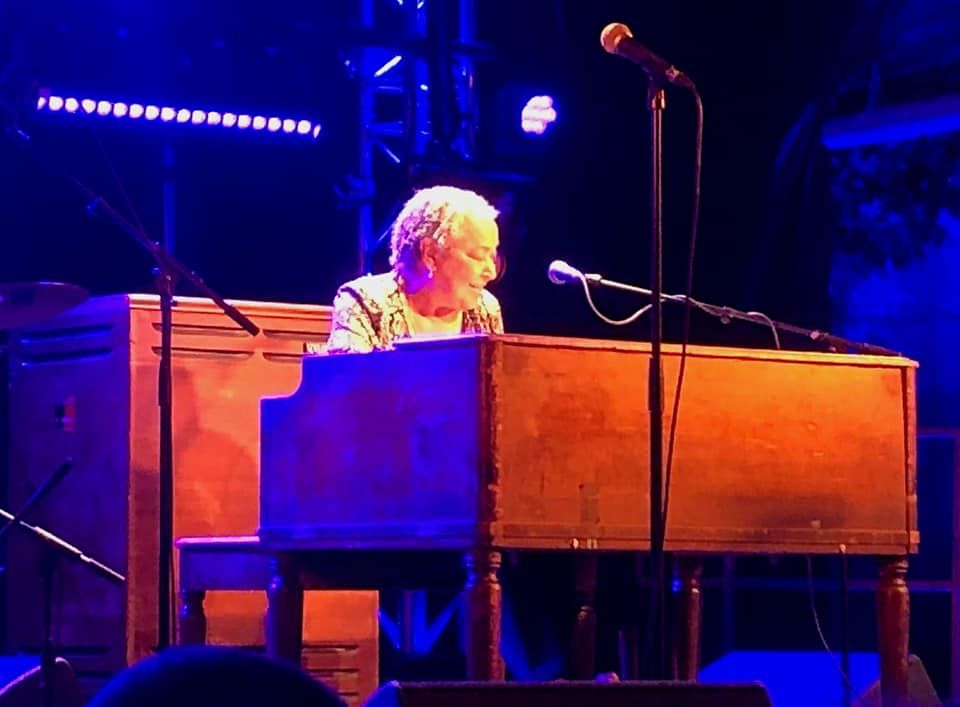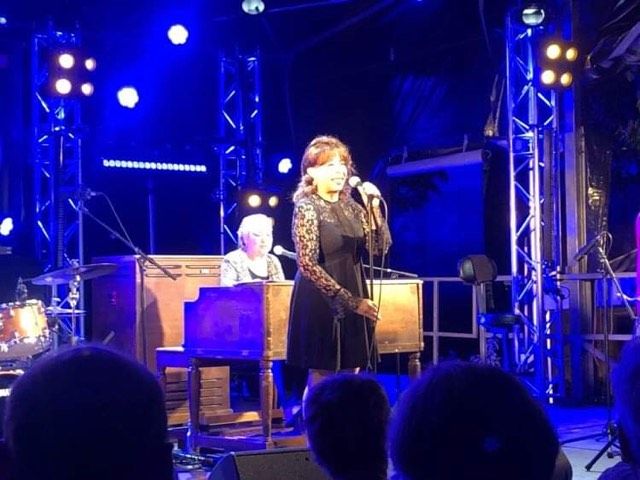 Rhoda Scott in concert & Leslie with Rhoda.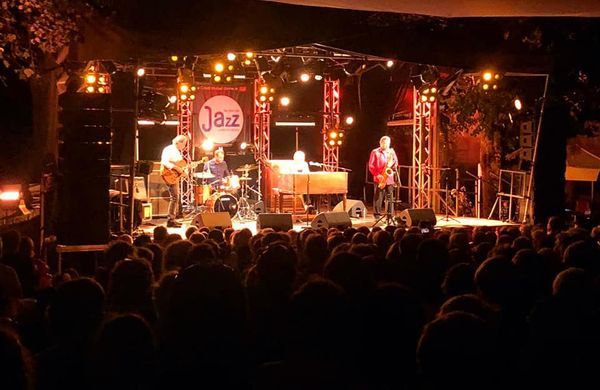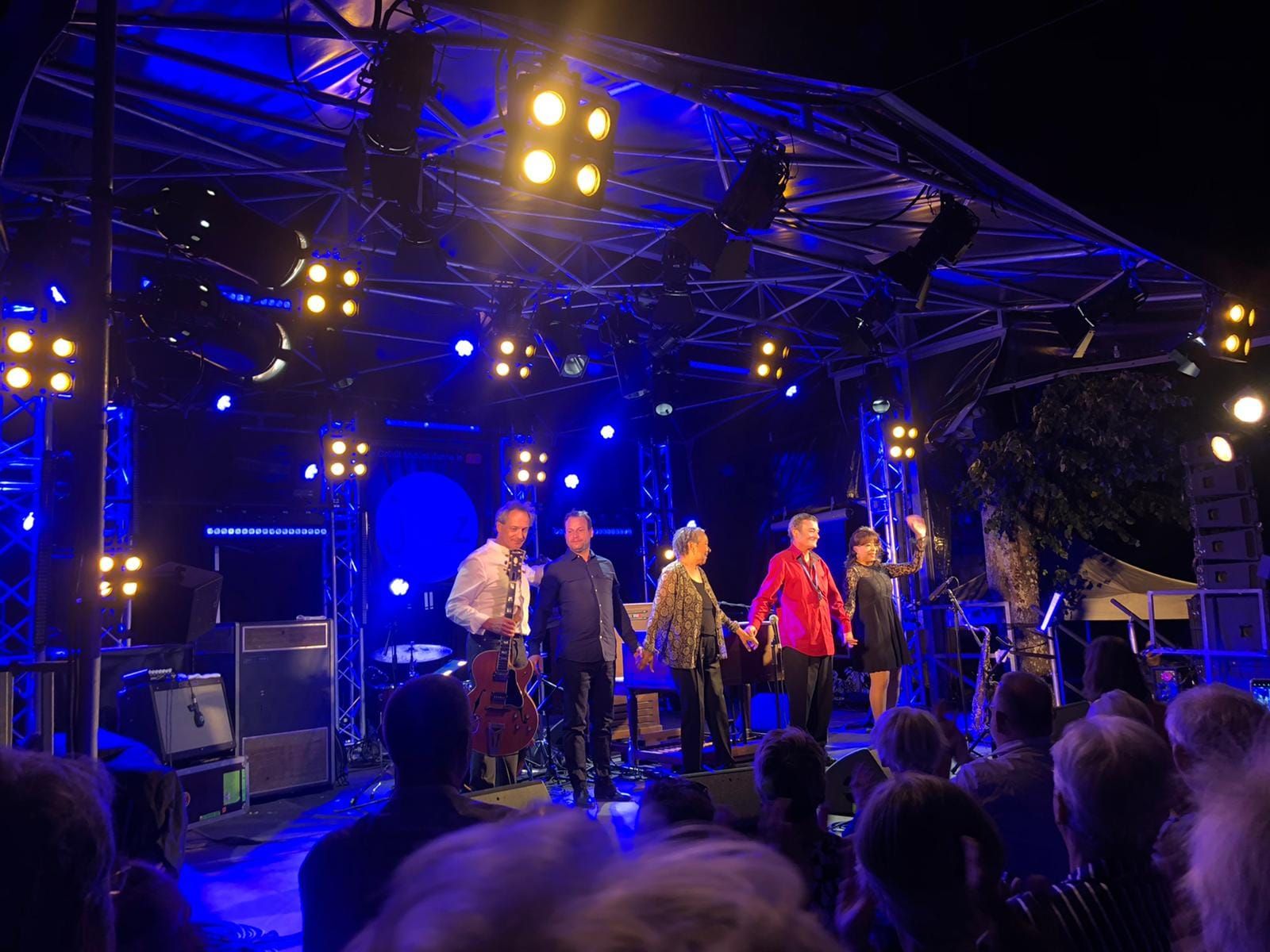 Here is the "Rhoda Scott & Friends" quartet doing an instrumental, the second photo is the band taking a bow after the last song of the night.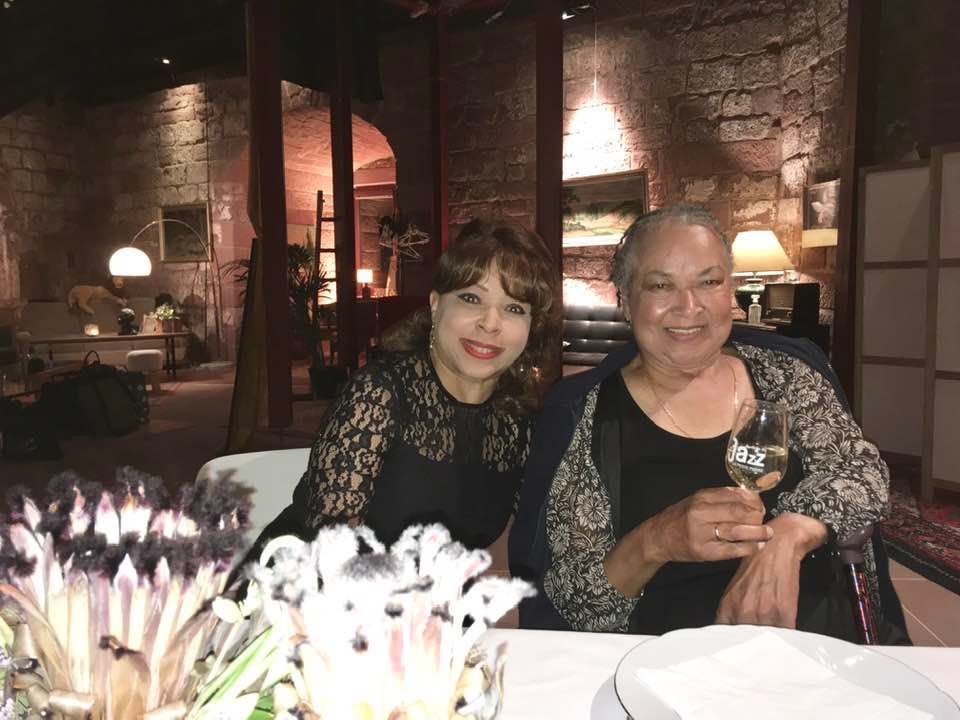 Leslie and Rhoda share some down time after the concert.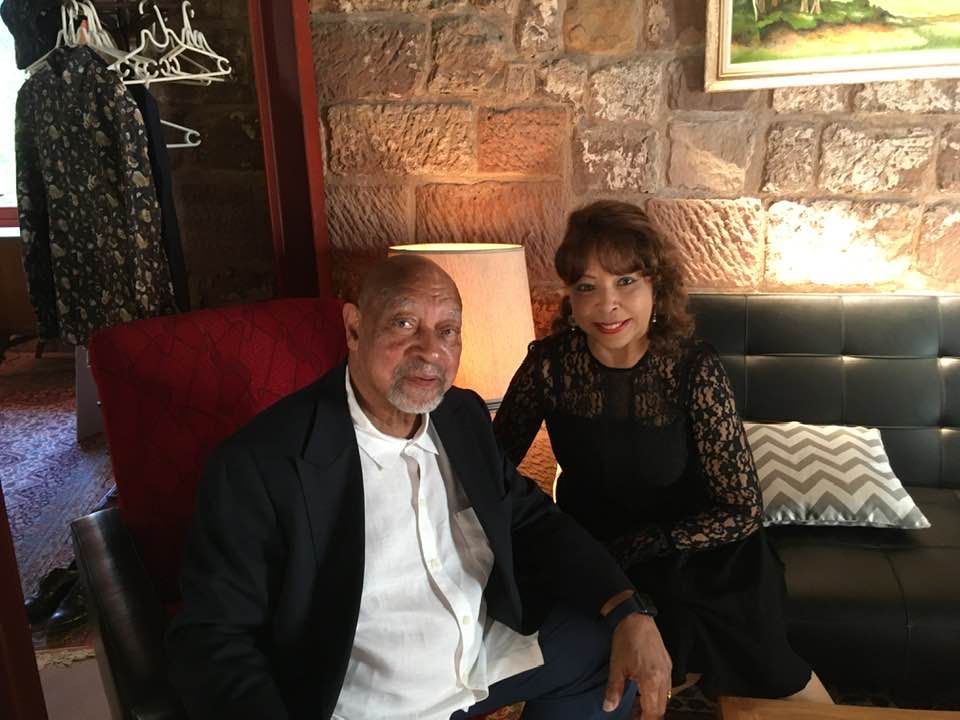 Leslie and Kenny Barron in the green after his concert and before hers.
Our time in La Baule for the Funky Ella concert was much less relaxed. We were there for less than 24 hours. The La Baule Jazz Festival is a three day event. We were the closing concert for the festival. The concert was outdoors in a very nice amphitheatre with seating for 1000 and it was sold out. They had a beautiful Steinway C for me. I guess due to the energy in the venue and the size of the audience, the band was a bit amped when we started the concert so the tempos were a bit faster than what is comfortable for Leslie to sing to but, as she always does, she handled things like the pro that she is. Sometime during the second tune I could feel things settling in and from then on it was cool. We had a very good night and laid the groundwork for some opportunities for next year. When Funky Ella performs there is a lot of drumming going on, not mention the electric guitar and electric bass, so when Leslie (who can hold her own in most any situation) is added, there is a lot of sound. Sometimes when we play I'm reminded of a freight train rolling down the track.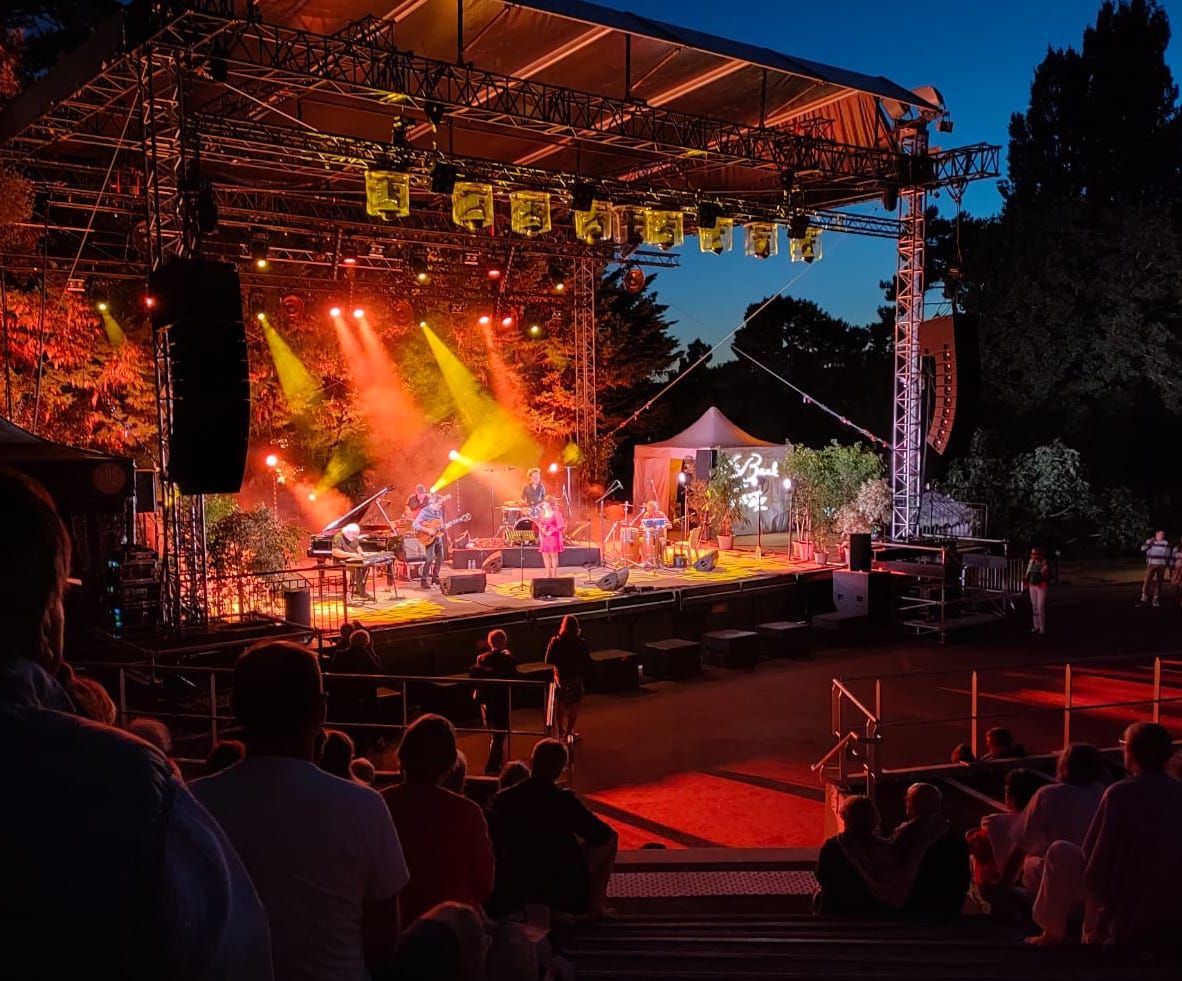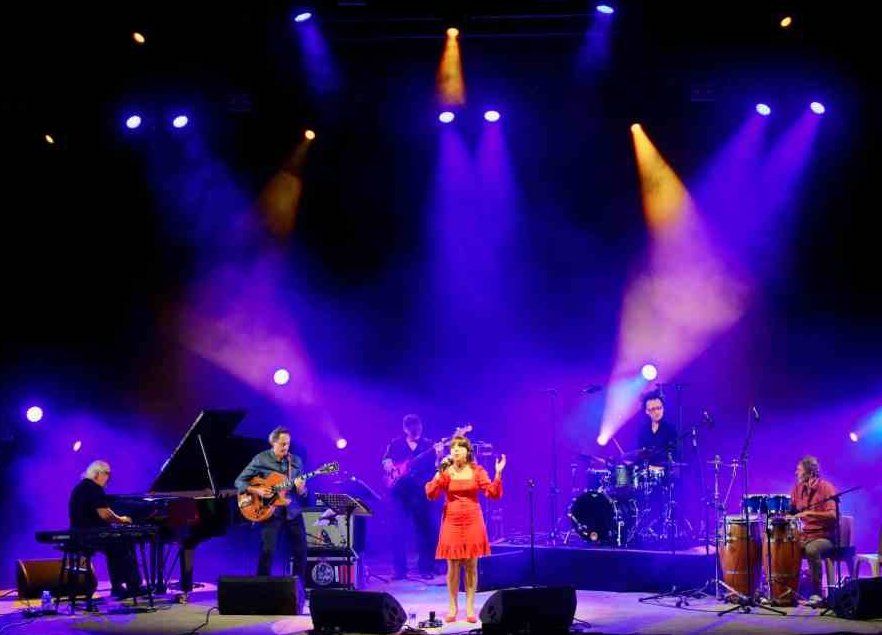 The Funky Ella band performs at the La Baule Jazz Festival.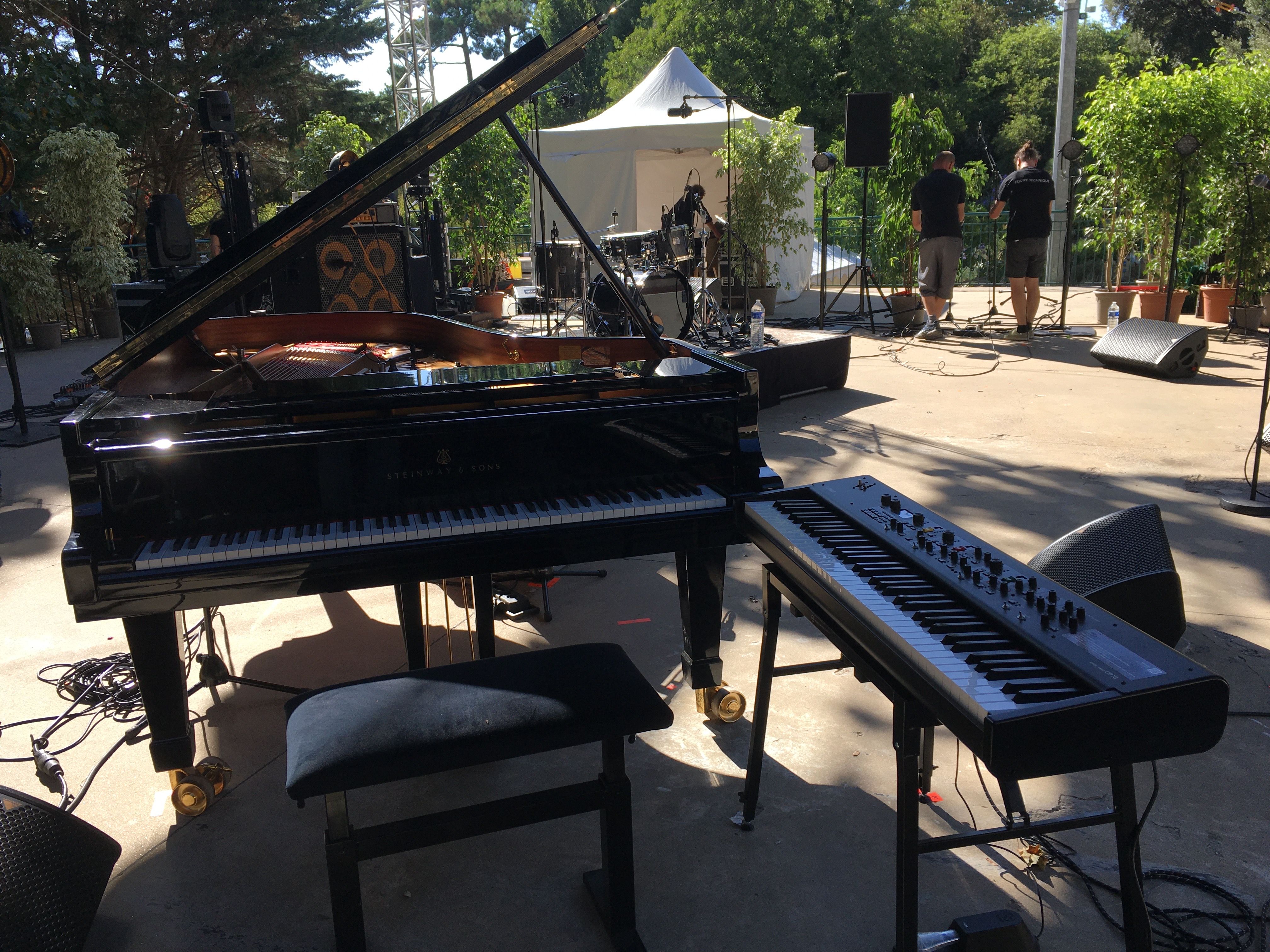 View of the piano/keyboard (Yamaha CP73) before sound check.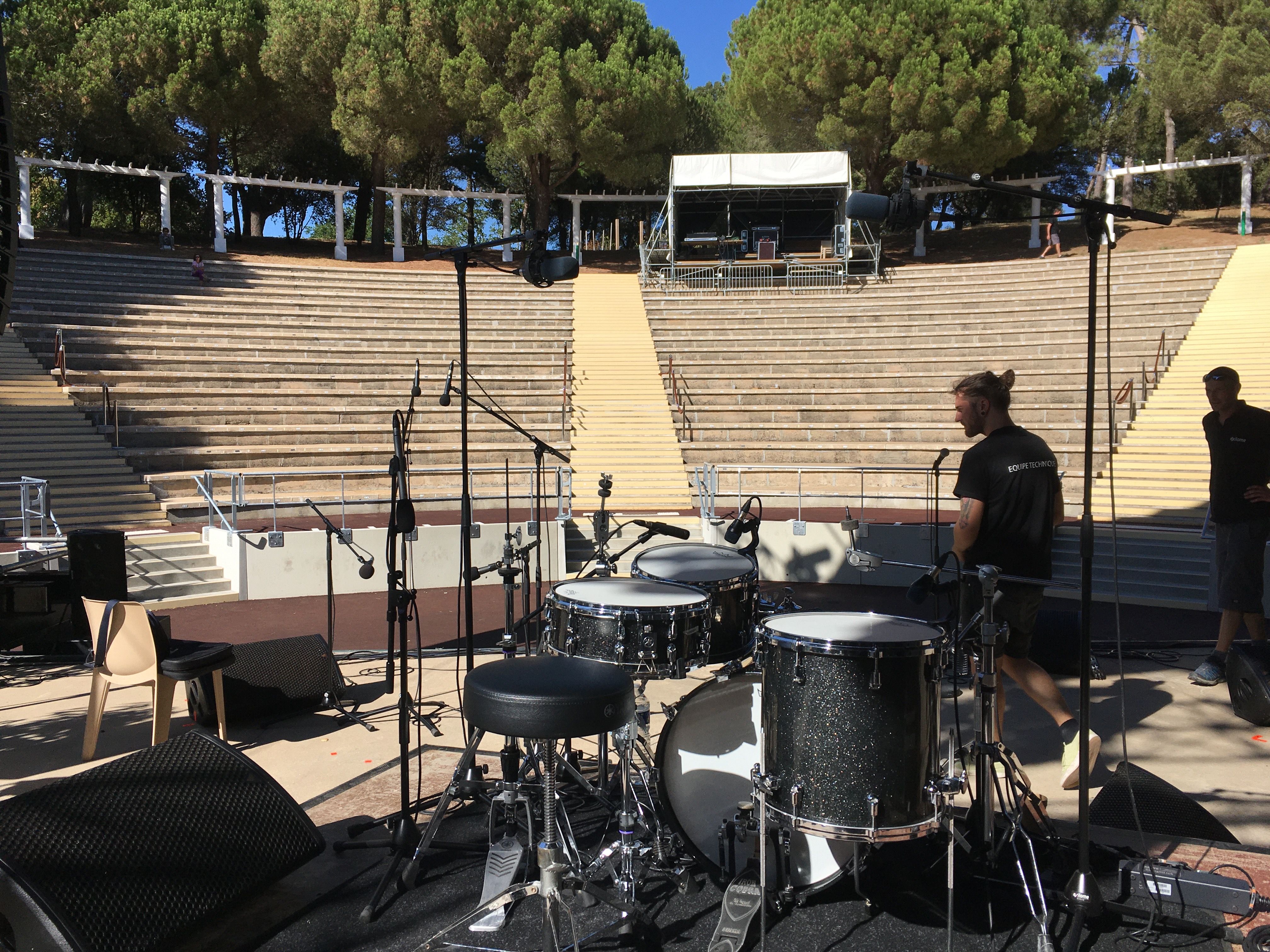 View of the drums out to the audience before sound check.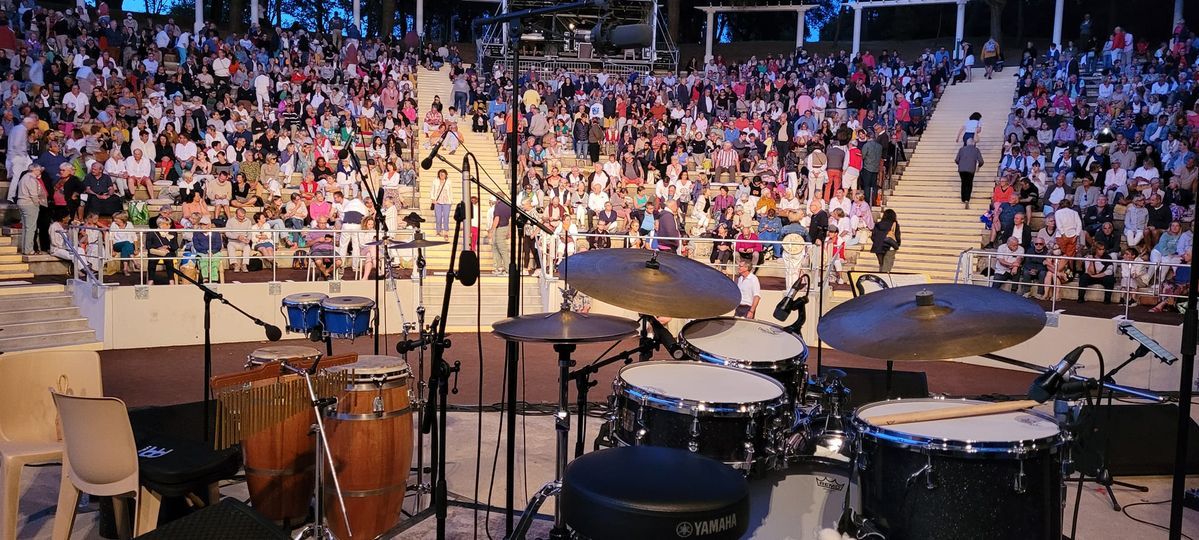 View of the drums out to the audience before the concert.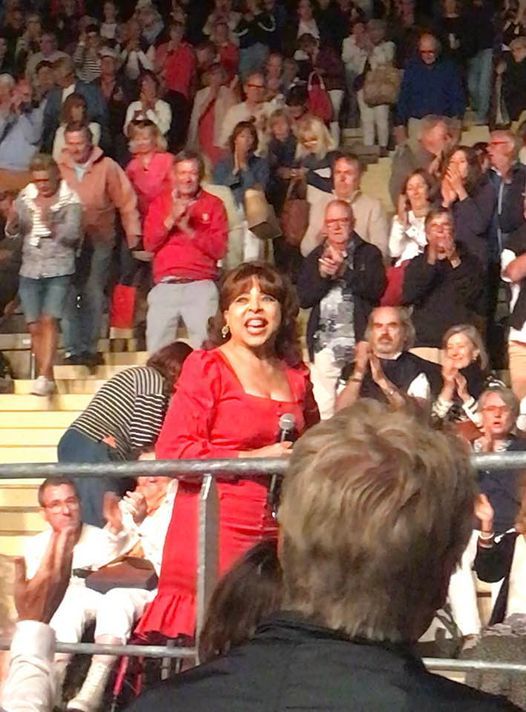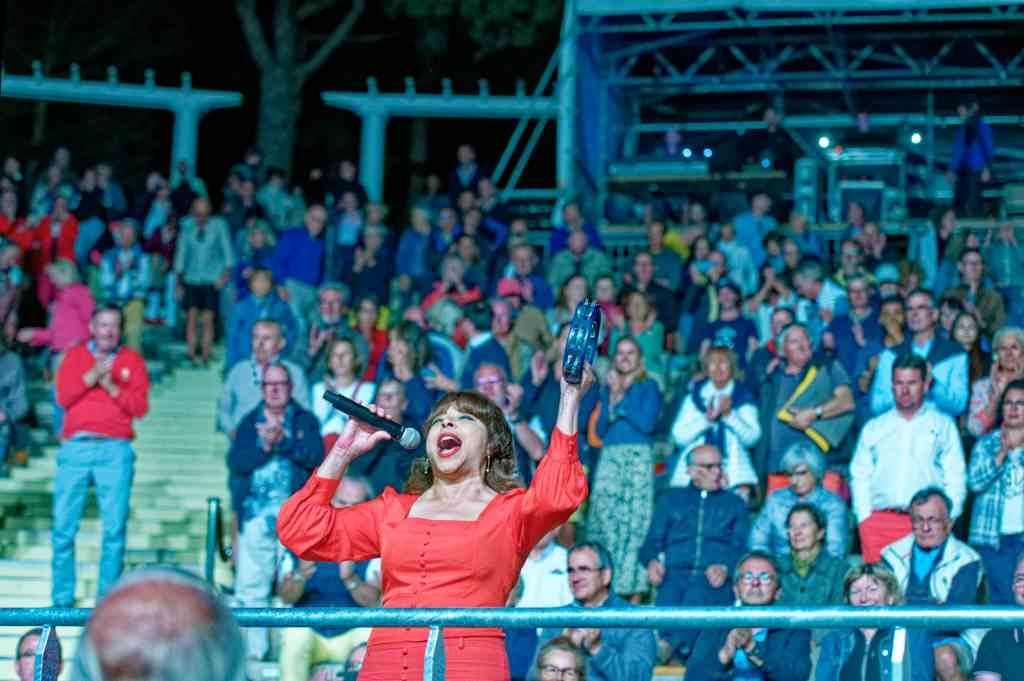 During the last song of the night Leslie went out into the audience and got them involved which lead to a number of people using the area between the stage and the seats to dance.  That was followed by 2 encores.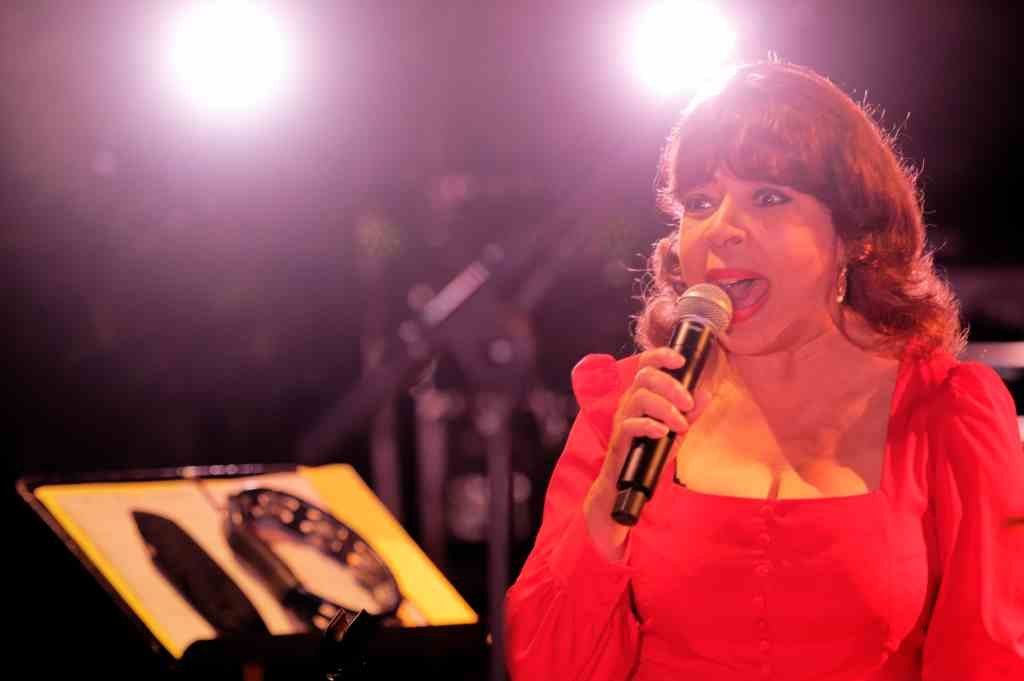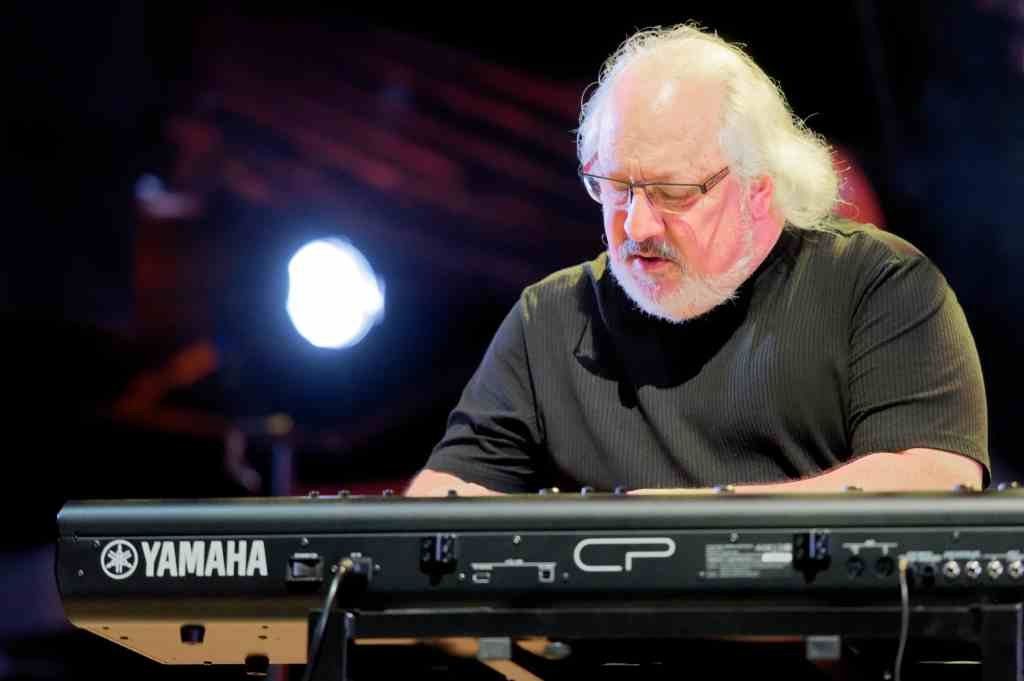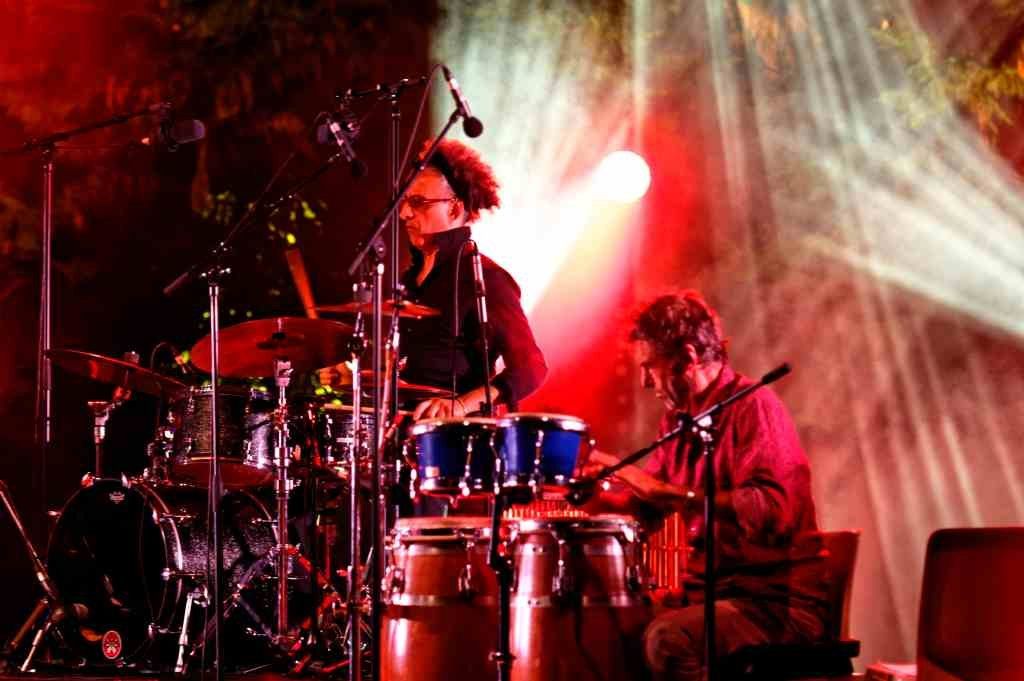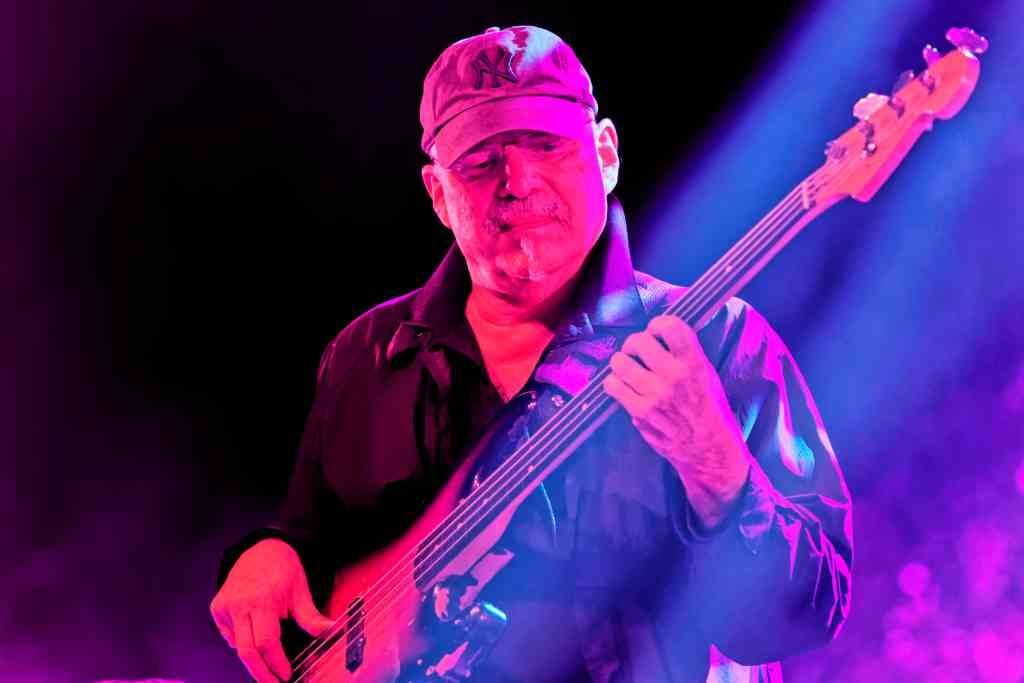 Leslie, Gerard, Mourad & Jean-Philippe and Peter during the concert.
The day after we played in La Baule, Jean-Philippe, Leslie and I had a concert in Gien, France.  Compared to the festival in La Baule, that concert was a small event which was held at the Chateau Musée de Gien. Even though the concert was sold out, there was only seating for 50 people, so the energy and everything else was different from the night before in La Baule. We have done maybe a half dozen concerts with Jean-Philippe and it is always great fun because we are totally free to change the direction of the music at any time. Gien is about two hours outside of Paris so we decided not to stay over night there. We drove back after the concert and got home around 1:30 am having spent way too many hours in that van over the course of two days.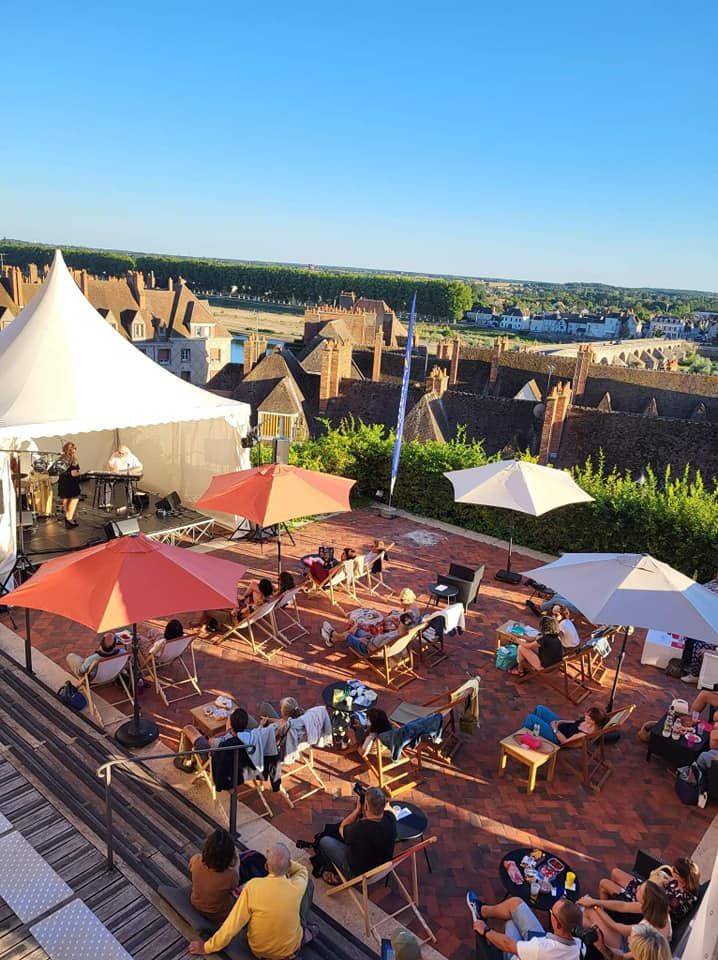 Concert in Gien, view from above.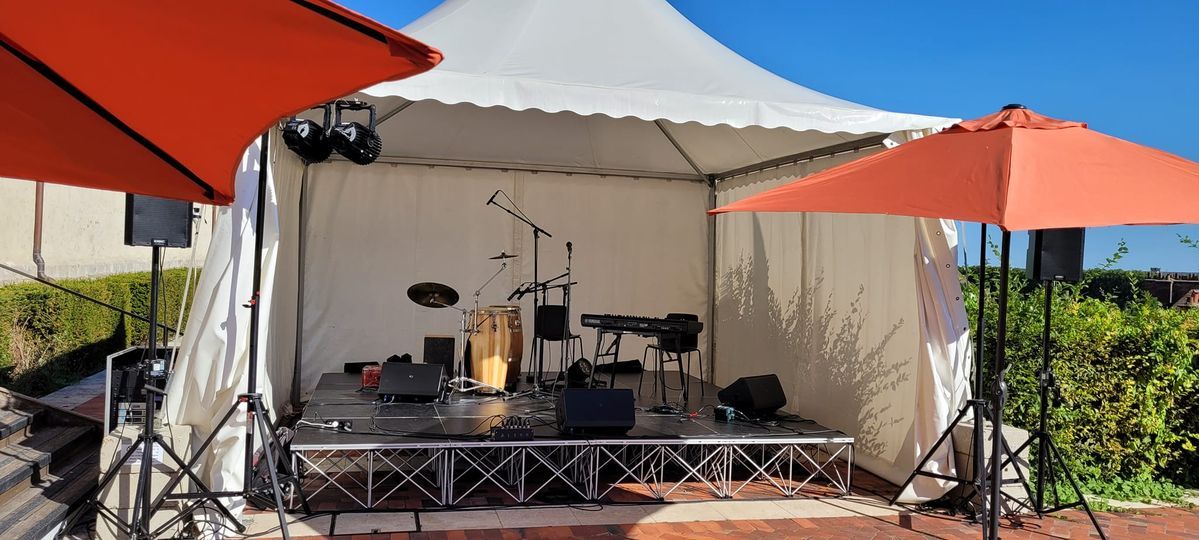 View of the stage before the concert.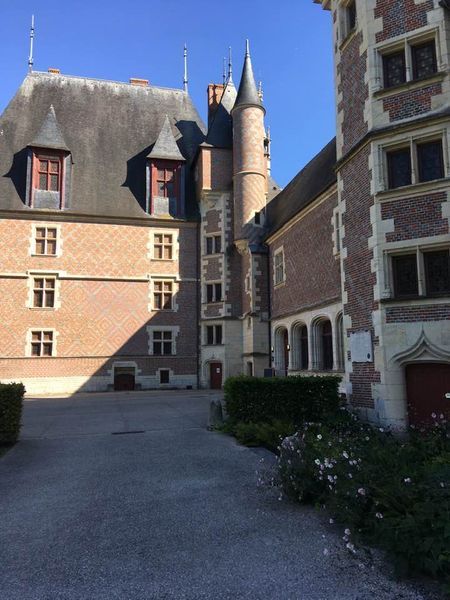 View of the front of the Chateau Musée de Gien.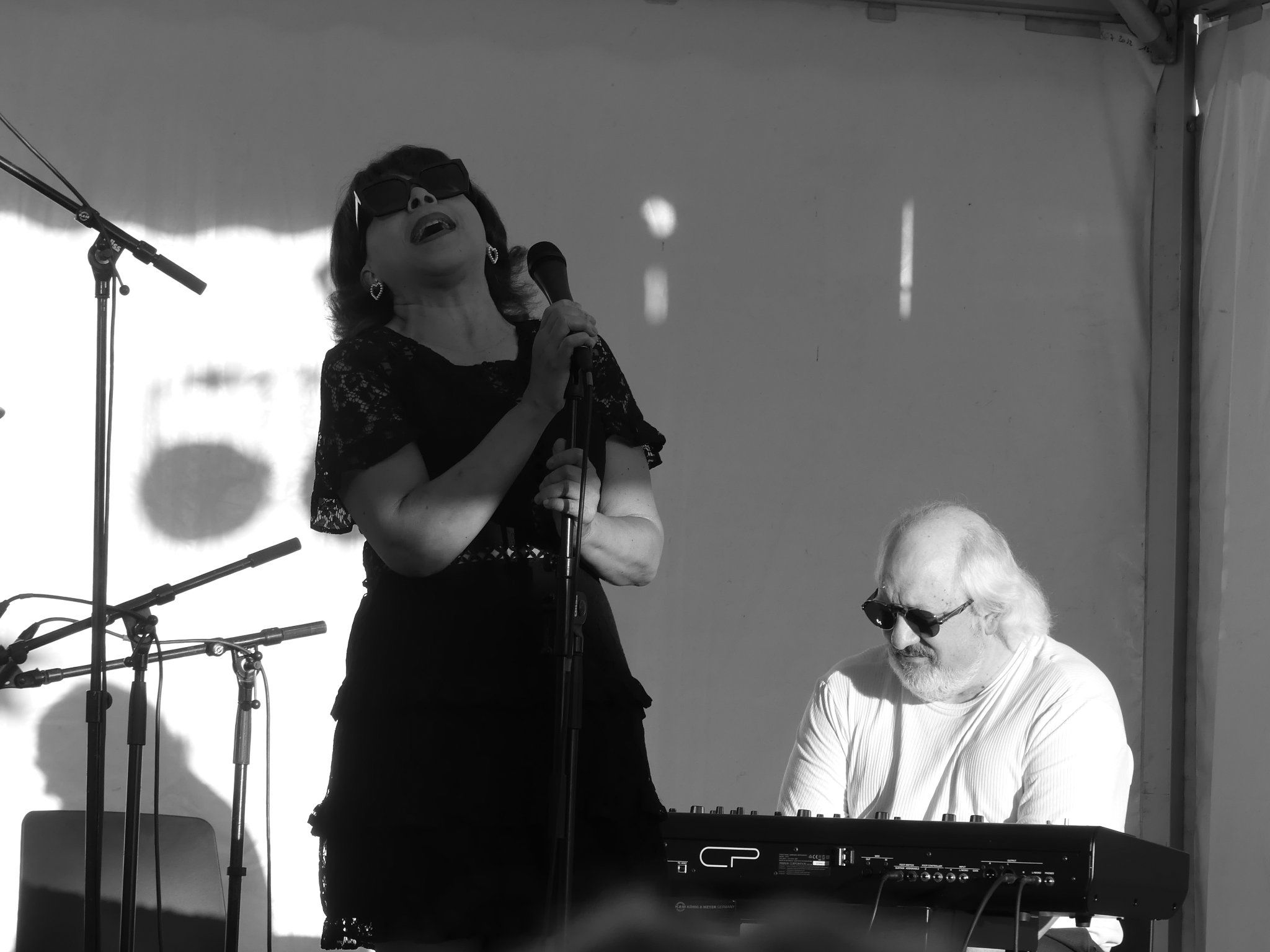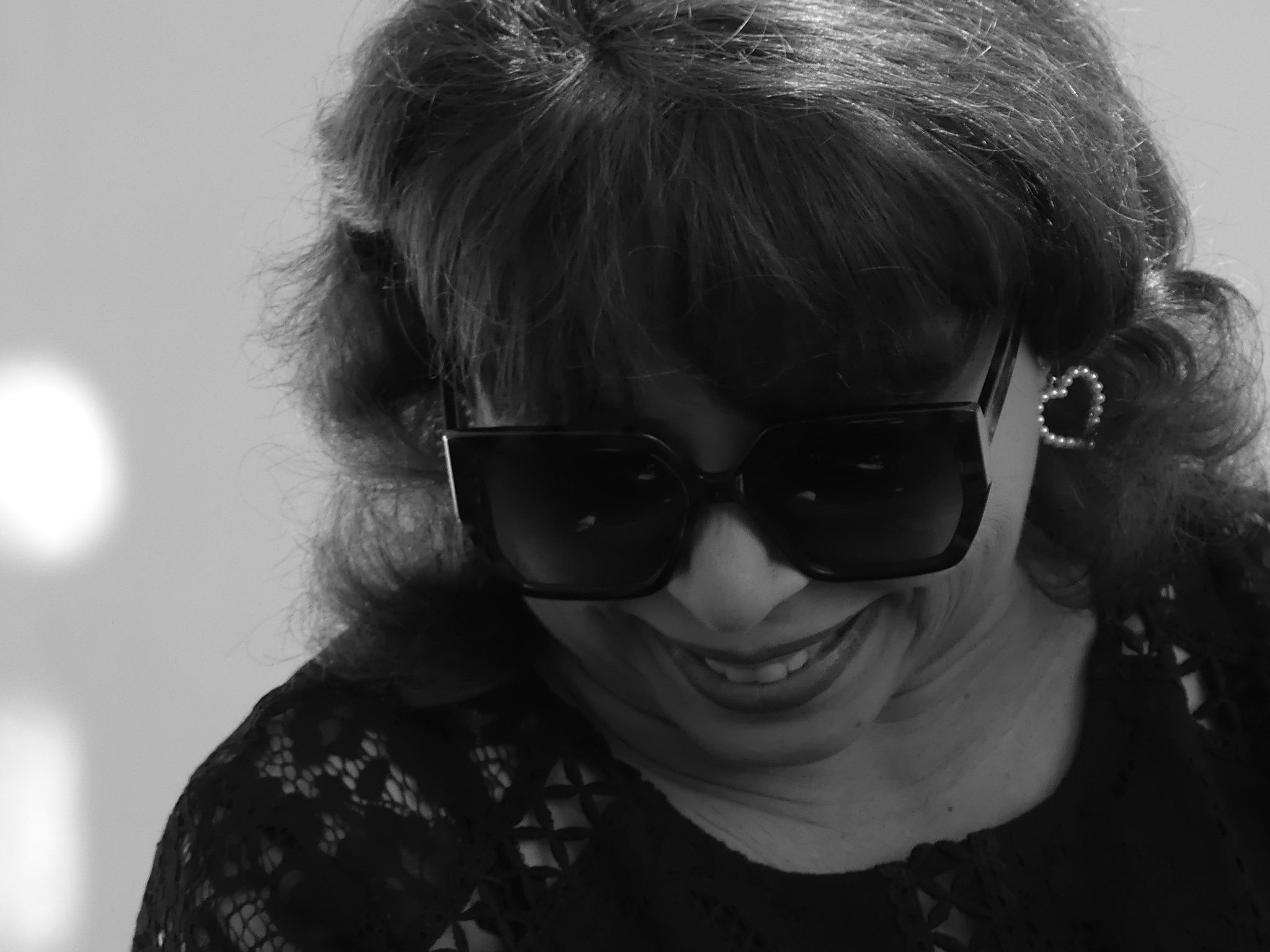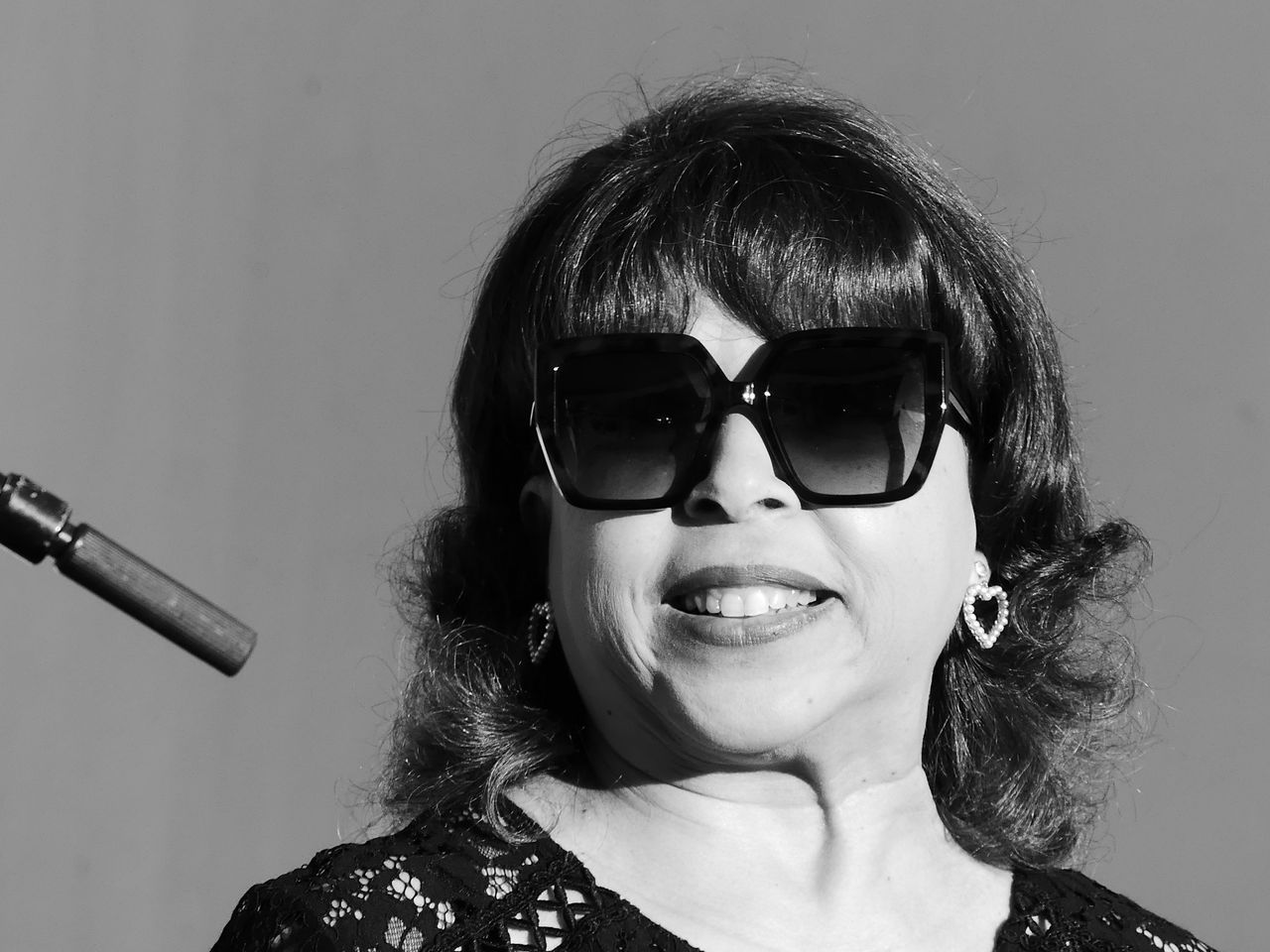 Leslie & Gerard performing in Gien, FR.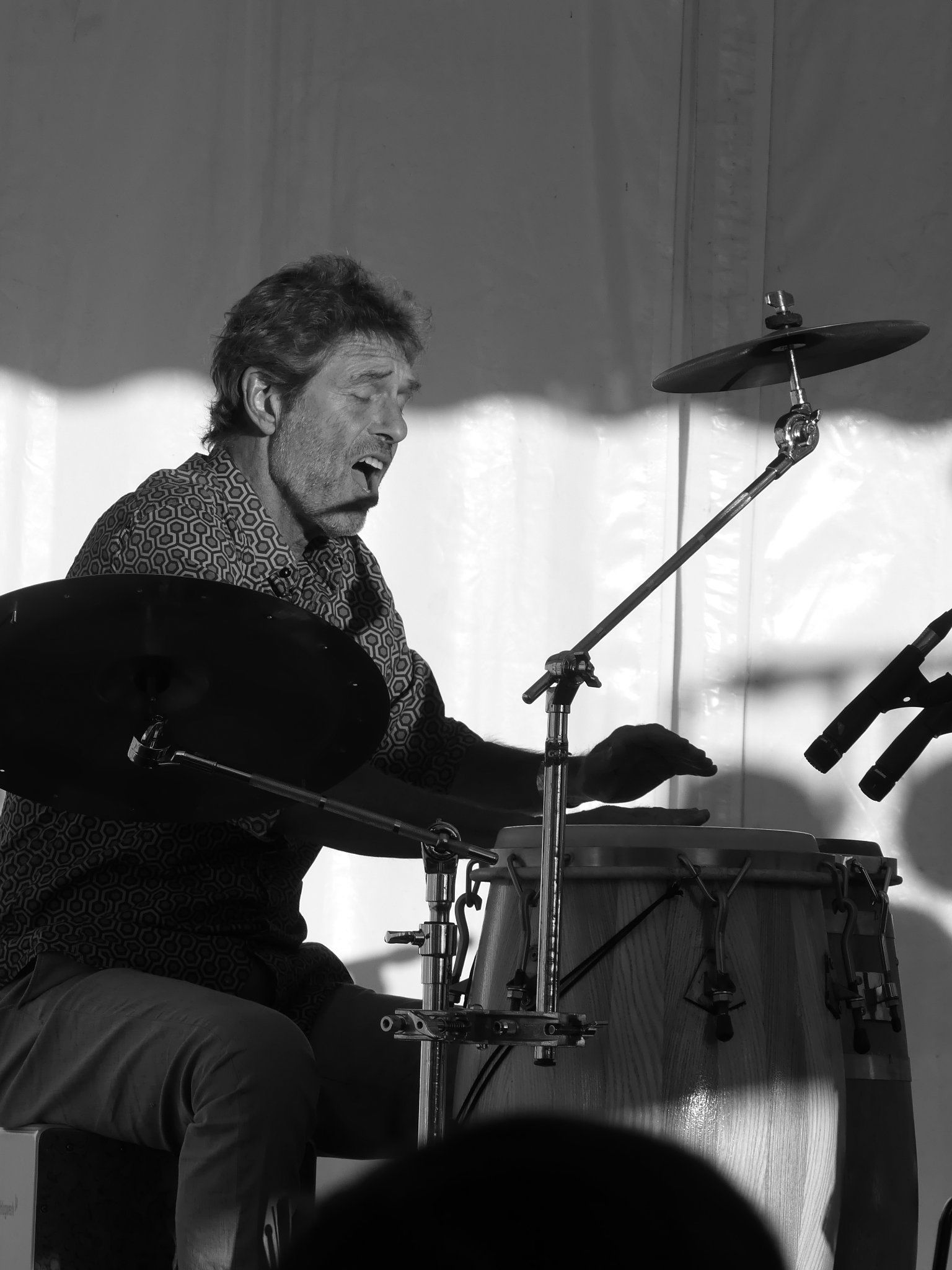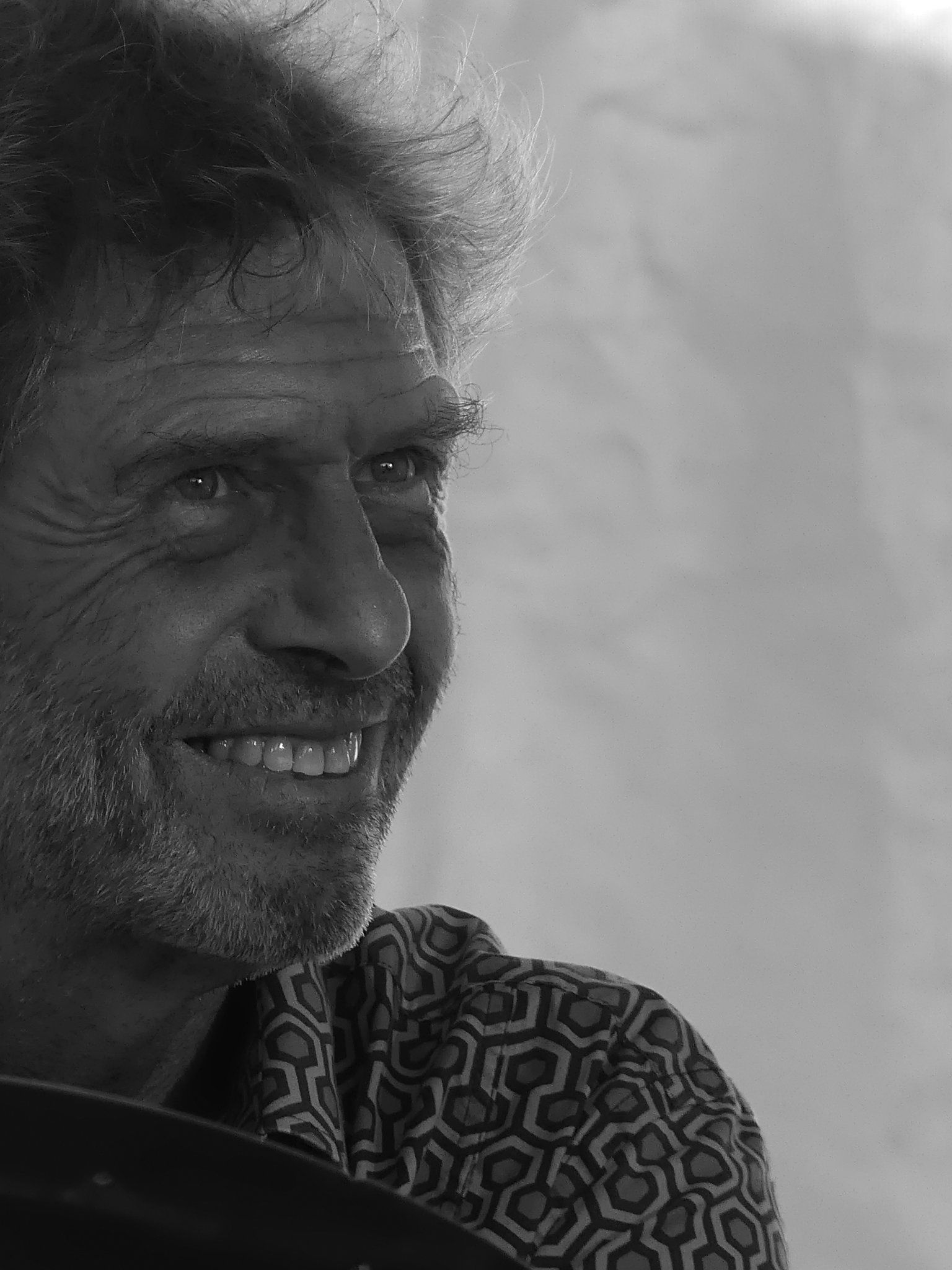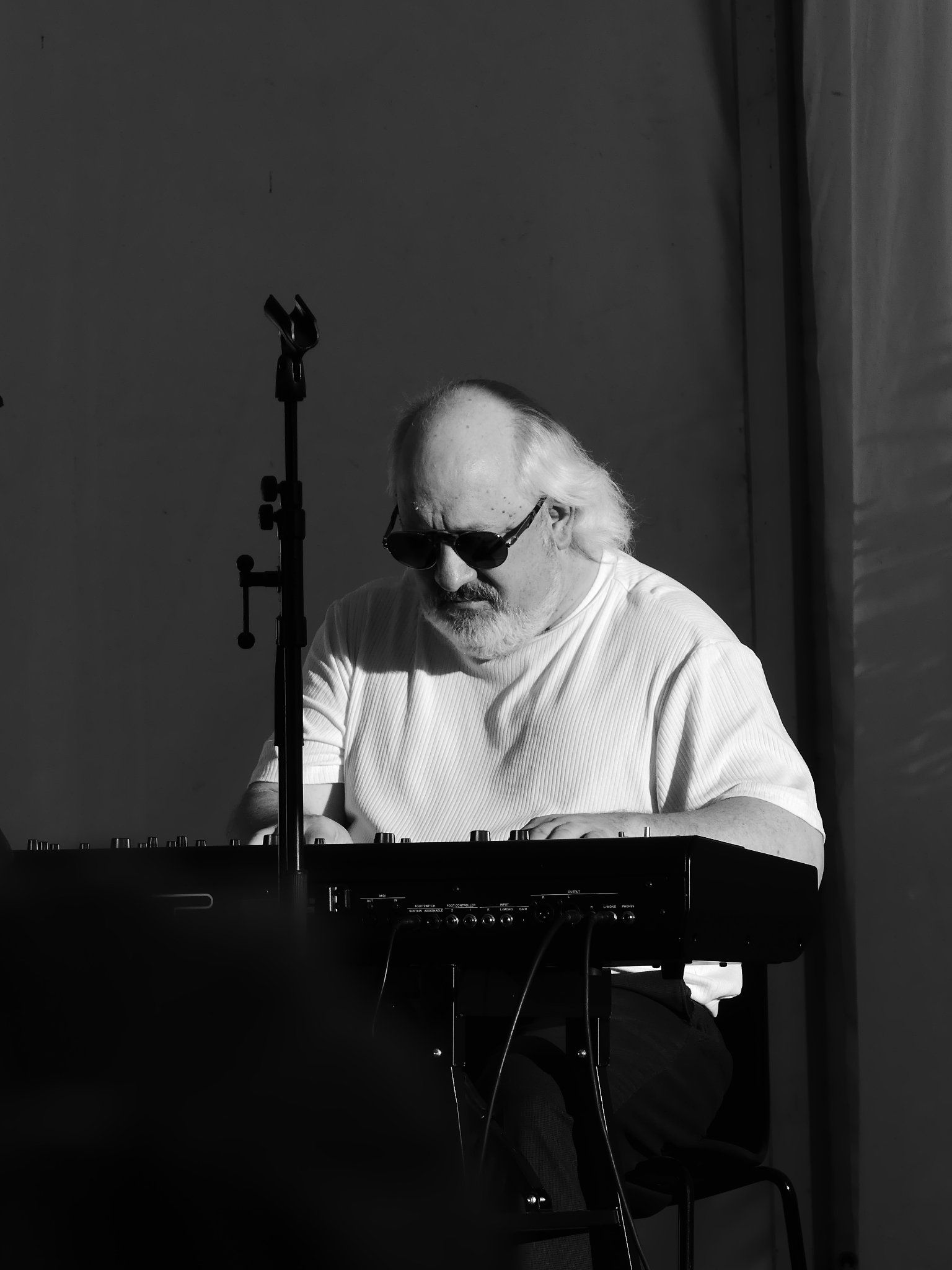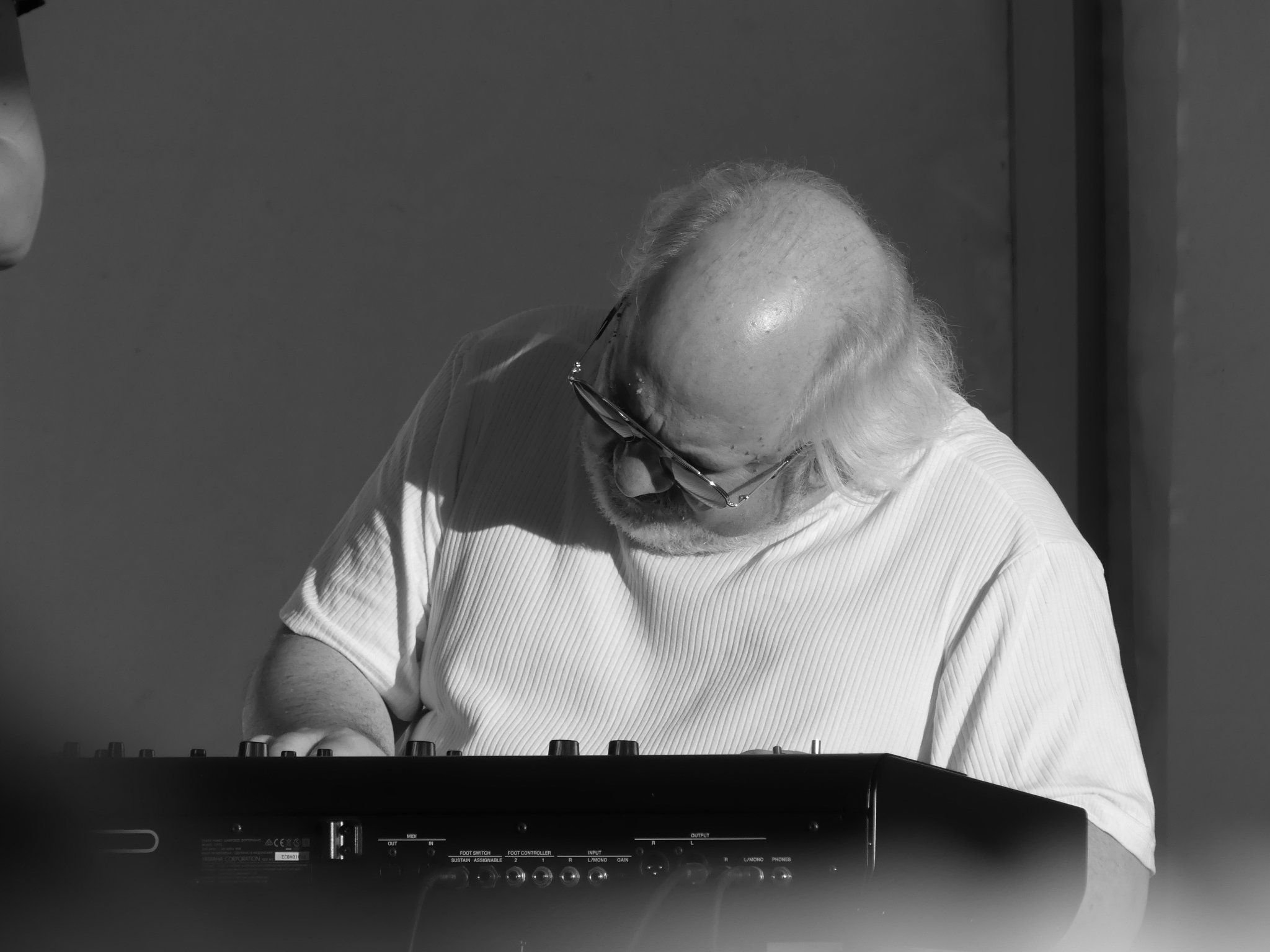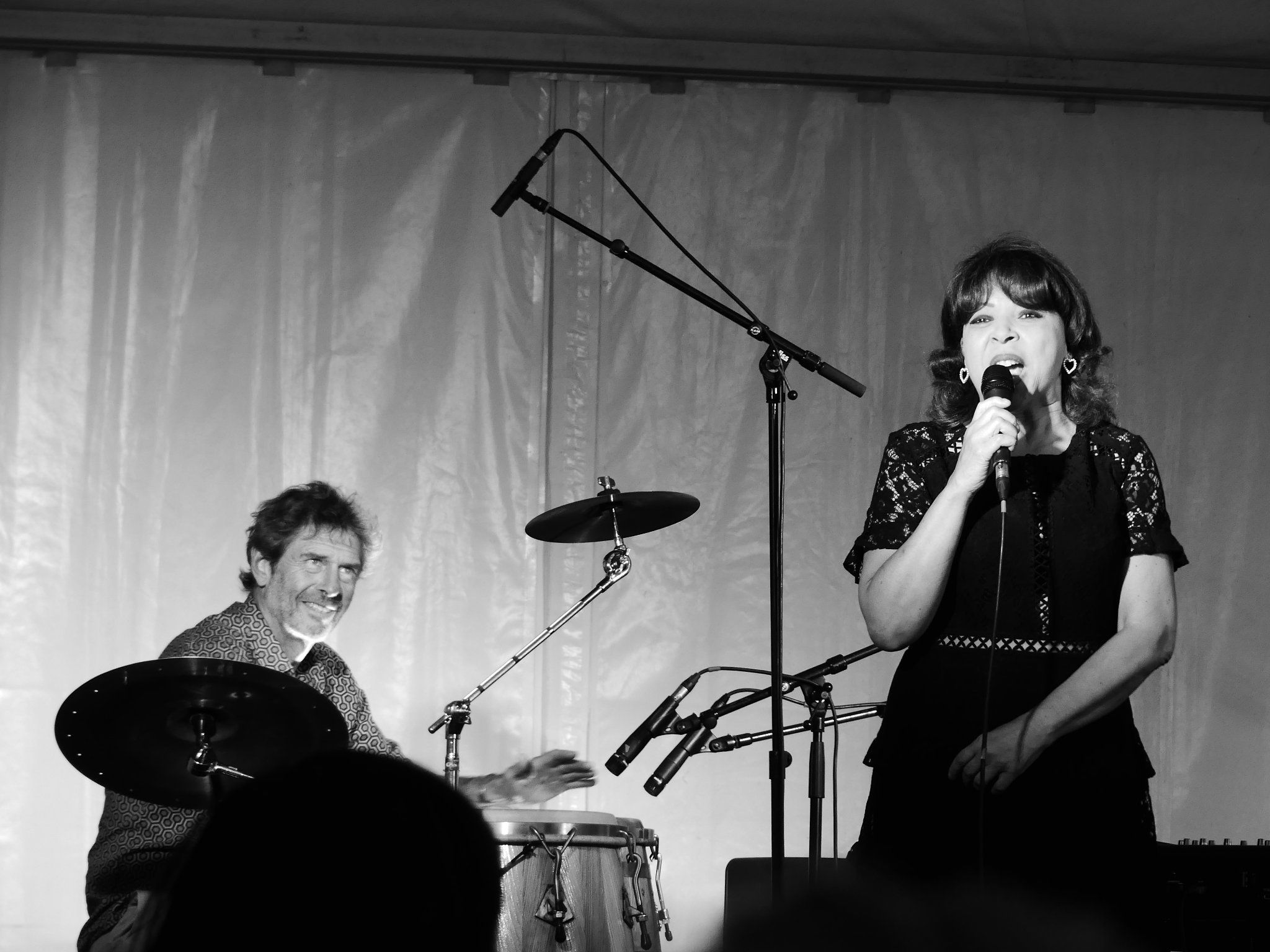 Jean-Philippe, Leslie & Gerard perform in Gien, FR.
Earlier in July we did Jazz A Vienne. That was easily the biggest festival I have ever been a part of.  It lasts for several weeks and brings major artists from around the globe. I am always impressed by how the organisers of all of these festivals handle the logistics of getting every performer and the things that they need to the right place at the right time.  There are several venues there that feature music.  We were at the jardin de Cybéle which was almost filled to capacity when we arrived.  So we did our soundcheck in front of the audience. Our early evening concert was so much fun; great sound, great Yamaha C7 piano and a beautiful setting in which to play. These festival concerts have really helped the band to develop an understanding of how each person plays which has in turn helped us to give a more polished performance. The night we played in Vienne, George Benson was the headliner.  He is still sounding great. Although there are no burning guitar solos any more, his repertoire (and killing band) was more than enough to satisfy the crowd.  We had the opportunity to drop by to say hello after his concert and considering that he really just wanted to chill he was very gracious towards us. Following that concert Leslie went to Nimes to do a concert with Philippe Duchemin's trio.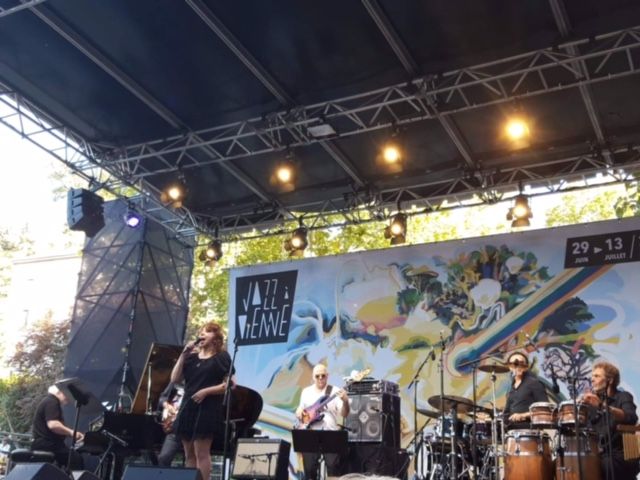 Funky Ella plays Jazz A Vienne.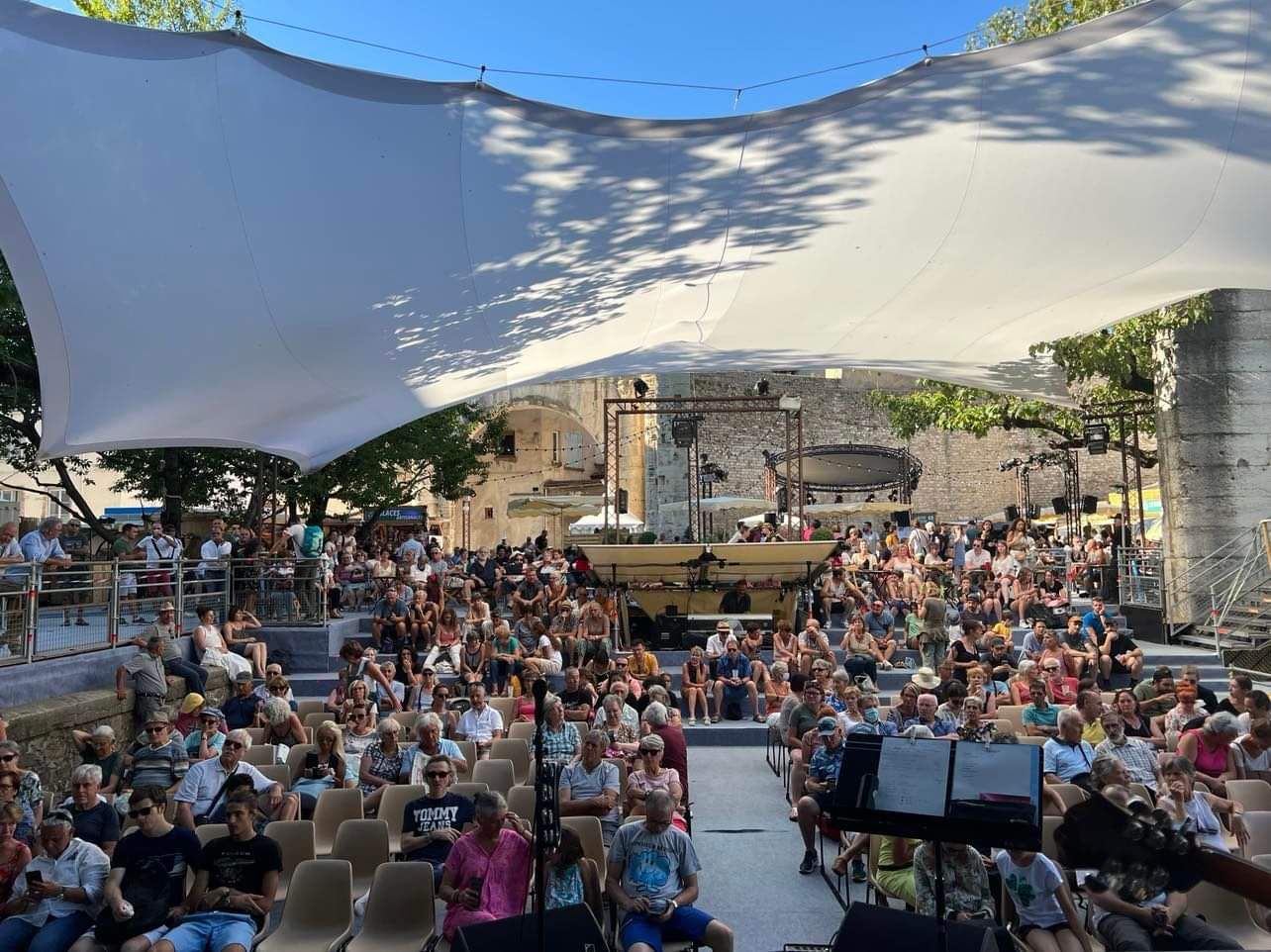 The audience at Jazz A Vienne was waiting for us when we arrived, they sat through our sound check which thankfully was uneventful.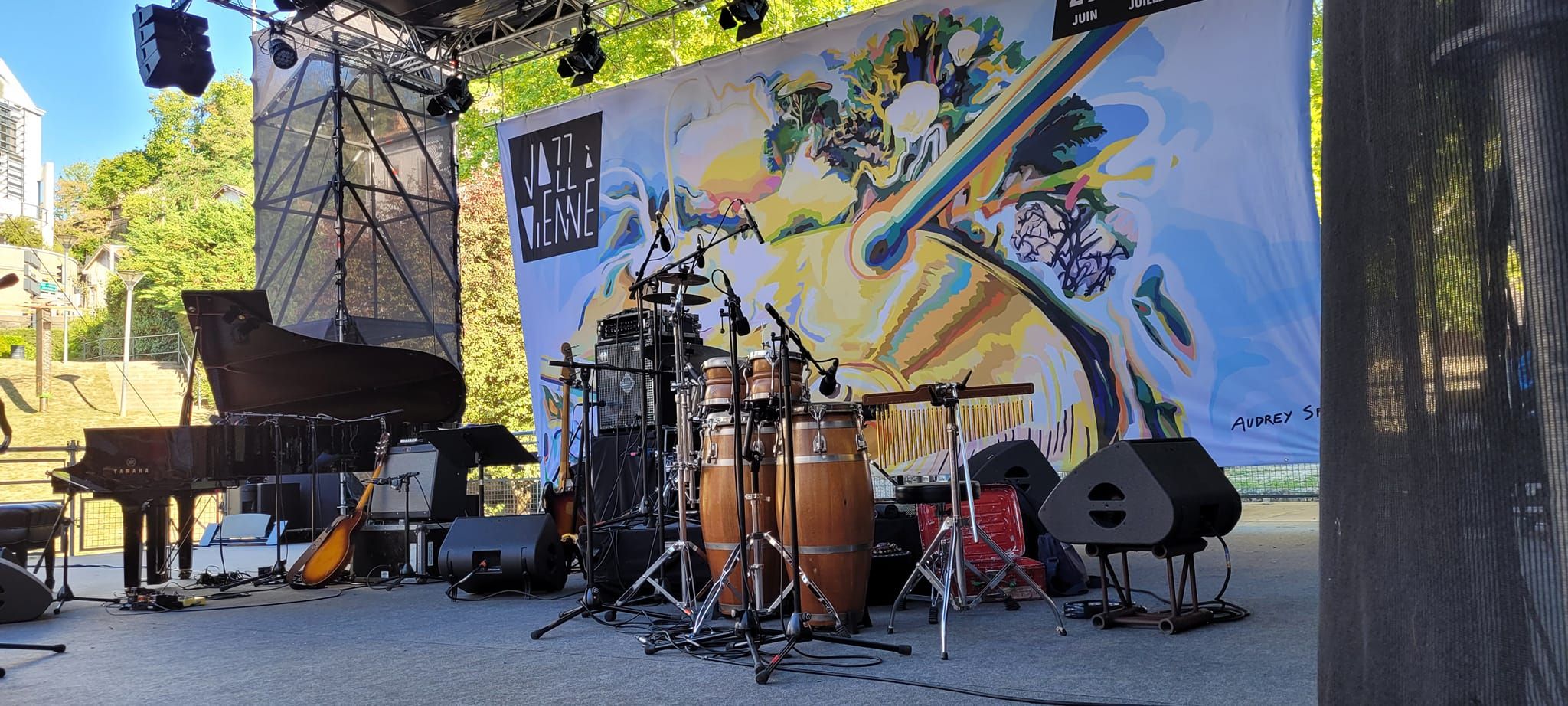 Stage at Jazz A Vienne just before our set.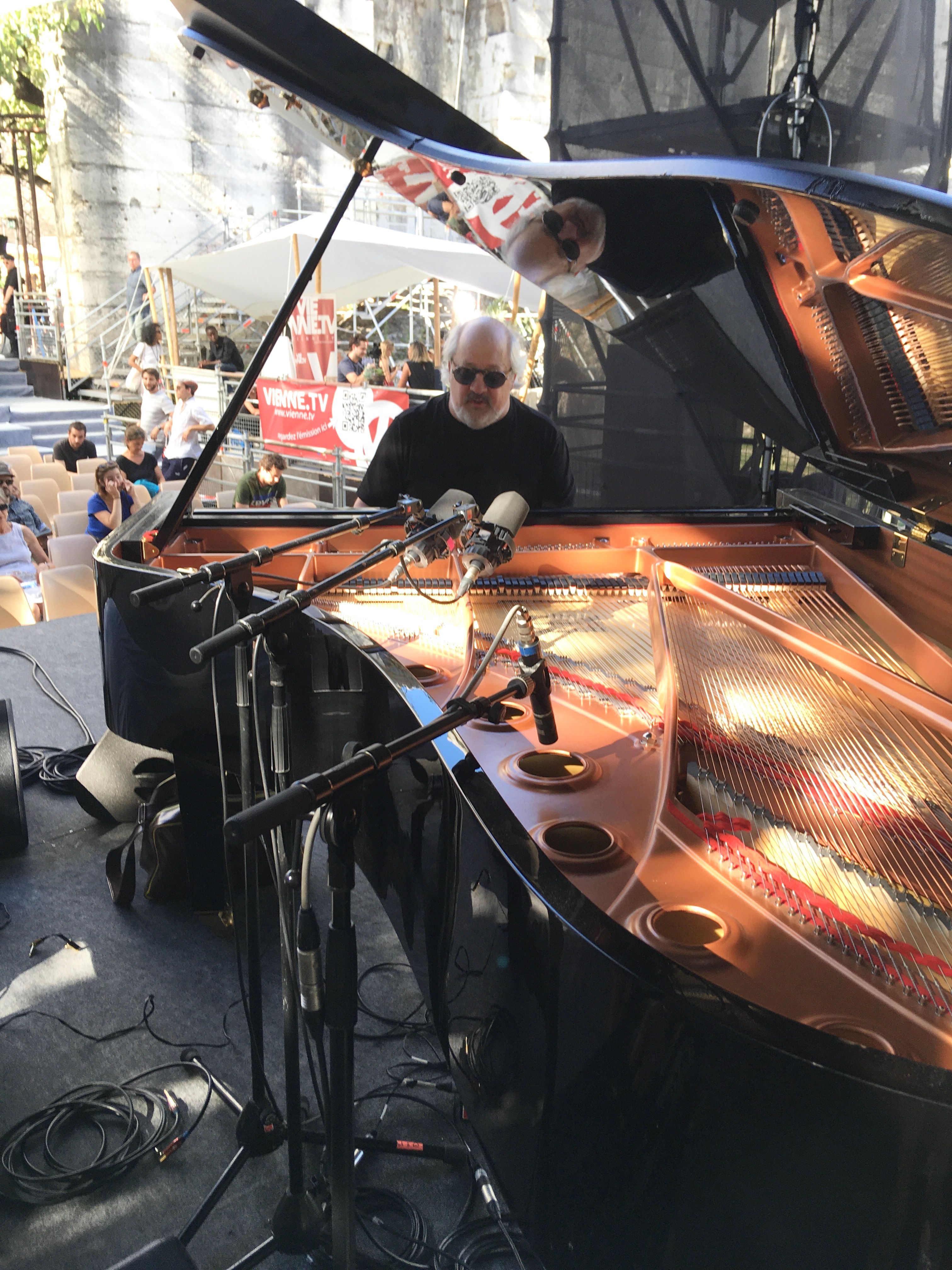 Gerard checks out the piano during sound check.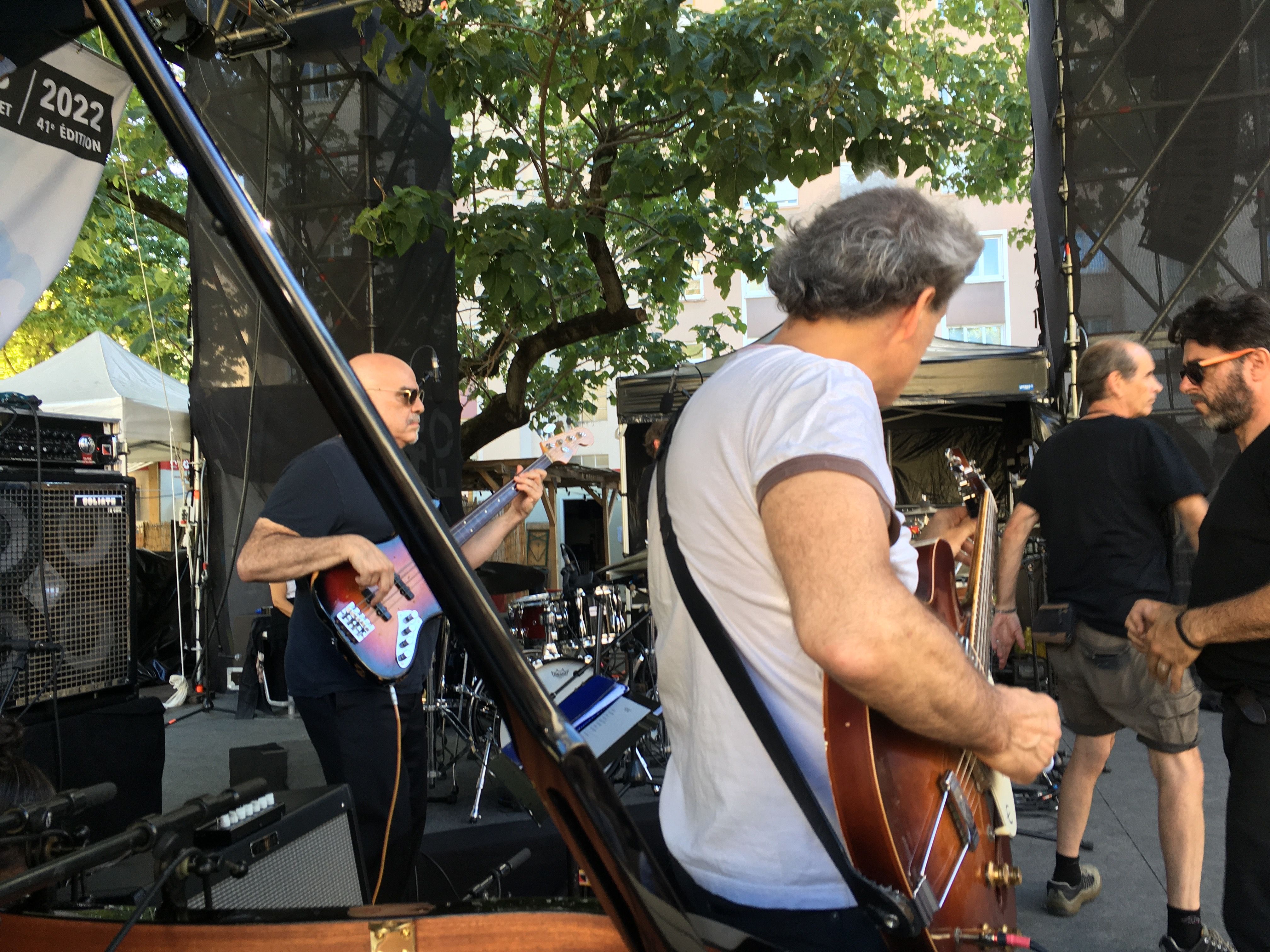 Peter Giron & Nico Peslier get warmed up for the concert.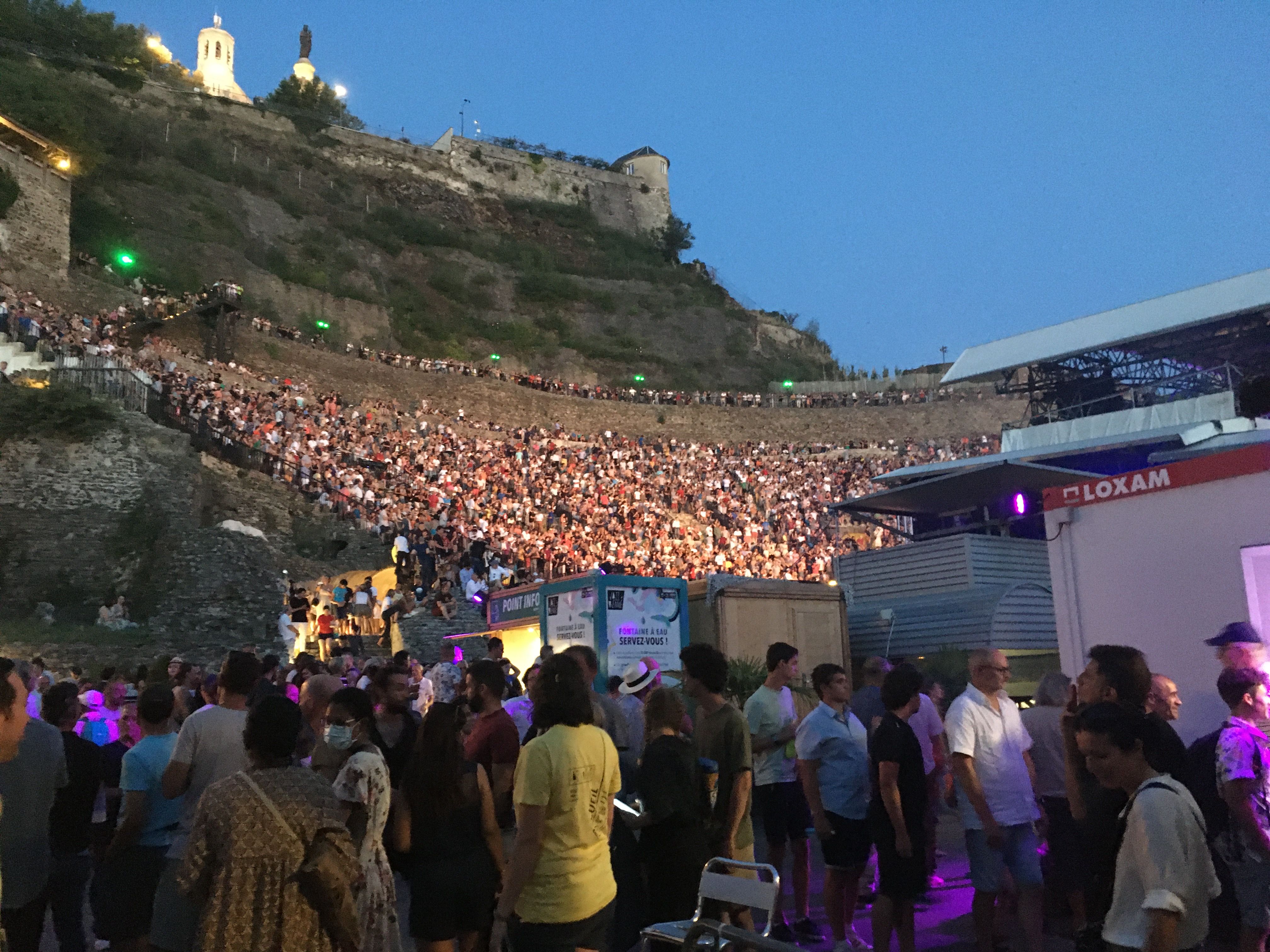 Entrance to the George Benson concert Jazz A Vienne.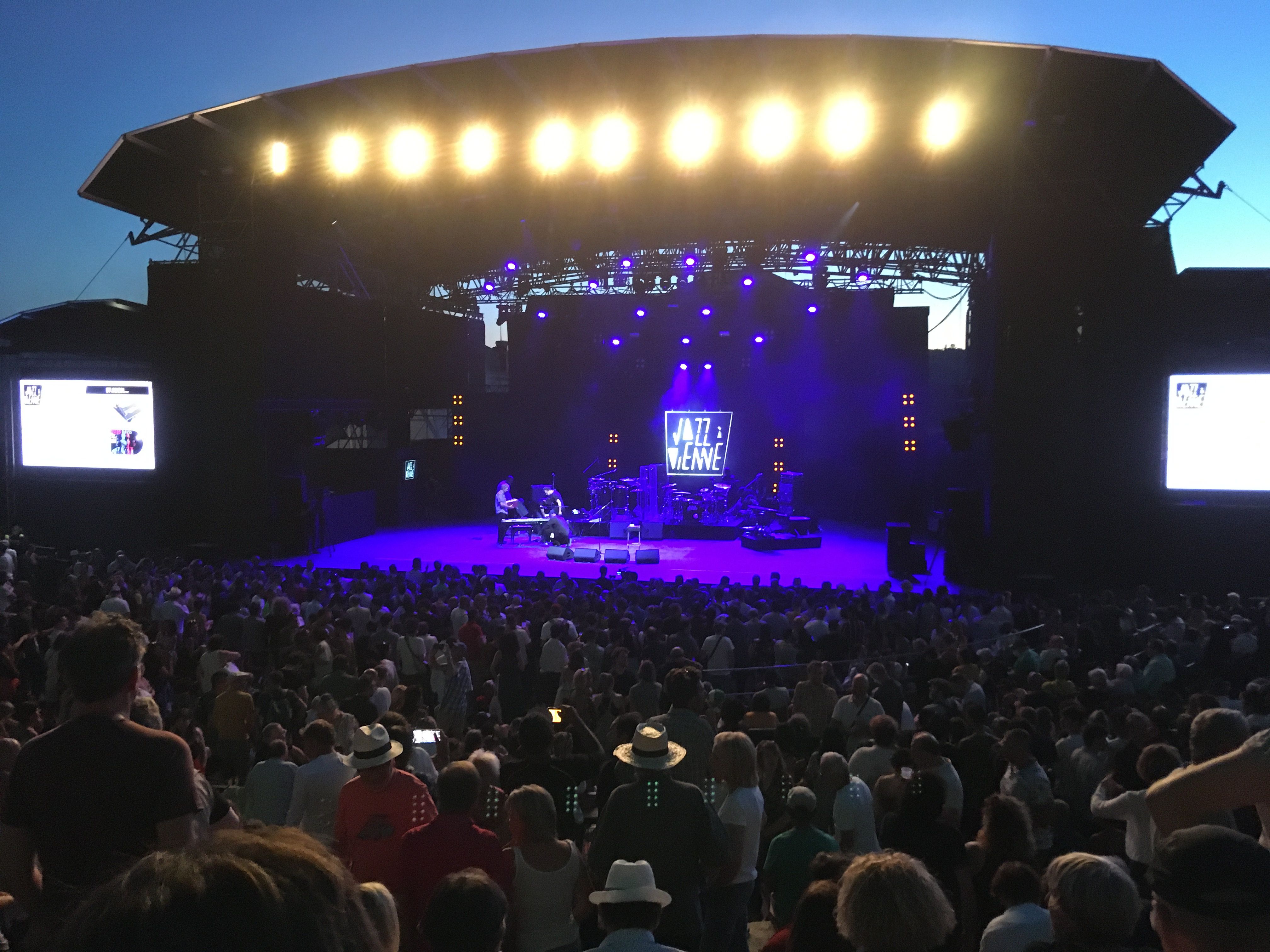 Stage Jazz A Vienne.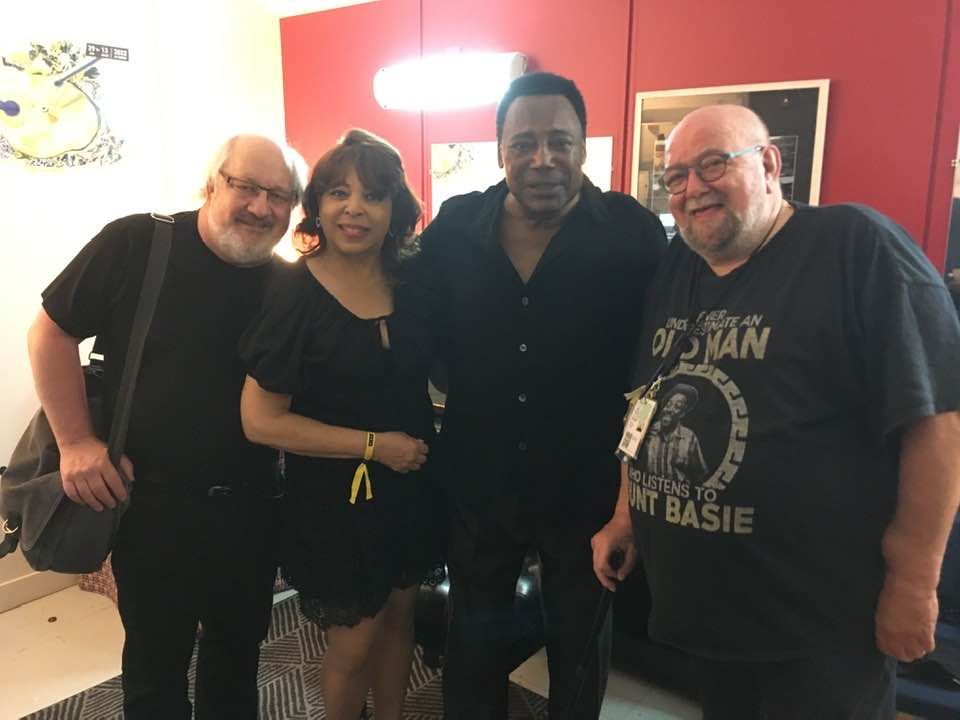 With George Benson after the concert, on the right is Jean-Pierre Vignola, concert promoter and owner of the label that released Funky Ella's first recording.  He happens to be a good friend of G.B.
We finished up July with ten dates at Chez Papa Jazz Club. Leslie was also working at the Hotel Lutetia which made it possible for me to do two nights in piano trio at Chez Papa which was a treat for me.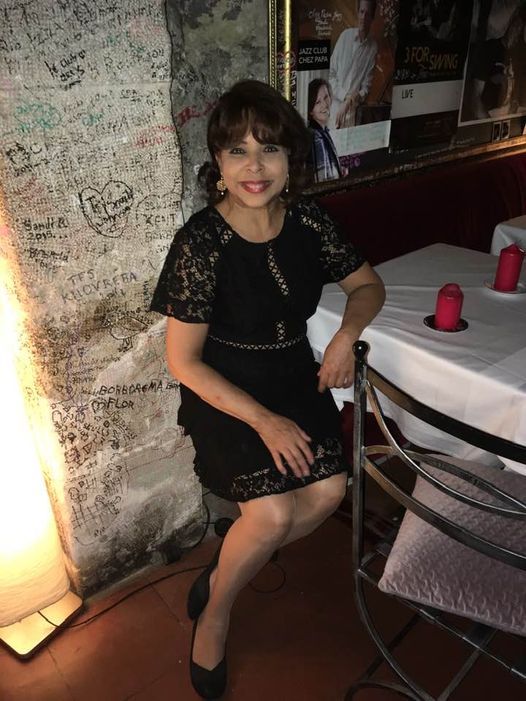 This is Leslie after the last set we did at Chez Papa Jazz Club on their closing night for the summer.  They will be re-opening at the end of August. This place is like a second home for us. This was the last of ten nights that we did there during July.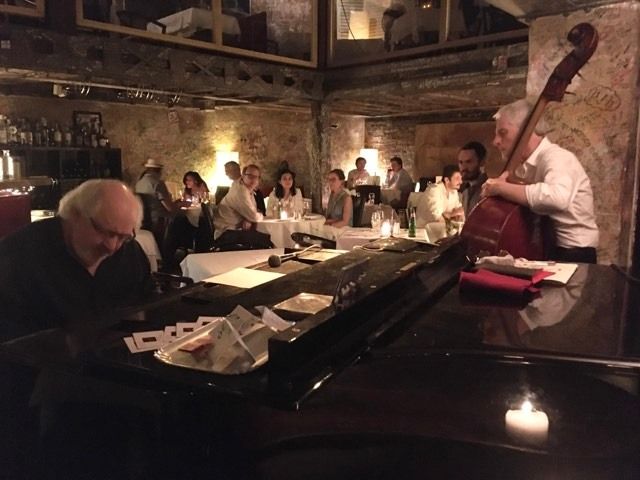 This is Gerard playing in trio at Chez Papa Jazz Club.
Since last spring there have been numerous friends who have visited Paris and come to hear us play.  I was pleasantly surprised to hear from Susan (Miller) Neuenschwander, who is the sister of Pete Miller, one of my best friends on this plant. I have known this family since I was in second grade. Pete is a bassist, composer/arranger and producer in Dallas. You can learn about him here: https://petemillermusic.com/home He and I came up together in the school music program and had our first attempts at gigging with garage bands, yes we sometimes rehearsed in his family's garage. Finally at the age of 18 we had a pretty successful regional band in North Dakota. Many years have passed since those days so being able to catch up with Susan was a very nice moment.  Chico Shigeta, one of Leslie's former students who now lives in Thailand, was back in Paris.  She is a business owner, author, mother and wife. Basically she is a one woman tour de force.  You can find out more about her at https://shigetaparis.com/chico-shigeta/.  In July Leslie had a nice chat over drinks with Dominique Toney who is the daughter of our L.A. friends Phyllis (wardrobe designer) & Kevin Toney (pianist).  Both have credits too numerous to list and Dominique is on her way as a singer, actor and model. She is currently featured in an advertising on the side of MTA buses all around L.A. When we were living in California Leslie and I spent many years working for Mark Ghoukassian at Bistango and Bayside. He and his father before him, have over the years employed many musicians. He comes to Paris often and always makes time to see us.  This time it was a night at Chez Papa Jazz Club. There are many more people who have dropped in and I am sorry that I can't write about everyone, but please know that we are so thrilled to see you and honoured that you take the time to come and see us.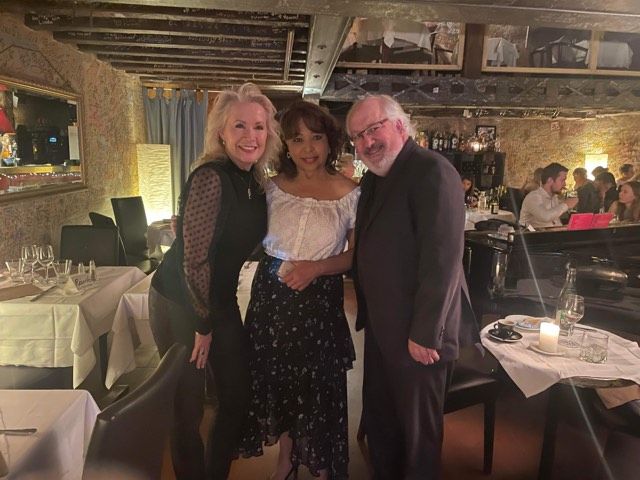 Susan (Miller) Neuenschwander, Leslie & Gerard at Chez Papa Jazz Club.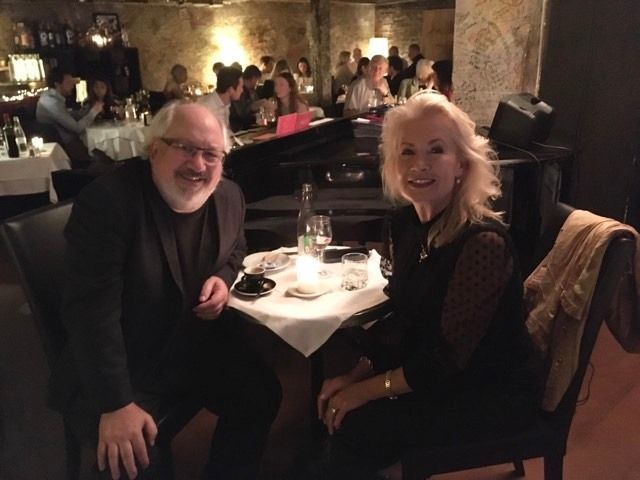 Susan and Gerard catching up after many years.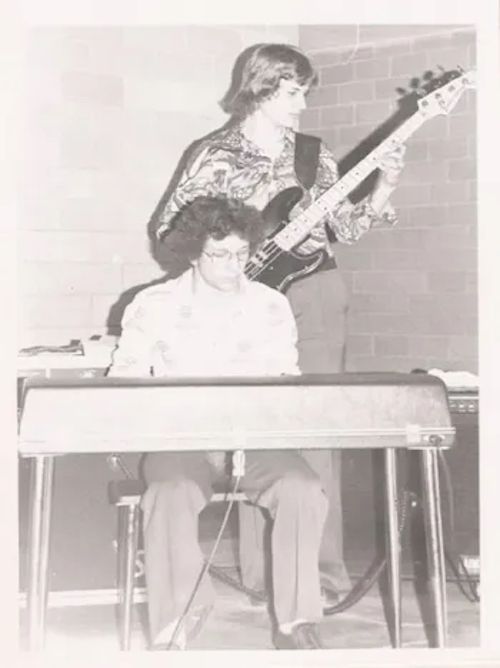 Throw back to the 1970's when Gerard & Peter attempted their first gigs! (Note the "wurly" piano & the Fender Precision bass.)  The bass is still in the game, the "wurly"... I doubt it.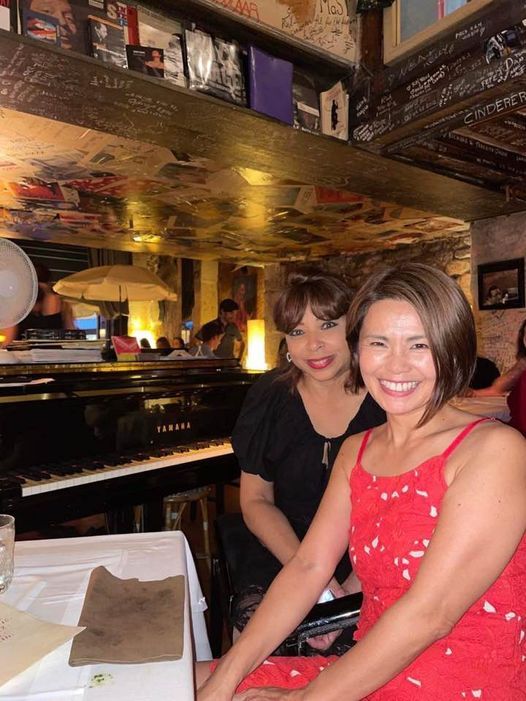 Here is Leslie with Chico at Chez Papa Jazz Club in Paris.  Chico got up and sang "My Favorite Things" with Gerard.
This week we are doing a couple of club dates (most notably Aug.19th at Café Laurent) here in town after which we are going to Bordeaux for a few days of downtime with Peter and Nicole Giron.  In September we have plans to spend a few days relaxing by the Mediterranean sea in Cassis.
The Funky Ella CD can be streamed on any number of platforms but the main ones are:  
- Bandcamp: https://leslielewisgerardhagen.bandcamp.com/album/i-put-a-spell-on-you  
- Spotify: https://open.spotify.com/album/6gkHqDEBeQSm8akBXBtofv  
- Apple Music: https://music.apple.com/us/album/i-put-a-spell-on-you/1587307010?uo=4&app=itunes  
- Amazon: https://www.amazon.com/gp/product/B09H2V1Z3S  
- Deezer: https://www.deezer.com/us/album/26111448  
You can find out more information about our Funky Ella project at: www.funkyella.com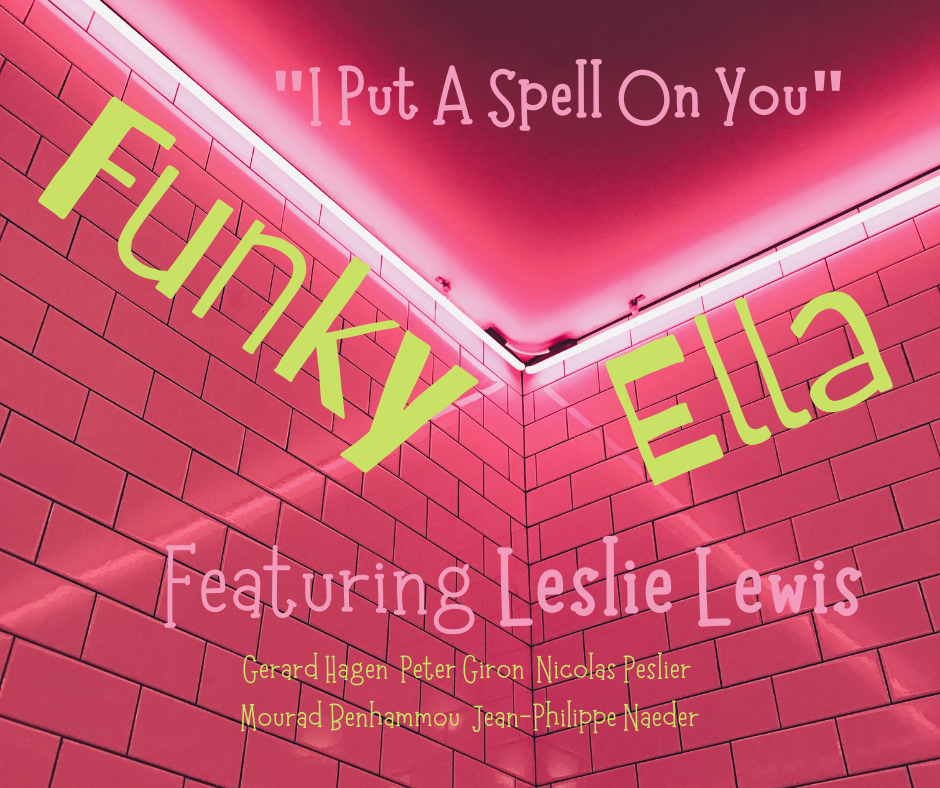 Cover of "I Put A Spell On You"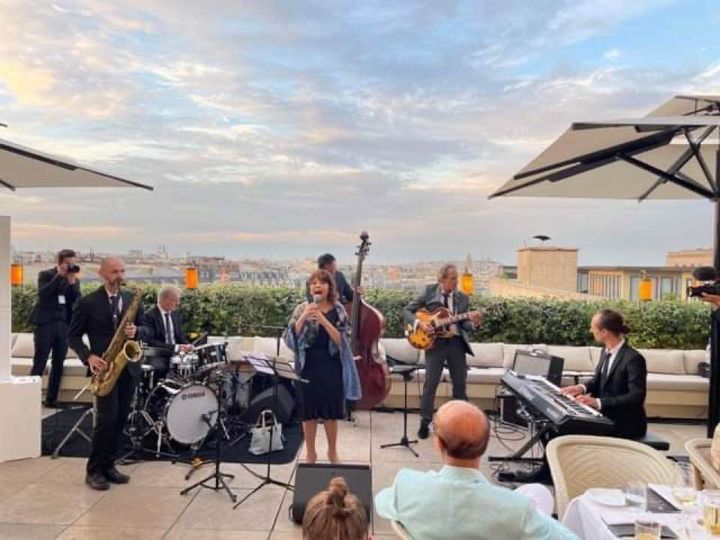 Leslie sings during a rooftop concert in Paris earlier this summer.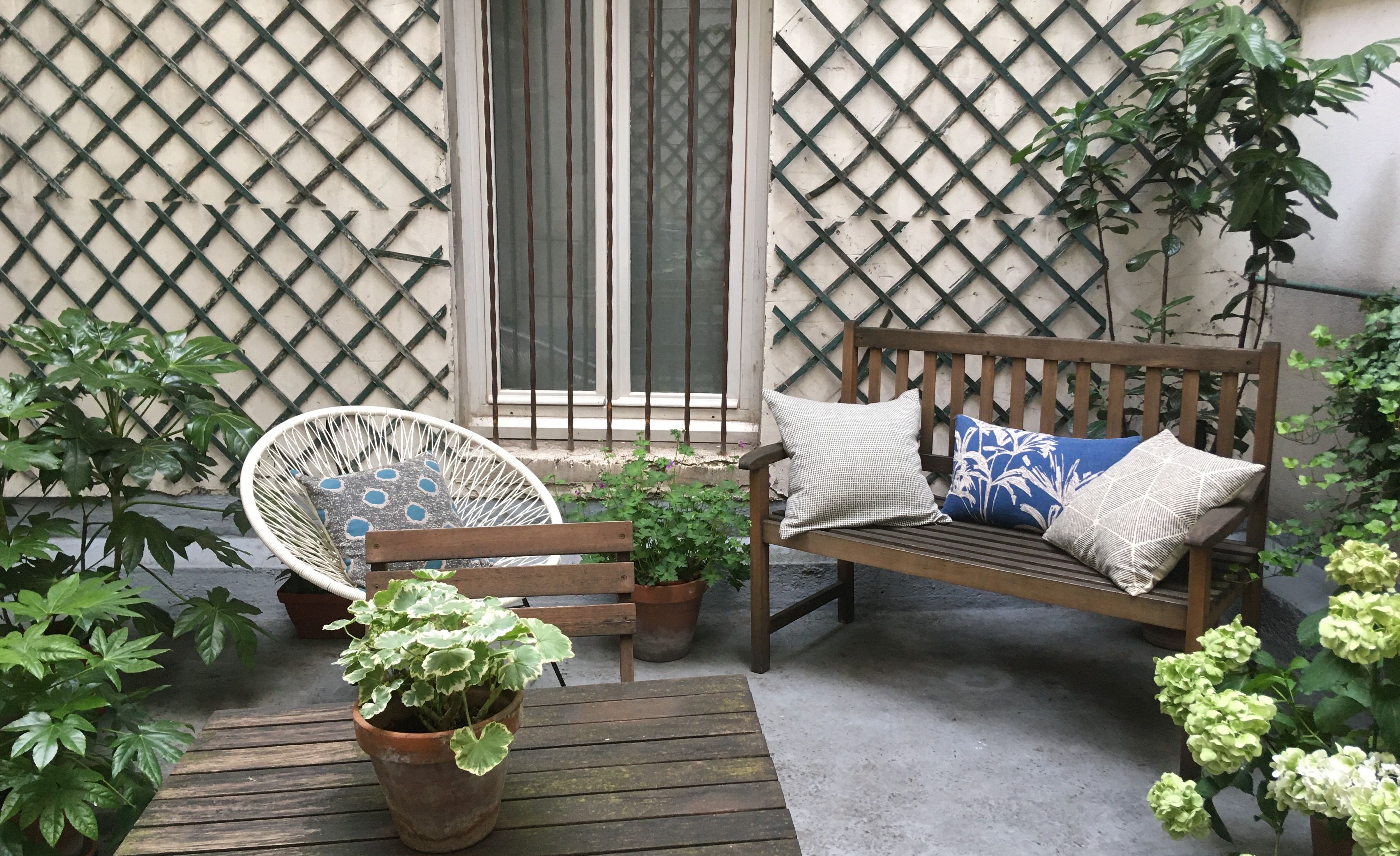 Leslie's garden which has been the source of much joy in our home this summer.
Our calendar is available here: https://surfcovejazz.com/tour For those of you who are in Paris or if you are planning to be in Paris in August or September, On Aug.19th we are in Paris working as a duo at the Café Laurent. https://www.hoteldaubusson.com/cafe-laurent .  On September 10th & 23rd Leslie will be with Nico Peslier at Bar Josephine in the Hotel Lutetia https://www.hotellutetia.com/bar-josephine  On September 15  Leslie and I are at Chez Papa Jazz Club and on September 16 & 17 we are there with bassist Peter Giron. https://papajazzclub-paris.fr   On September 21 Leslie and I are back at the Café Laurent. https://www.hoteldaubusson.com/cafe-laurent  There may be a few dates in Aug. still to be added.   So now you know where and when to find us.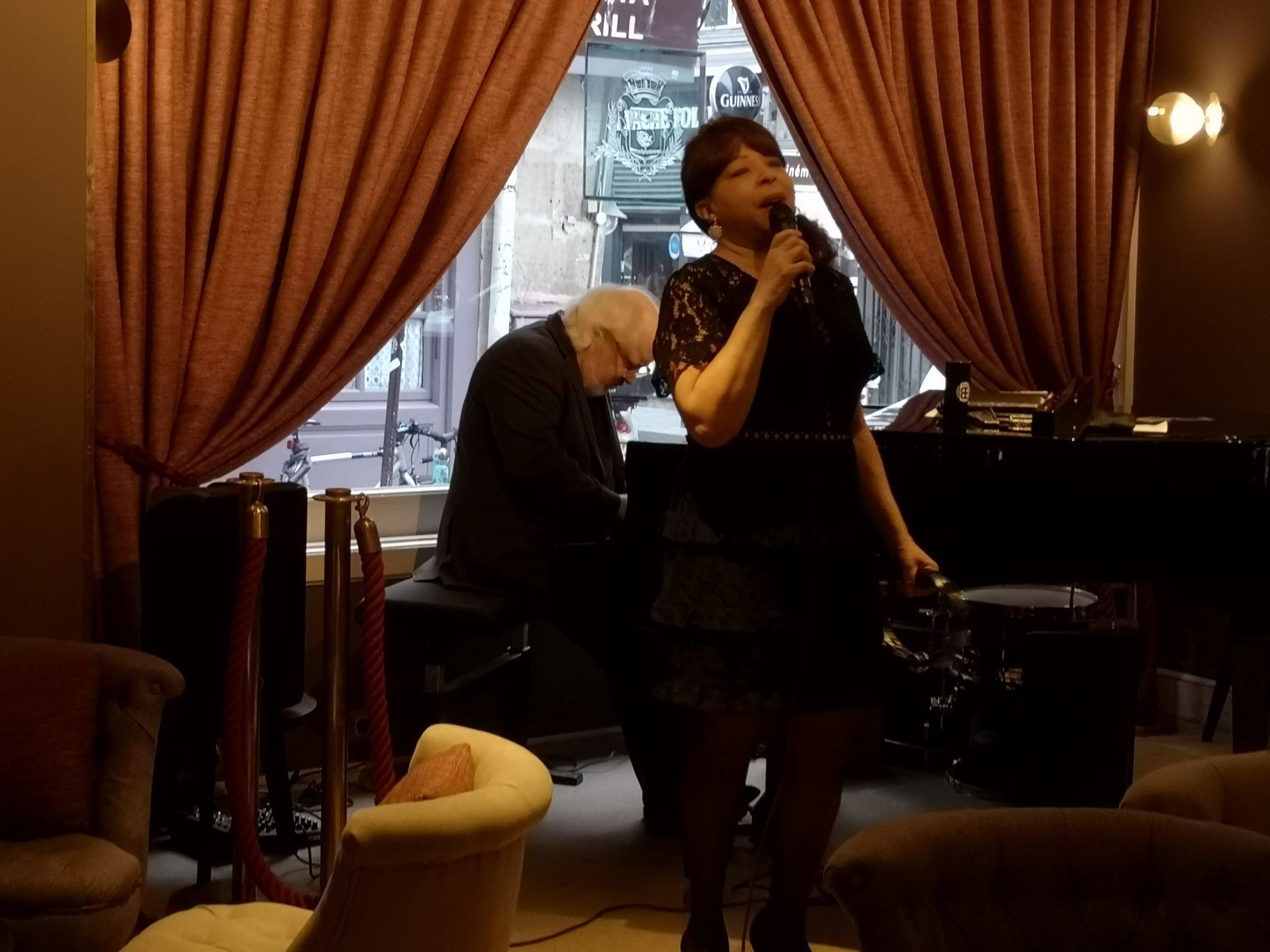 Leslie and Gerard working at Café Laurent in Paris.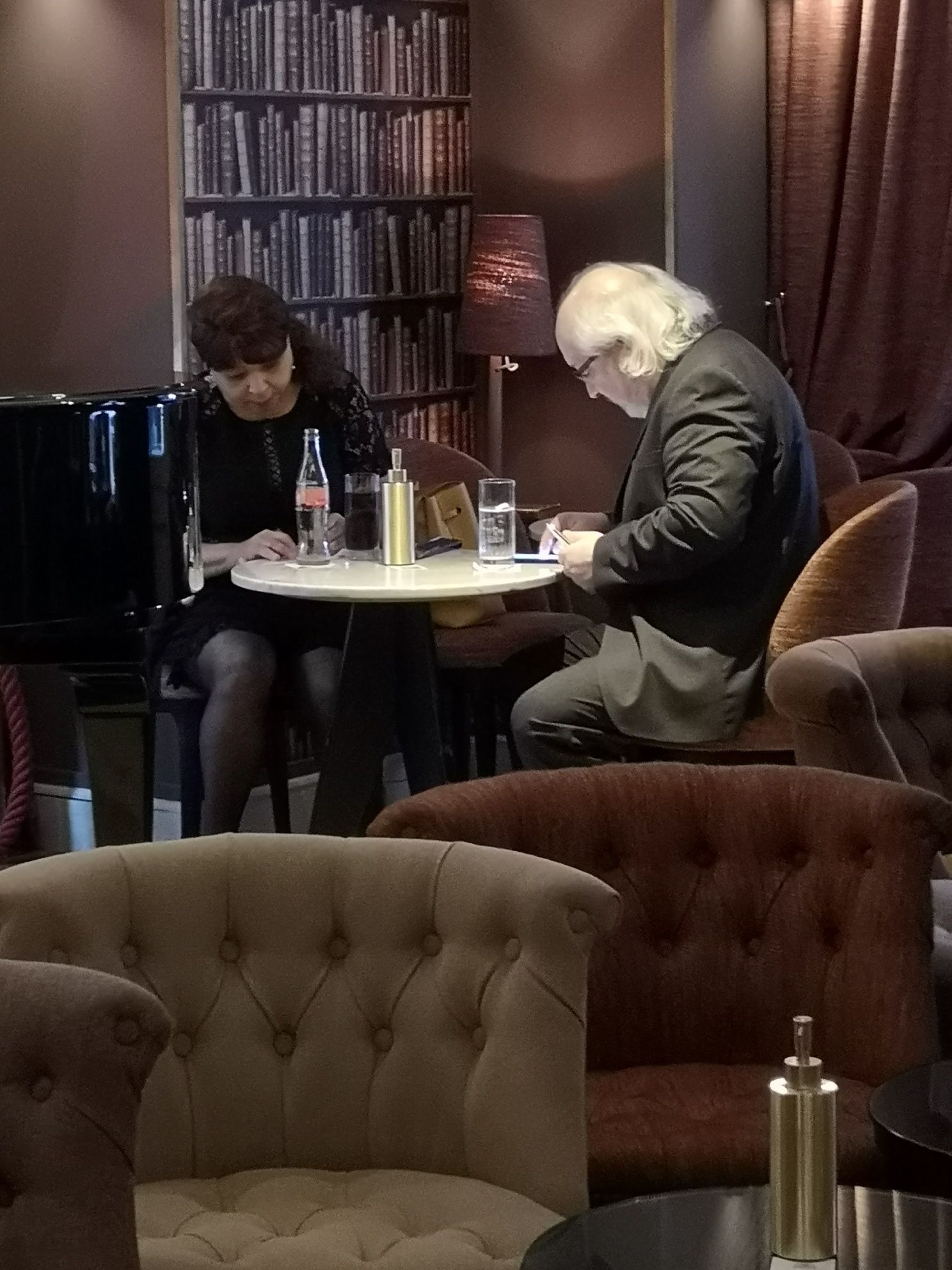 Working out a set list between sets.
Thank you for giving us your time and attention, we appreciate it very much. Please check our website for news and updates. While you are there please sign up for our weekly email to learn where you can hear us. http://www.surfcovejazz.com   If you have any comments feel free to contact me, I enjoy hearing from you. This email appears on our website where you may also comment. http://www.surfcovejazz.com/blog/ We hope that you are all healthy and looking forward to the summer season. As always thanks for staying in touch with us.  
Until next time,  Leslie et Gerard