Bonjour de Paris ... 
           "I have never been nervous walking in Paris late at night." 
Chers Amis, 
Last week I was confronted with a health issue which required an out-patient surgery at the American Hospital here in Paris. We had very little time to prepare and I was required to have a covid PCR test that was negative. It was quite the challenge to find a lab to do the test and produce the results in that short of a turn around. It was a very busy lab. They must have done 15 tests in the thirty minutes that we spent there waiting to get tested. The lab didn't make the results available the next morning as they promised so Leslie was calling them from the hospital to ask that they text the results (which fortunately were negative). I received them while I was in the admitting office. How's that for cutting it close? Beyond that, things went very well. The day of the procedure I taught my classes after which Leslie accompanied me to the hospital.  When we returned home later in the evening I was still a little out of sorts due to lingering effects of the anesthesia. The time spent in the hospital was only about three hours.  The care was first rate as was the facility. The next day was a Friday, I was able to teach that afternoon and I played my gigs during the weekend. 
Our Parisian neighborhood suffered the shock of urban violence for the first time since we have lived here. A man was shot to death after eating a late night dinner at a popular restaurant around the corner from our apartment. The victim was Federico Martin Aramburu, a retired rugby star from Argentina. For people that find themselves hungry at 2:00 am, this restaurant is a good option because the kitchen stays open late and the food is good. Leslie and I have eaten there maybe three times in the last six months. Regarding crime, I have never been nervous walking in Paris late at night. I still am not nervous, but it is important to remember that it is an international city with all that that entails both good and bad. 
Beyond that things here are pretty uneventful. We are pretty much home bodies when we aren't working. There are seven weeks left in this school year. It went by very quickly. With a few exceptions, my students are doing very well.  They should be ready for the courses they will encounter next year and more importantly, they are better prepared to enter the choppy waters of being a working musician when their time comes. 
Leslie has been slowly transforming our home for the past year or so. Until recently it didn't dawn on me what was happening. I realize now that she made a plan and has been slowly, and I mean slowly, implementing it. Being one that is less aware of my immediate surroundings than most, it just dawned on me what was happening. So for a quick recap, Leslie got our landlord to remodel the kitchen and update the bathroom last summer/fall. She also got some painting done. Since then it's been a new sofa, lamp and side table. There is also some new artwork on our walls.  A new rug and chair for the living-room will be added in the future. I don't want to give the wrong impression. There is nothing devious going on here. We discussed everything before any changes were made, it's just that the new items have been added over such a long period of time that I just saw them as individual events and not part of a larger plan. Interior design is one of Leslie's favorite things, fortunately she is even more budget conscious than I am so there are no complaints from me. Plus the new sofa is way more comfortable than the previous one!  There will be photos once she has finished, but don't hold your breath because she never really finishes!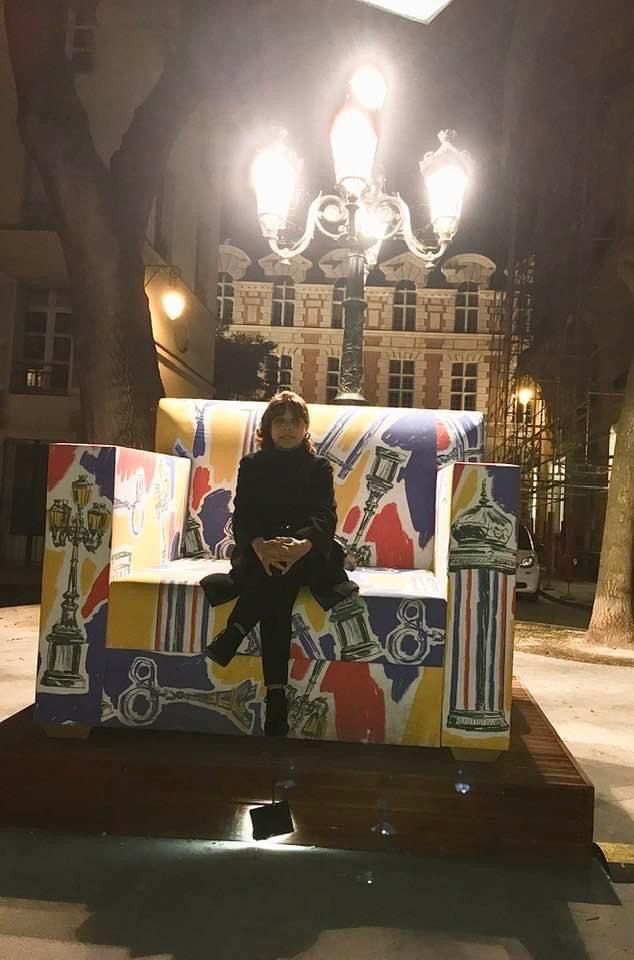 Leslie and I were walking home one night when we came across these decorations for "Design Week" in Paris. The street is rue de Fürstenberg. It is about a 5 minute walk from our home.  Rue de Fürstenberg leads to Place de Fürstenberg which is where the large sofa that Leslie sat on was placed. Place de Fürstenberg was also where the last scene of "The Age of Innocence" was filmed.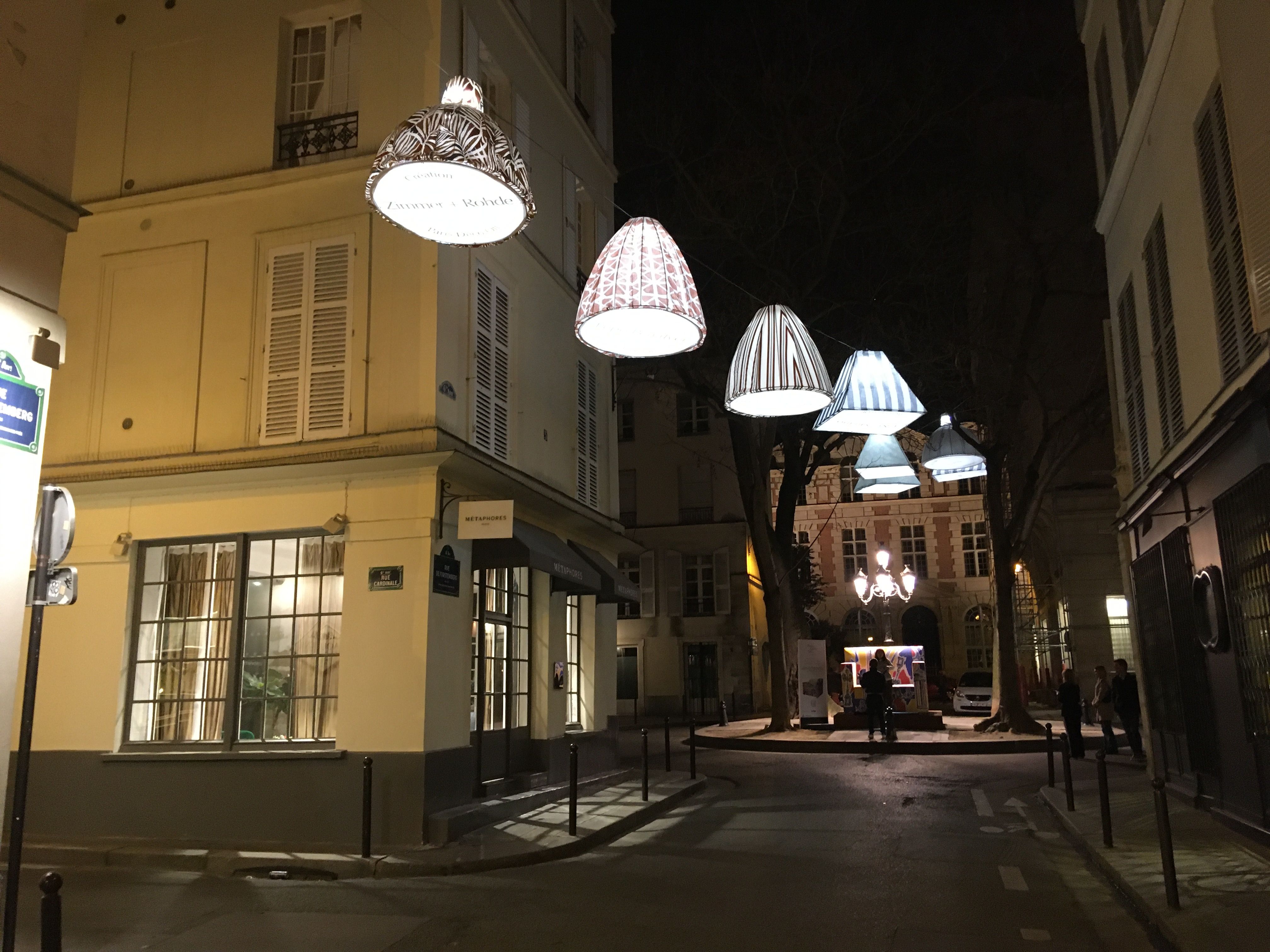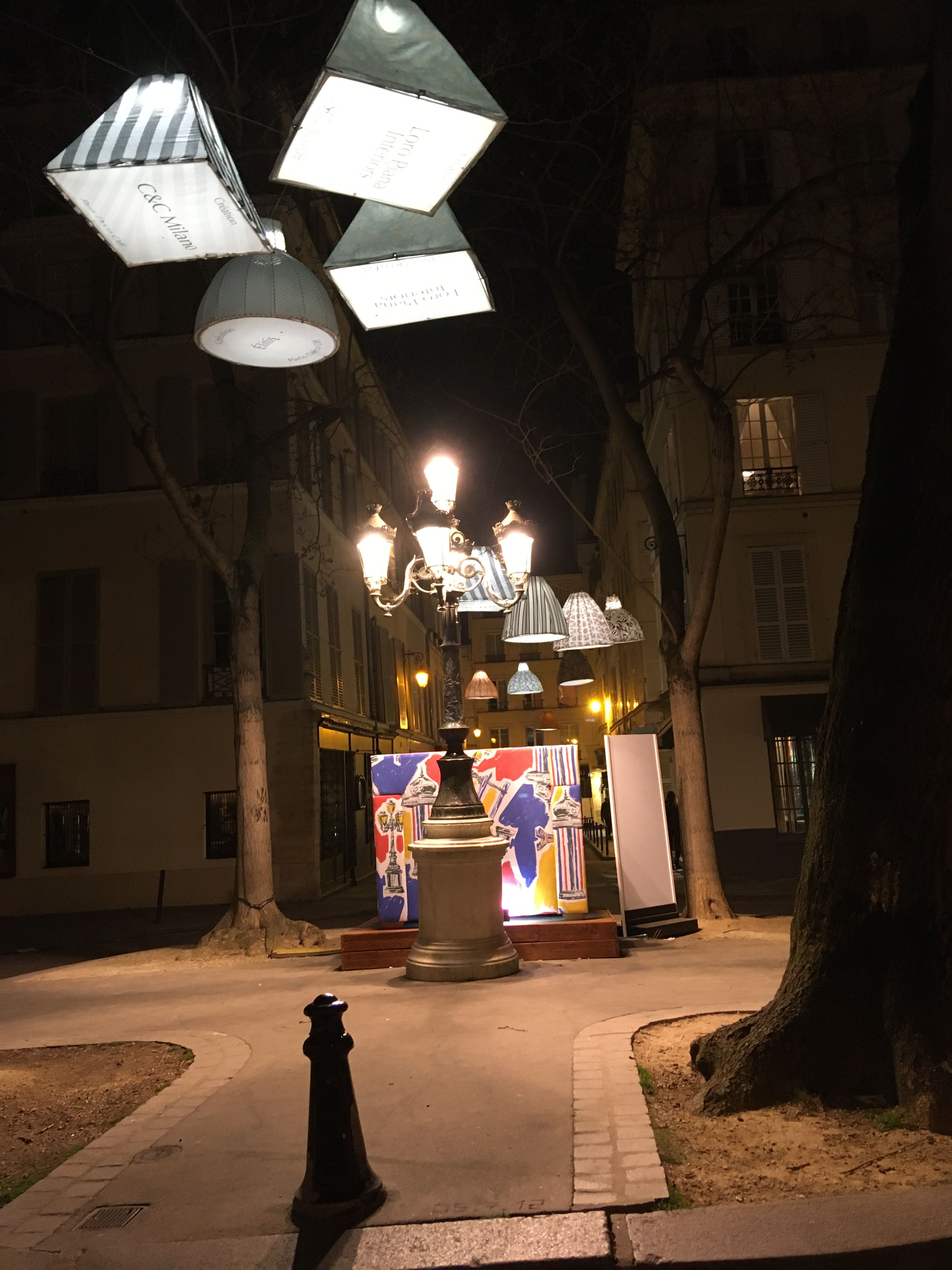 We have planned our first non-work related trip in a long time.  In May we are going to spend a few days in Cassis, a village on the Mediterranean coast. For reference it is near Marseille. A few days by the sea is always a welcome opportunity for us to slow down a bit. 
We are booking into 2023.  In December the Funky Ella band will be at the Cabaret Jazz Club in Courbevoire.  I'll make that info available once they get it up on their website. I am happy to announce that Funky Ella is going to appear this July at the Jazz A Vienne festival. With three stages and concerts spread over several weeks, this is one of the biggest jazz festivals in France. Herbie Hancock and George Benson are both booked to play this year. More info on that as it becomes available. In August Funky Ella will travel back to La Baule to headline at the La Baule Jazz Festival. This is the result of having had a very successful concert there last November. Next Leslie and I will perform with Jean-Philippe Naeder, the percussionist in Funky Ella, at the Châteaux de Gien in Gien, France.  We had a great concert in Paris working as a trio with Jean-Philippe last month so we are really looking forward to this one. There will be some more touring this summer which I will write about later.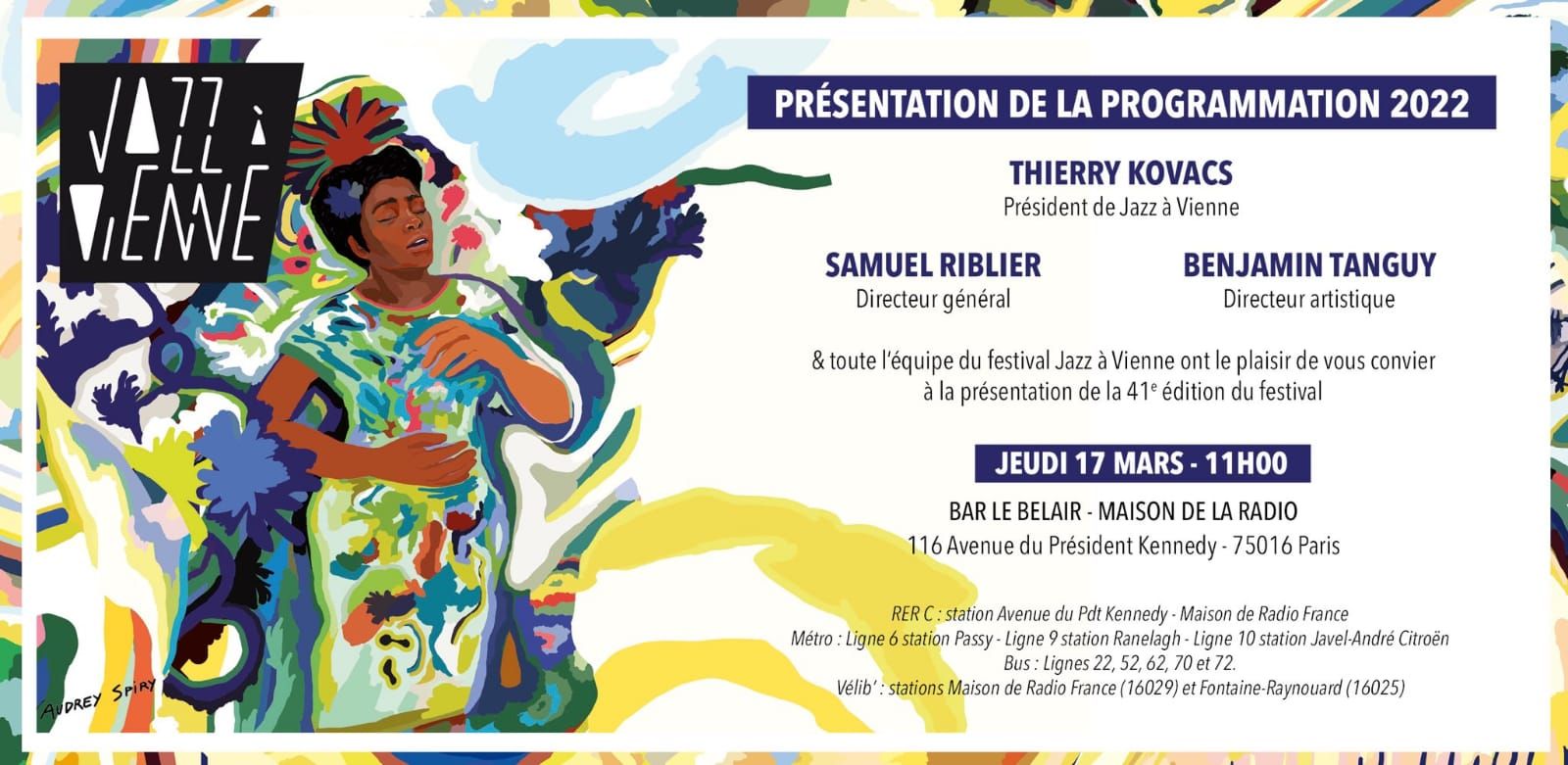 This is the 2022 poster for Jazz A Vienne. 
A few weeks ago Leslie and I went to Marly le Roi with guitarist Nico Peslier, also from the Funky Ella band, to work at Le Gramophone which is a restaurant which features concerts on Saturday evenings. Marly le Roi is near Versailles. It is easy to get there from Paris but it is far enough away that it feels like a small village. The room has a Bose sound system and a decent Yamaha piano not to mention an audience who are used to coming to eat dinner and listen quietly to the concert. We had everything we needed in order to have a great time there. We are looking forward to going back soon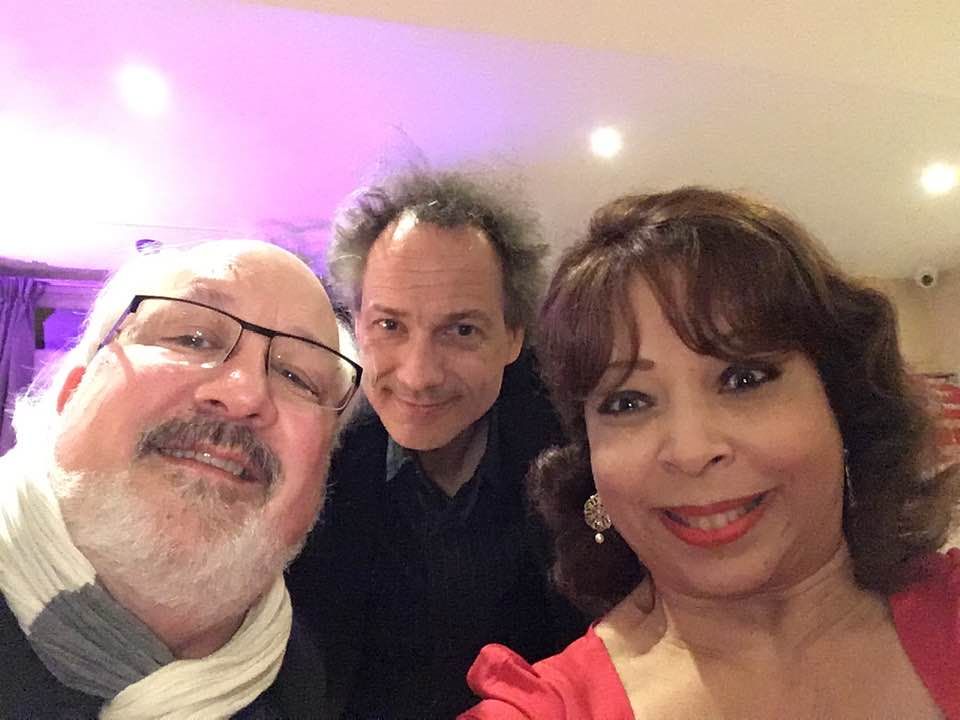 Gerard, Nico Peslier and Leslie before the Gramophone concert.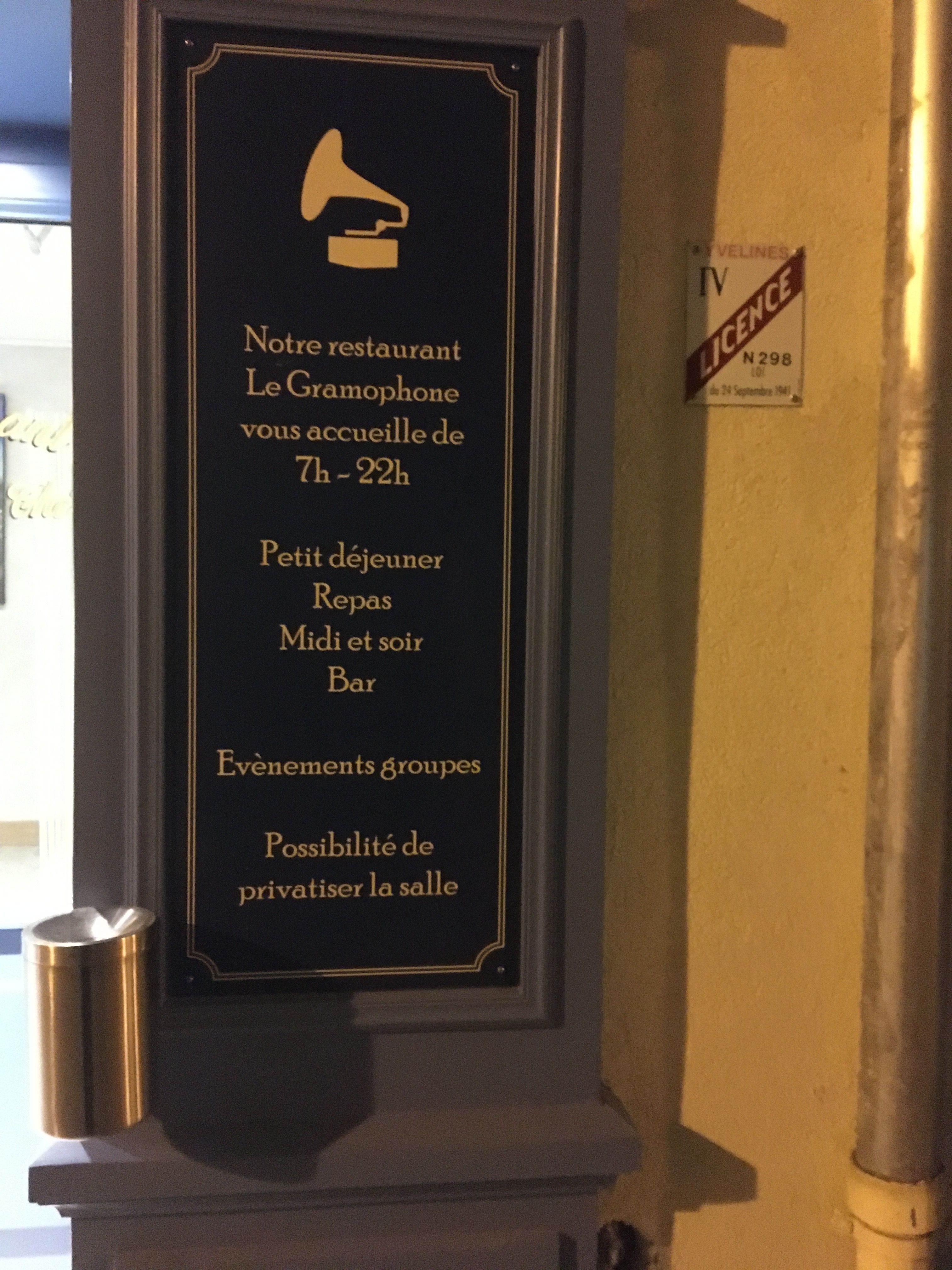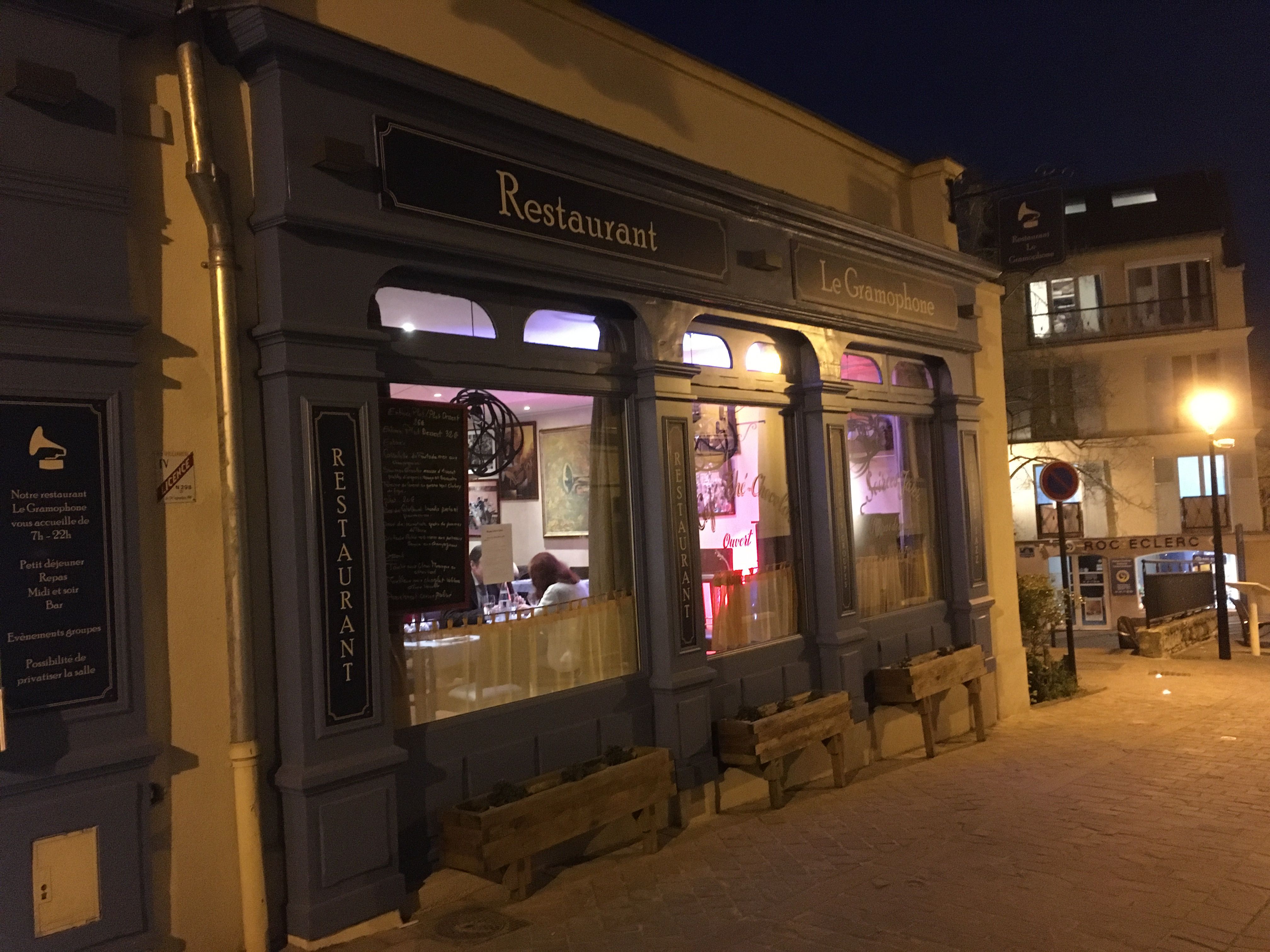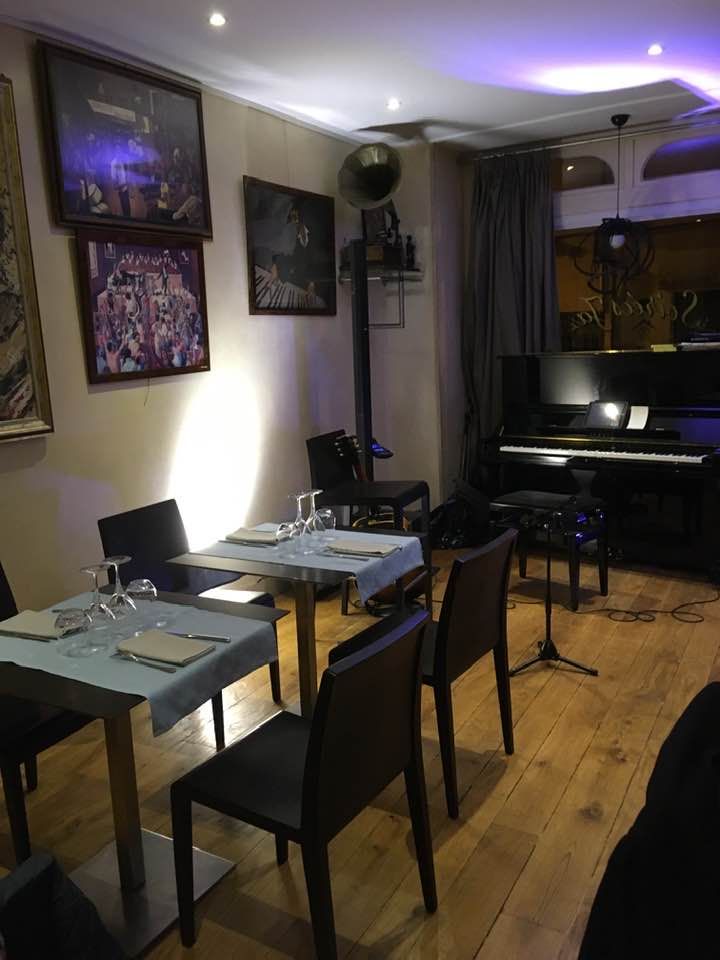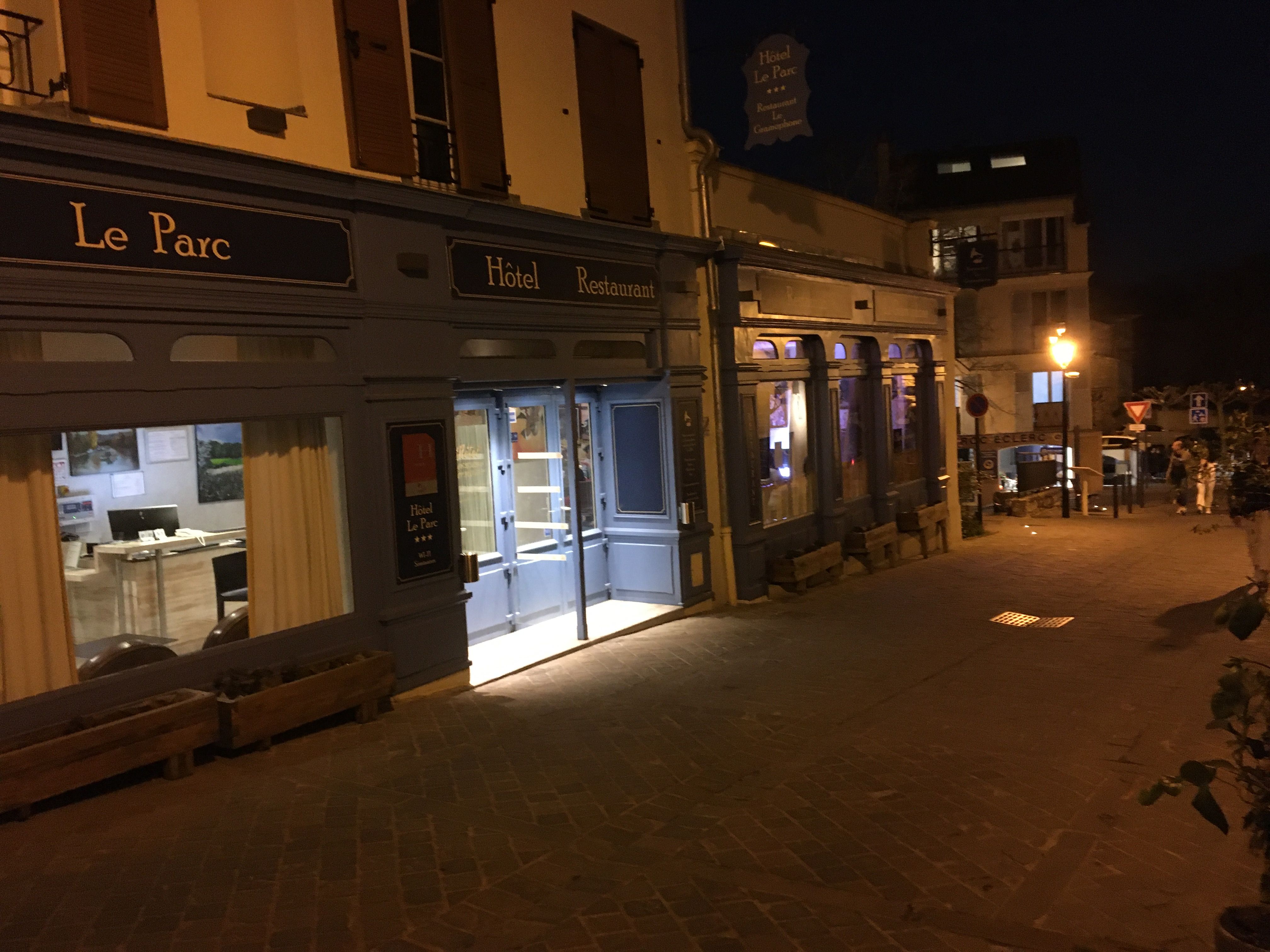 These photos are from Marly le Roi. La Gramophone is part of Le Parc Hotel. La Gramophone is an intimate venue with a very attentive audience. 
The Funky Ella CD can be streamed on any number of platforms but the main ones are: 
- Bandcamp: https://leslielewisgerardhagen.bandcamp.com/album/i-put-a-spell-on-you 
- Spotify: https://open.spotify.com/album/6gkHqDEBeQSm8akBXBtofv 
- Apple Music: https://music.apple.com/us/album/i-put-a-spell-on-you/1587307010?uo=4&app=itunes 
- Amazon: https://www.amazon.com/gp/product/B09H2V1Z3S 
- Deezer: https://www.deezer.com/us/album/26111448 
You can find out more information about our Funky Ella project at: www.funkyella.com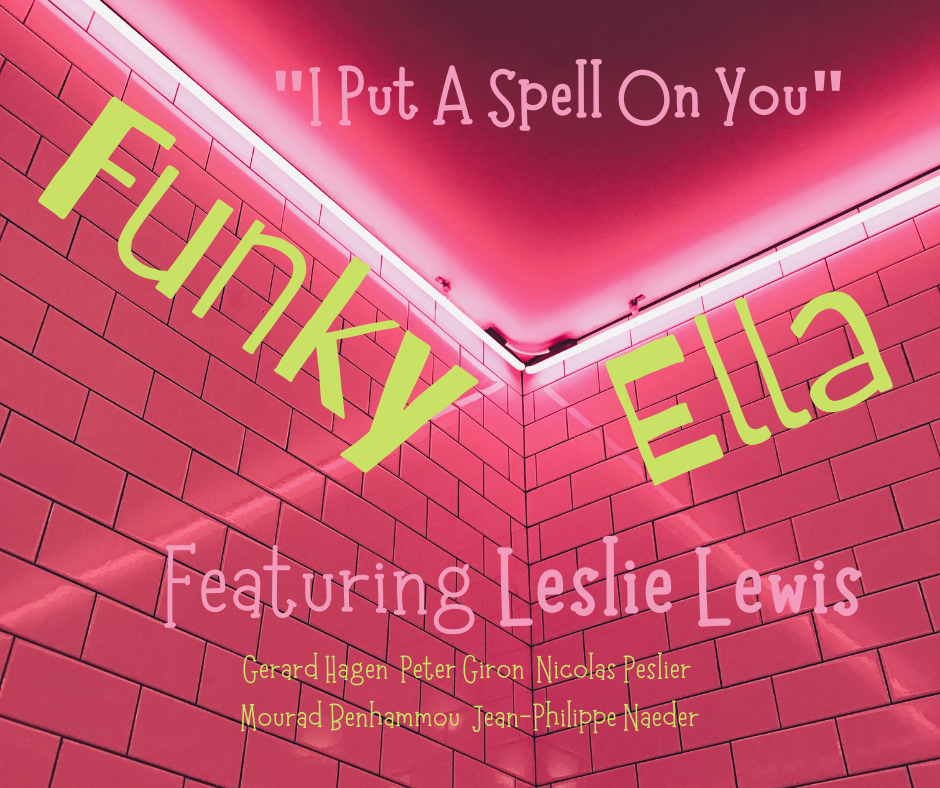 Cover of "I Put A Spell On You".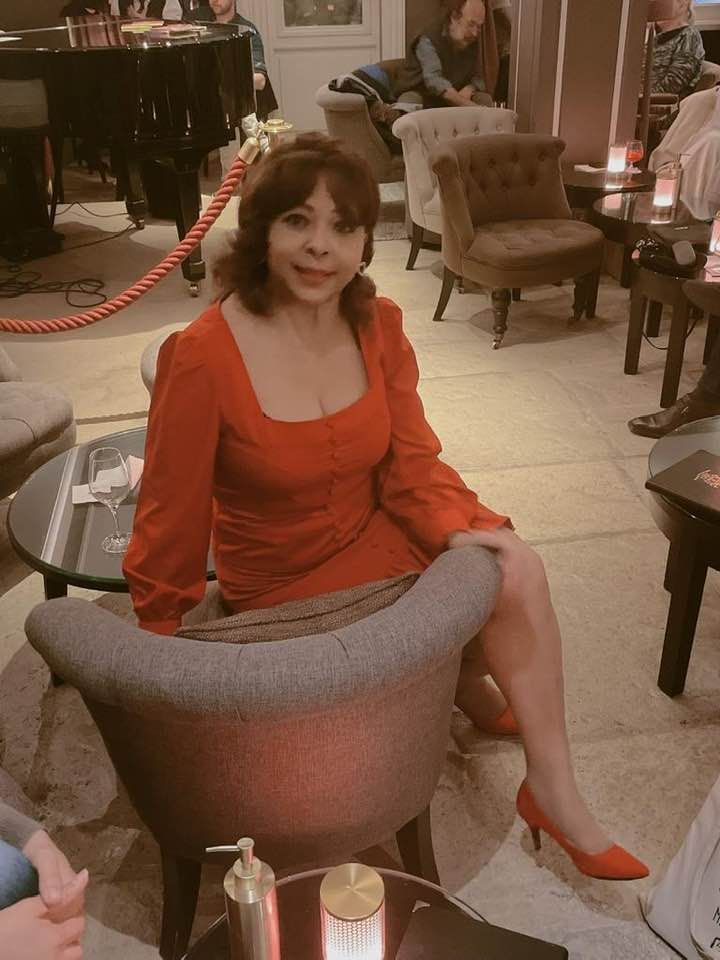 Leslie relaxing after our duo concert at Café Laurent last week. 
Our calendar is available here: https://surfcovejazz.com/tour For those of you who are in Paris or if you are planning to be in Paris, on April 14th Leslie and I are in duo at Chez Papa Jazz Club and on April 15th & 16th we are there with bassist Peter Giron. https://papajazzclub-paris.fr  On April 20th the Funky Ella band is appearing at a new venue in Paris called Les 2 Pianos. http://www.les2pianos.com  On April 29th Leslie is working with Nico Peslier at Bar Josephine in the Hotel Lutetia https://www.hotellutetia.com/bar-josephine.  On May 11th we are in duo at the Café Laurent https://www.hoteldaubusson.com/cafe-laurent and we are back at Chez Papa Jazz Club on May 12, 13 & 14. https://papajazzclub-paris.fr  So if you are looking for some music in Paris you know where to find us. 
Thank you for giving us your time and attention, we appreciate it very much. Please check our website for news and updates. While you are there please sign up for our weekly email to learn where you can hear us. http://www.surfcovejazz.com   If you have any comments feel free to contact me, I enjoy hearing from you. This email also appears on our website where you may also comment. http://www.surfcovejazz.com/blog/ We hope that you are all healthy, safe and looking forward to better times ahead. As always thanks for staying in touch with us. 
Until next time,  Leslie et Gerard