Bonjour de Paris ...                                                         
                                             "Godspeed my friend"   
Chers Amis,  
The Jazz world is full of many, many bright lights.  Some make the music and some support the artists who make the music.  The value of music is the degree in which it communicates in ways that spoken words cannot.  That magic is what creates the light, illuminating a pathway or offering some badly needed clarity for those who are aware enough to hear.  The passing of Chick Corea saddened us all as we watched the vibrant light that he created go out way too soon. For Leslie and me there was another bright light in our lives that dimmed with the passing of our dear friend Mike Penn.  I have known the Penn family since 1983.  Mike and Carol have always been big time jazz fans.  Their children, Alexis and Michael, studied piano with me. Over the years my trio played countless concerts in their beautiful home tucked away in the foothills of Santa Ana.  When Leslie and I began working together they were there at our concerts.  It might be Seal Beach, Laguna Beach, Newport Coast or San Juan Capistrano, it didn't matter, they were there.  When we moved to Paris, they were the first people to visit.  We didn't have any gigs yet so they came to hear us play at jam sessions.  There were several more visits  in the ensuing years.  Once they surprised us by showing up at a concert we did in Gréasque in Aix-en-Provence.  Most recently we spent a week together with Peter and Nicole Giron in Bordeaux. When we would return to California, they opened their home to us.  Those times were perhaps the best.  We received a welcome that was legendary.  Beyond jazz, Mike had many interests.  Education, politics, immigration and religion were all topics which he could speak about intelligently; not because he read a book, although he was always reading, but because he was actively involved volunteering his time and talents in all of those areas.  Believing in the power of communication, he looked for ways to bridge the gap between people of different religions, ethnicities, and economic backgrounds.  He was one of the most open-minded, warm and caring men I've been fortunate to call a friend.  In some ways our world is a little dimmer now,  but there is comfort in knowing that the light is always there for those who are aware enough to listen.  Godspeed my friend.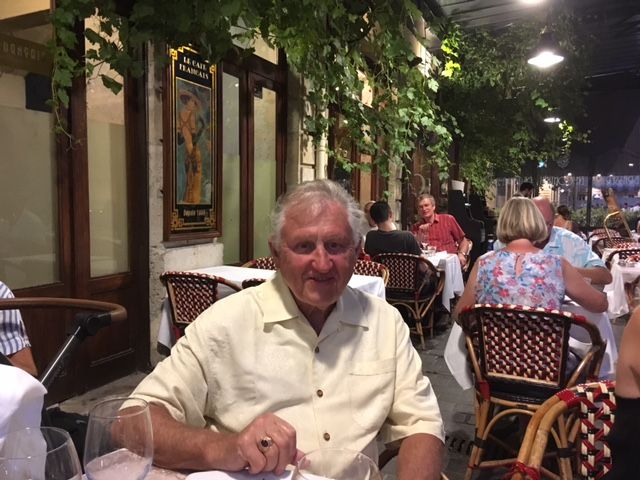 Mike Penn enjoying a meal in Bordeaux.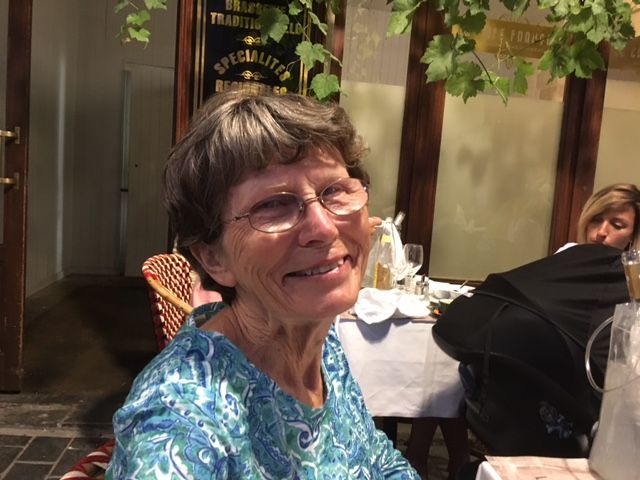 Carol Penn also in a restaurant in Bordeaux. 
The "Funky Ella" band  had a very fun, if not a little strange, concert at the end of August at a festival near Fontainebleau.  The festival was a three day event that had a bohemian vibe. There were tents pitched in the back stage area where apparently people who were working the festival slept. Our concert was late afternoon on a Sunday.  We had a great sound man which made it possible for us to play a very fun set.  There were surprisingly few hiccups given that the band hasn't played since we were in the studio last March. I should mention that we had Thomas Delor who had never played the music before subbing on drums. The fact that it went well was a sign of good things to come.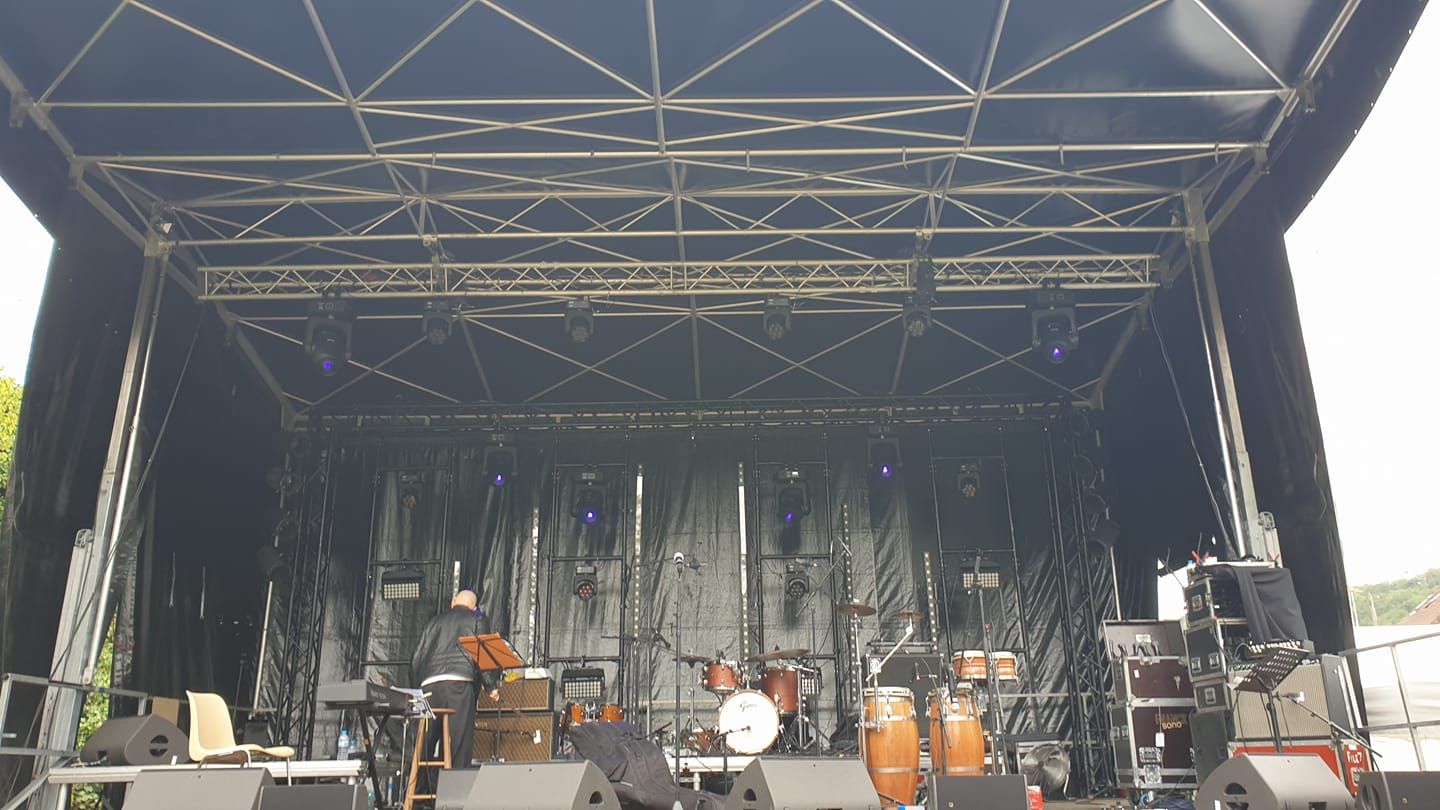 Crew setting up for the Au Bon Coin Festival concert near Fontainebleau .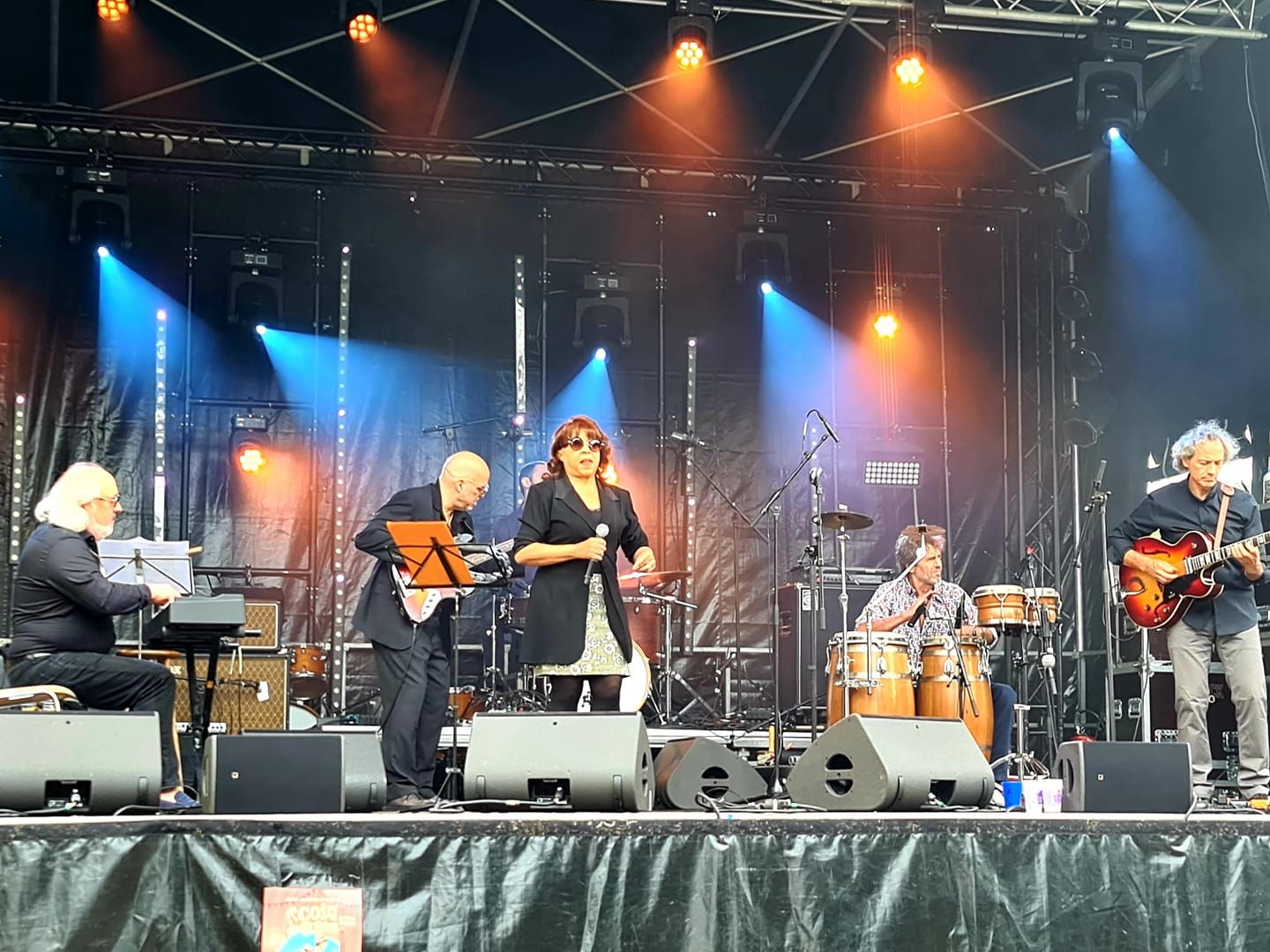 The Au Bon Coin Festival concert with "Funky Ella". 
We are in the thick of the CD rollout which includes working to get some visibility with Jazz press and radio stations. We are happily receiving some support from the record label which is an odd sensation for us. The new recording will be on Spotify, Apple Music, Amazon Music. Deezer, etc.  At the moment it is available for download on Bandcamp: https://leslielewisgerardhagen.bandcamp.com/album/i-put-a-spell-on-you     
CD's are available for pre-order at FNAC in France: https://secure.fnac.com/SearchResult/ResultList.aspx?SCat=0%211&Search=leslie+lewis+funky+ella&sft=1&sa=0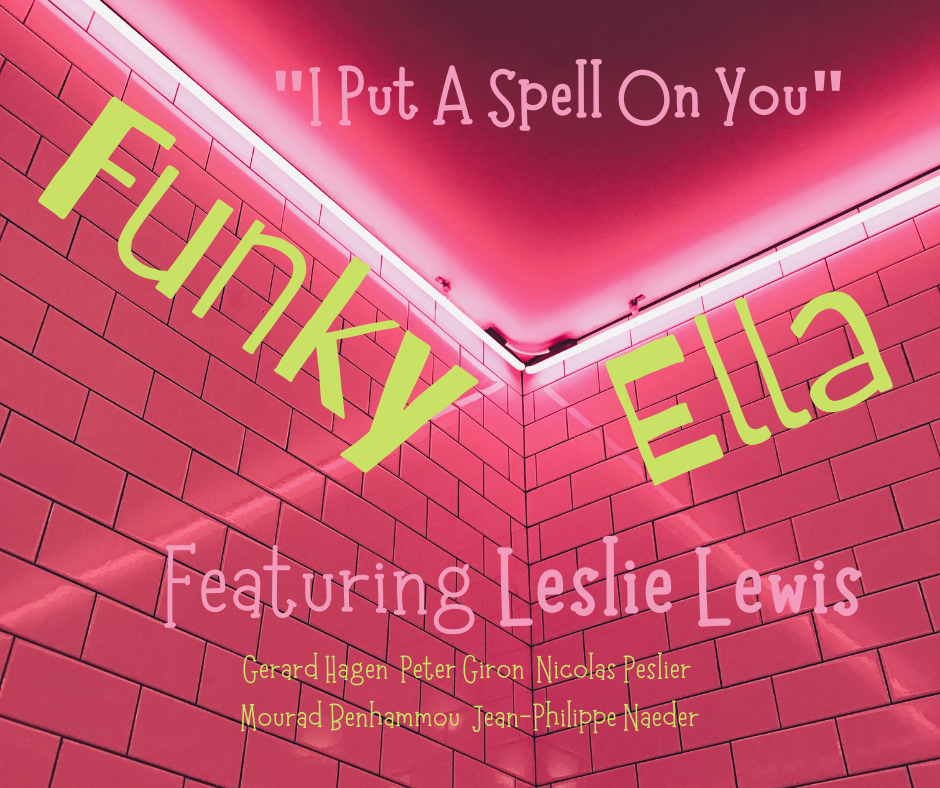 Cover of "I Put A Spell On You". 
Leslie and I have developed new material for our up-coming concerts. I am really enjoying the sonic possibilities that are available with this group. So there is some excitement building on my part to hear the band realise our arrangements. You can expect to hear everything from Dylan to Herbie Hancock. The next Funky Ella concerts are October 26-27 at Sunside Jazz Club https://www.sunset-sunside.com/2021/10/artiste/1852/7608/.   If you are in Paris here is a promo code to get a deal on tickets.  For Oct. 26 use: 20LL2610 and for Oct. 27 use: 20LL2710.  For more information about Funky Ella: https://funkyella.com/home 
This week we are in duo at Chez Papa Jazz Club from Tuesday through Saturday night (Sept. 21-25).  So if you are in Paris you know where to find us. 
Funky Ella band (L-R) Nico Peslier, Gerard, Mourad Benhammou, Jean-Philippe Naeder, Leslie & Peter Giron. 
Thank you for giving us your time and attention, we appreciate it very much. Please check our website for news and updates. While you are there please sign up for our weekly email blast to learn where you can hear us. http://www.surfcovejazz.com   We hope that you are all healthy, safe and looking forward to better times ahead. As always thanks for staying in touch with us. 
Until next time,  Leslie et Gerard