Bonjour de Paris ... 

"Maybe we thought it was a dream and we'd wake up in Niagara Falls with a hangover." 
Robert Mitchum  "Out Of The Past" 
Chers Amis, 
Leslie and I were watching "Out Of The Past" when I was struck by how much was communicated in the above line. In our home, when it comes to music, we think a lot about what to communicate and how to communicate it. When it comes to this missive, I do the best I can to communicate through words, but I make no claim that I am, in any way, a writer. 
I may have waited a bit too long between newsletters.  It seemed like we were just chugging along here with no real exciting news to report. After collecting my thoughts, I see there is more here than I had realized. First off I have to say that August, September and October were a revolving door of friends coming and going in Paris. I think they all made it to one of our performances and we were fortunate enough to have the time to enjoy a meal with most of them. Ron and Cathy Levy followed-up their recent marriage with a honeymoon in Paris. They made time so that the four of us could enjoy a nice lunch on a sunny terrace at a café in Odéon. Leslie and Ron worked together for many years at the Ritz Carlton and the Pelican Hill Resort among other venues.  Alexis Penn-Loya (a former student of mine) and her daughter Anya from Orange County, CA made good use of every minute of their time in Paris. I have good memories of Alexis when she was a student of mine. It does my heart good to see them together as mother and daughter. Vince, Ann, Sandy & Pam, our extended family from northern California and Colorado, also made the most of their time here. They spent a week taking in as much as possible including a few side trips outside of town. Spending time with them was a nice family moment for us.  After living through a two year "covid" hiatus from their bi-annual trips to Paris, our friends Clifford and Lydia made the return trip reacquainting themselves with the city. Between regular exercise and tango dancing they are the poster couple for healthy living.  Shelley Boddie also made it back to Paris after staying away for a while.  It was good to see her and to meet her friend Susan.  And finally, we had dinner with Phyllis Toney who was on tour with Sting.  We have become used to seeing Phyllis in Europe quite often, as she toured here with Paul McCartney, Sting and Diana Ross to name a few. Recently she has decided to spend more time at home in L.A. so sadly, we won't see her as often as we'd like. The Sting tour had a big going away party for her while they were in Paris. Is it called a "going away" party when the person is actually going home? By the way she was one of the designers for last year's Super Bowl Halftime Show and she will be doing this year's show as well.  If one needed a reason to come off the road, that's not a bad one.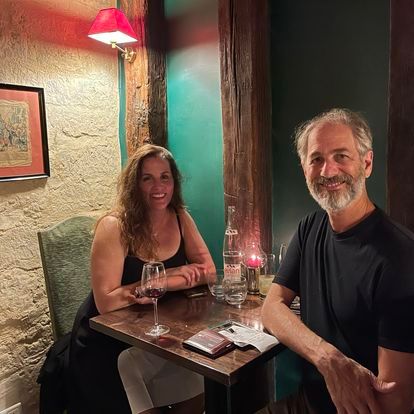 Ron & Cathy at "Le Coupe-Chou" restaurant Paris, FR.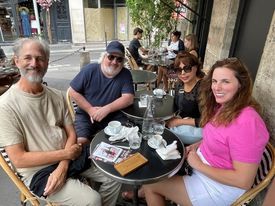 Lunch with Ron & Cathy in Odéon.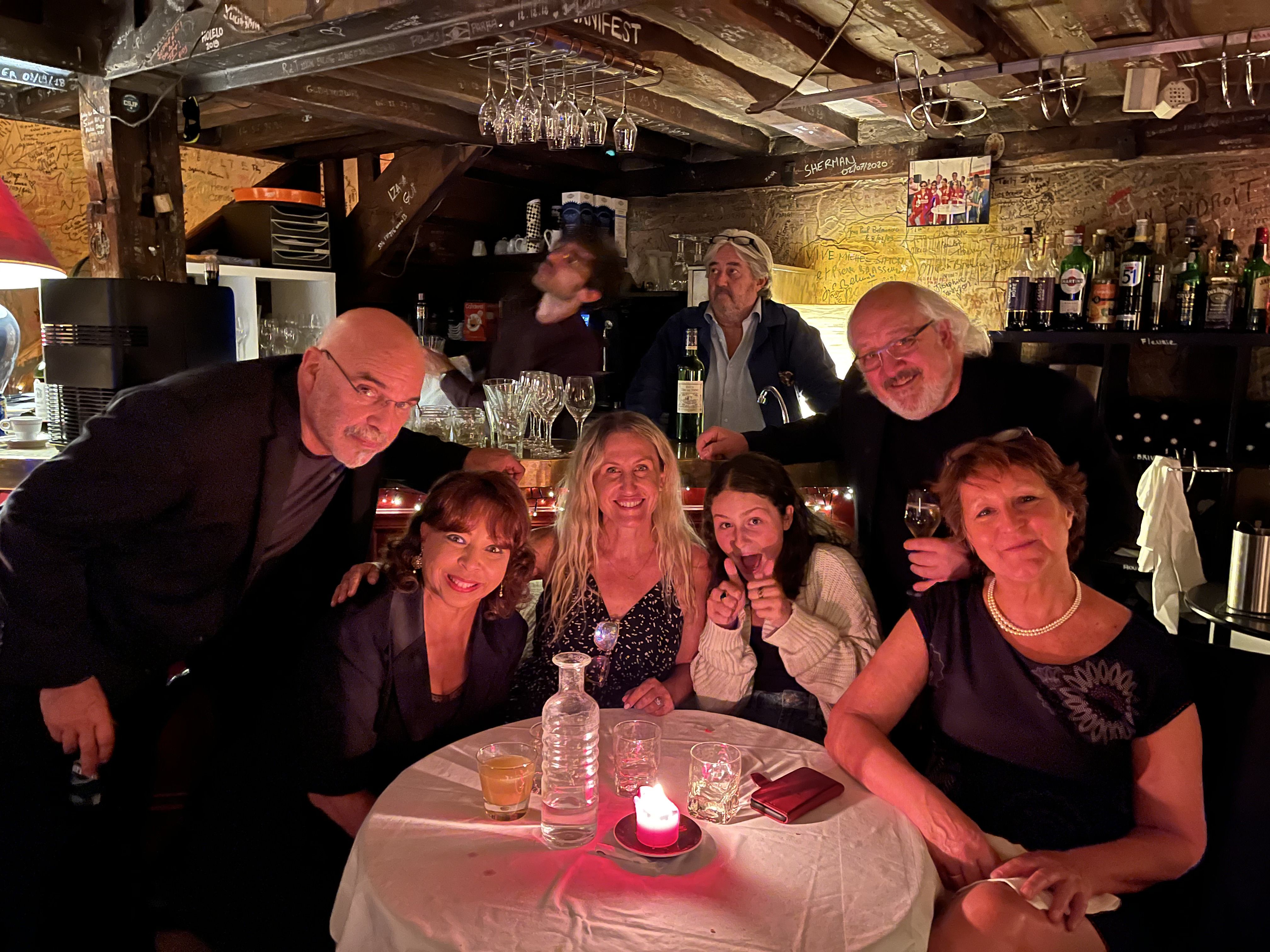 Peter, Leslie, Alexis, Anya, Gerard, Nicole (Peter's wife) at Chez Papa Jazz Club in Paris, FR.  Cédric (manager) and Michel (owner) are behind the bar.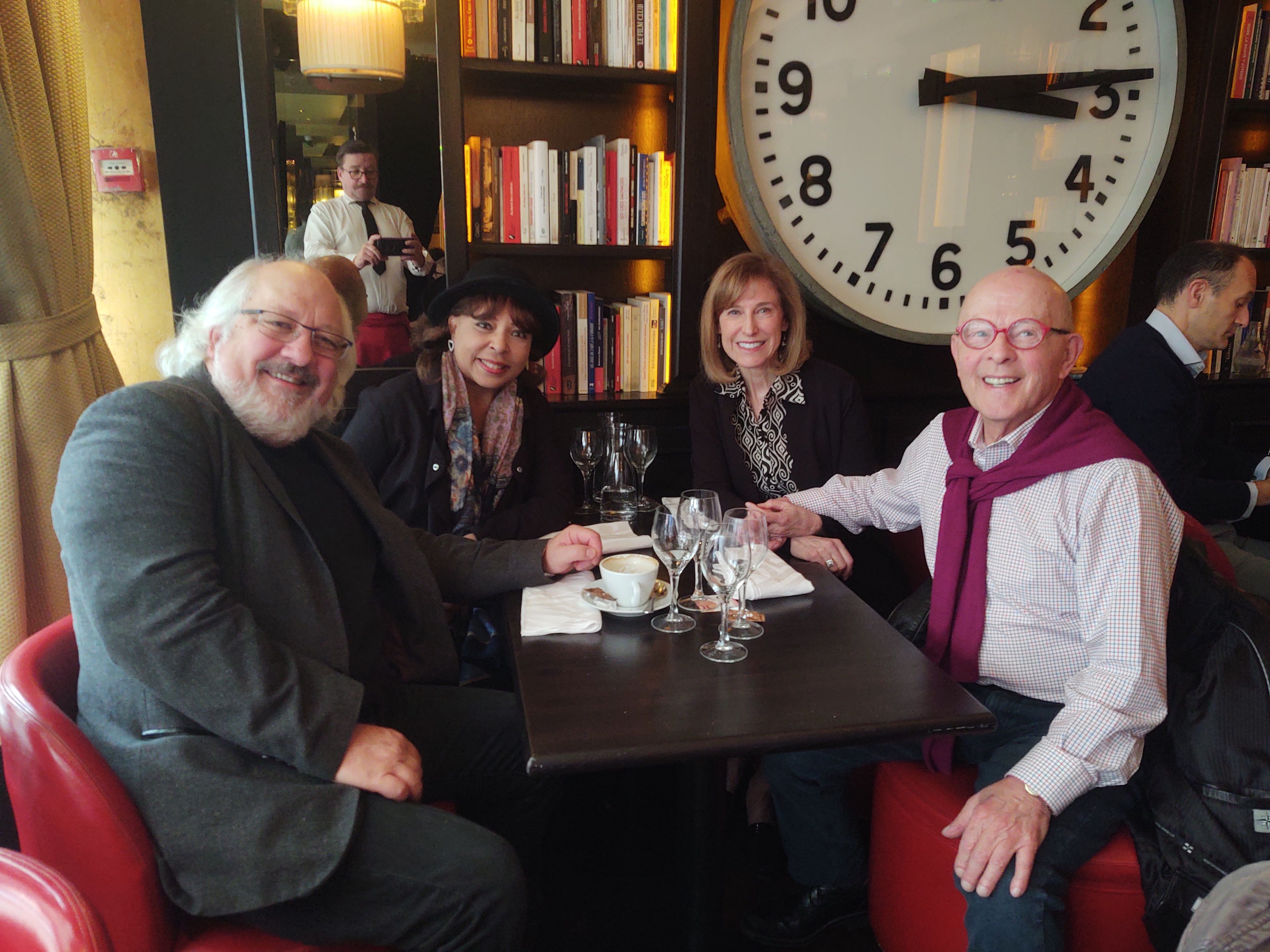 Lydia and Clifford with Leslie and Gerard at Les Editeurs restaurant in Odéon.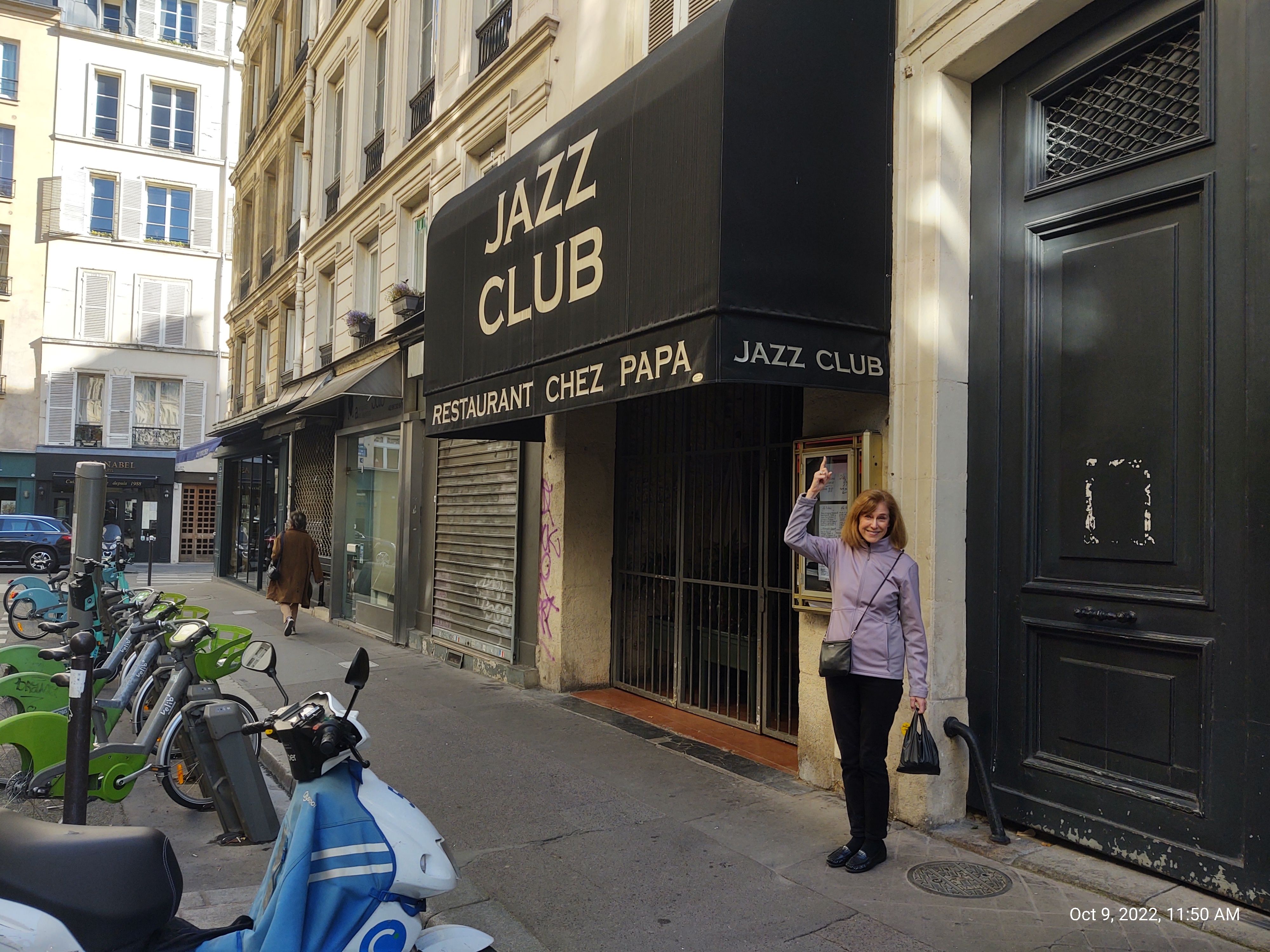 Lydia happened by Chez Papa Jazz Club one afternoon.  It's strange to see it in daylight and closed!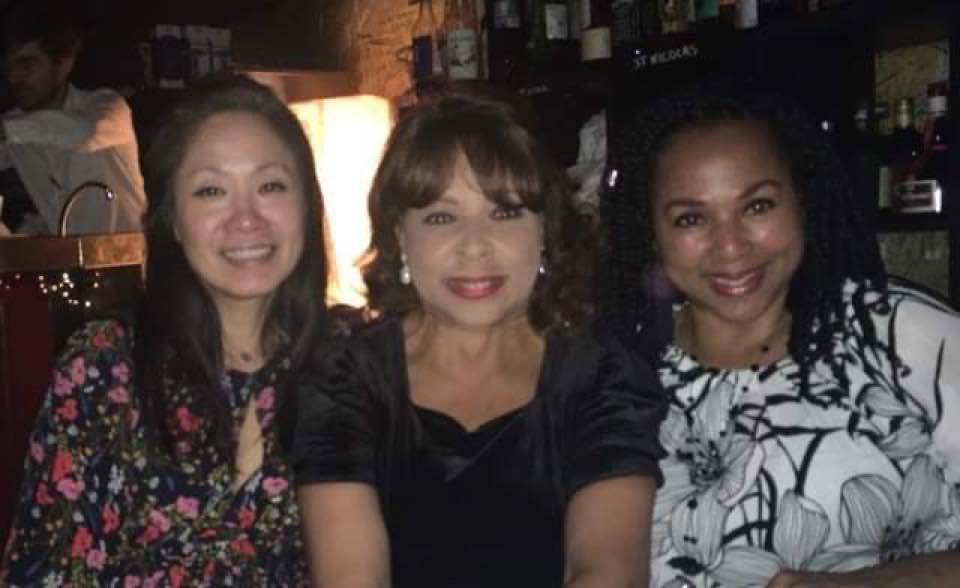 Susan, Leslie and Shelley Boddle at Chez Papa.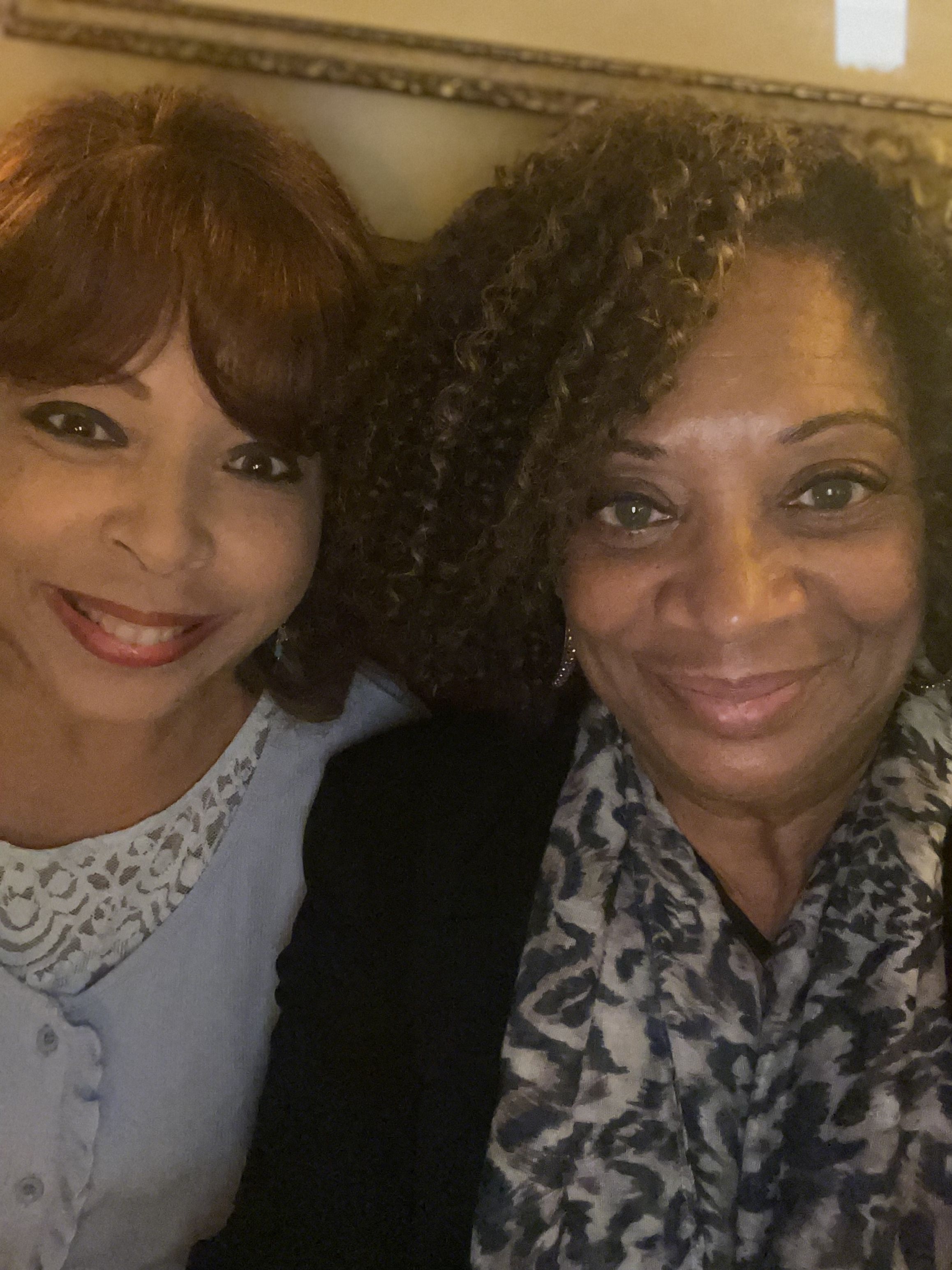 Leslie and Phyllis Toney at "Le Petite Marché" in Paris.  Earlier in the month we ate there with Vince, Ann, Sandy & Pam and just had to go back for a second time. 
In September we spent a few days in Cassis, France.  We had been there last spring and had a great time so we went back after our summer gigs were over.  Once again it was a great time. We basically did nothing but relax. Afternoons were beach time, even though the beaches are more rocks than sand, it was still a great way to spend an afternoon. The Mediterranean water was very inviting and we spent quite a bit of time in it.  We had dinner at our favorite sushi restaurant, twice!  Cassis has become our "go to" place when it is time to do nothing but relax. 
Last summer Leslie and I were working in the Alsace region of France for five days.  We enjoyed it there so much that we decided to return in the fall but this time with no work responsibilities. So last week we were in Strasbourg with Bobby and Sue, our friends formerly from Dallas who are now residing in Paris. On our first day there, Leslie and I were a bit like zombies. We had worked the night before we left and of course we waited until after the gig to pack for the trip so we didn't sleep much that night.  Strasbourg is a really beautiful city that feels much smaller than it actually is. It is an easy hour and forty-five minute train ride from Paris.  Unlike our time in Cassis, we did quite a bit of business over the phone while exploring Strasbourg. I think we booked eleven dates during our time there. Initially we didn't do too well with the restaurants. Our first lunch was in a restaurant that was recommended. It leaned way too much toward the Germanic gastric influence for my taste. So for instance it wasn't always clear what was on the plate due to the amount of sauce that covered the food. I like sauce too but I would prefer to chose how much I use. That night we walked into an Italian restaurant and followed the hostess through a few hallways and into a large dining room. What we didn't realize was that we were escorted into a completely different restaurant with a different menu. There was no Italian food to be found on this menu. Leslie was beside herself. The rest of us were just confused. I really just wanted to eat something and get back the the hotel room. The menu was much like the food we had for lunch, so we made the best of the situation and also learned a valuable lesson for the rest of our time there. Days 2 and 3 were much better food wise and we very much enjoyed the company of Bobby and Sue as we explored the town.  Leslie, who normally is completely prepared for any situation we encounter when we are on the road, decided to bring just one pair of shoes on this trip.  The first night when we got back to our room she took off her shoes and found that the soles of both shoes were almost completely blown out.  It was only a matter of time before her foot was going to be on the pavement. So the next day Leslie and Sue went shopping for among other things, shoes!  That was pretty much the extent of the excitement for that trip. I'm glad that we have experienced Strasbourg, but I was happy to be back in Paris.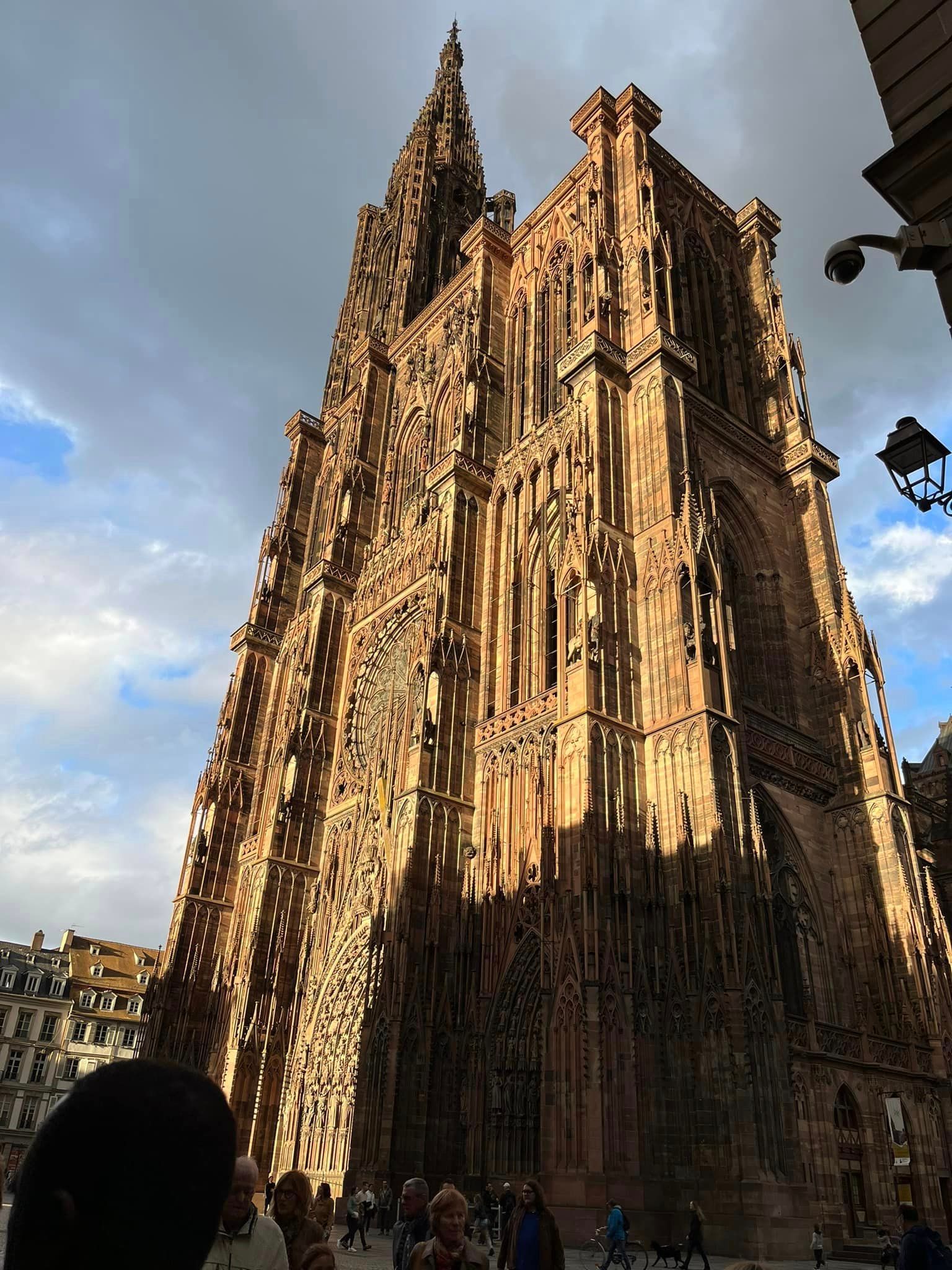 Church in Strasbourg, FR. These photos are by Bobby Chitwood who has an artist's eye for images.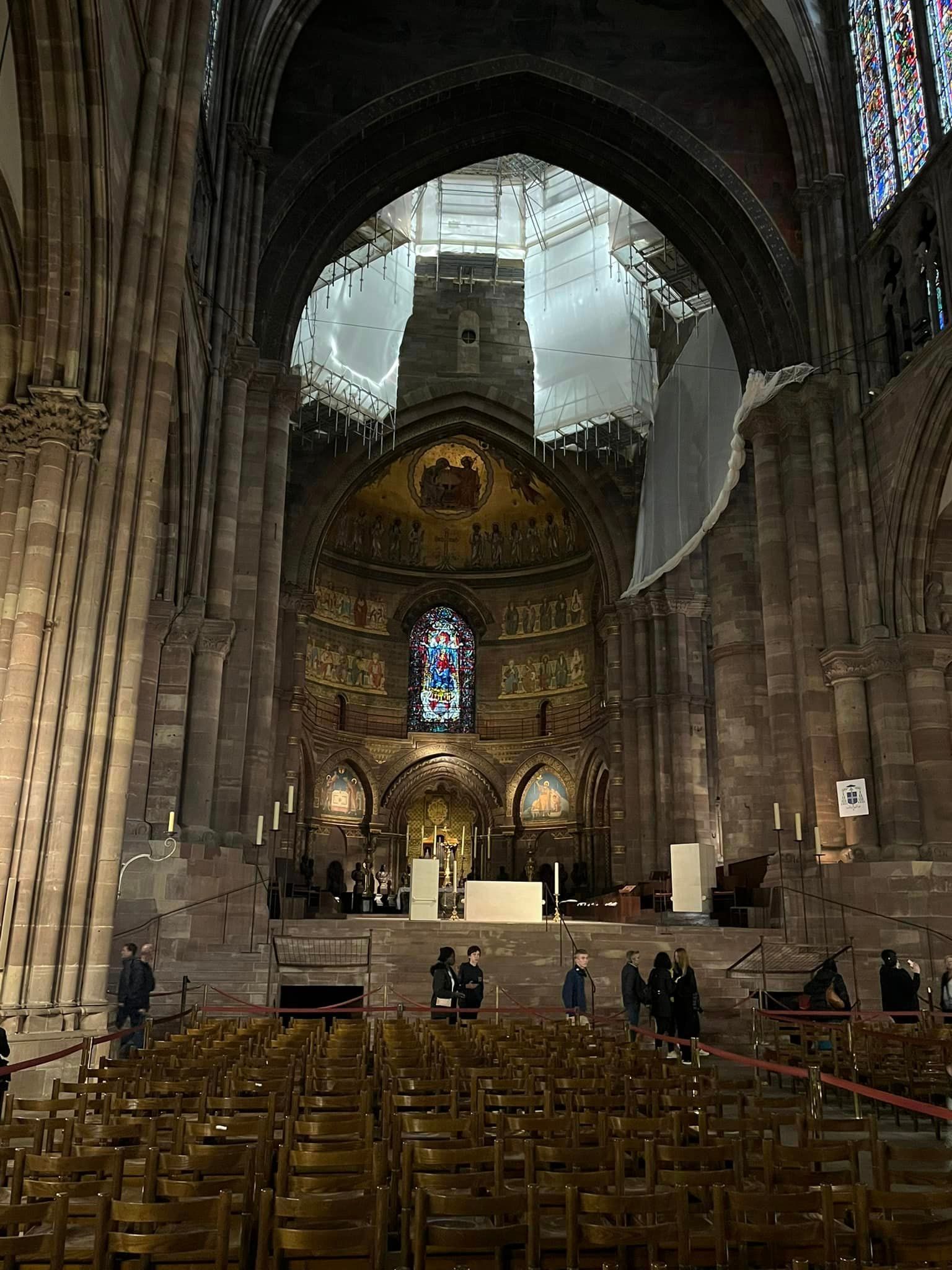 Same church with an inside view. Photo by Bobby Chitwood.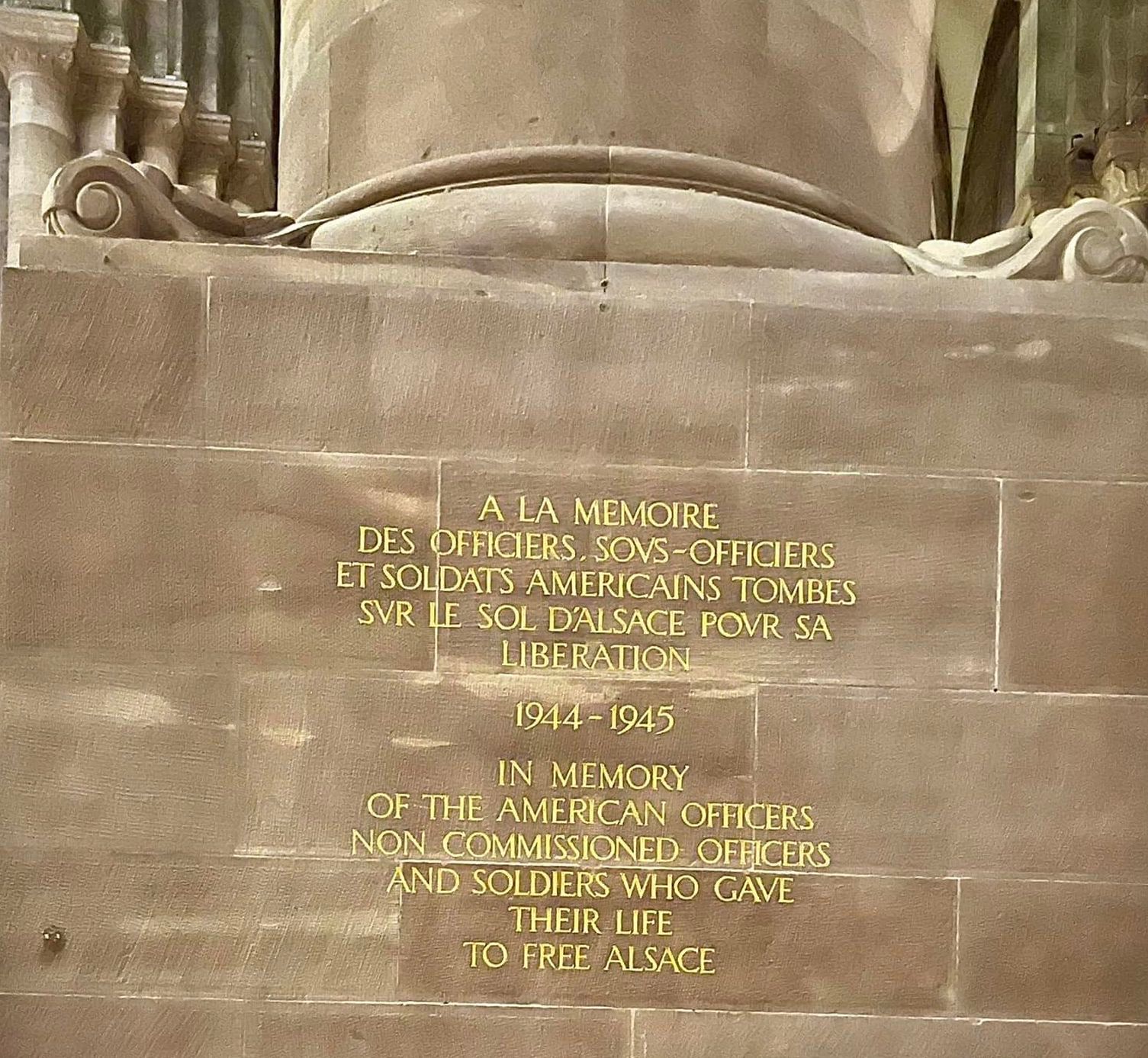 Dedication found inside the church. Photo by Bobby Chitwood.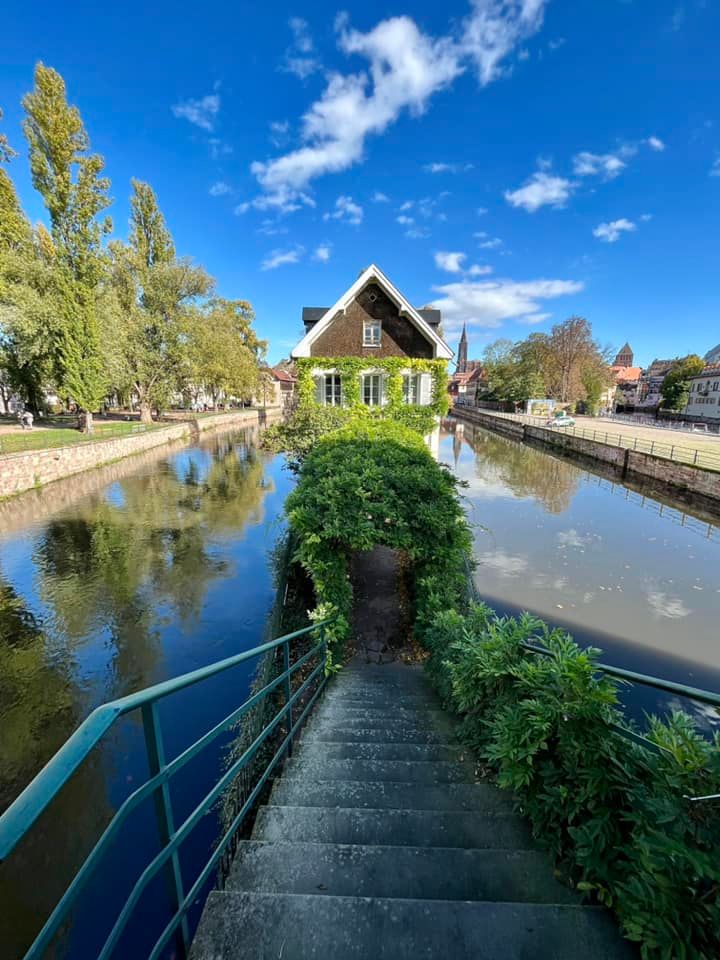 House on the river, Strasbourg, FR. Photo by Bobby Chitwood.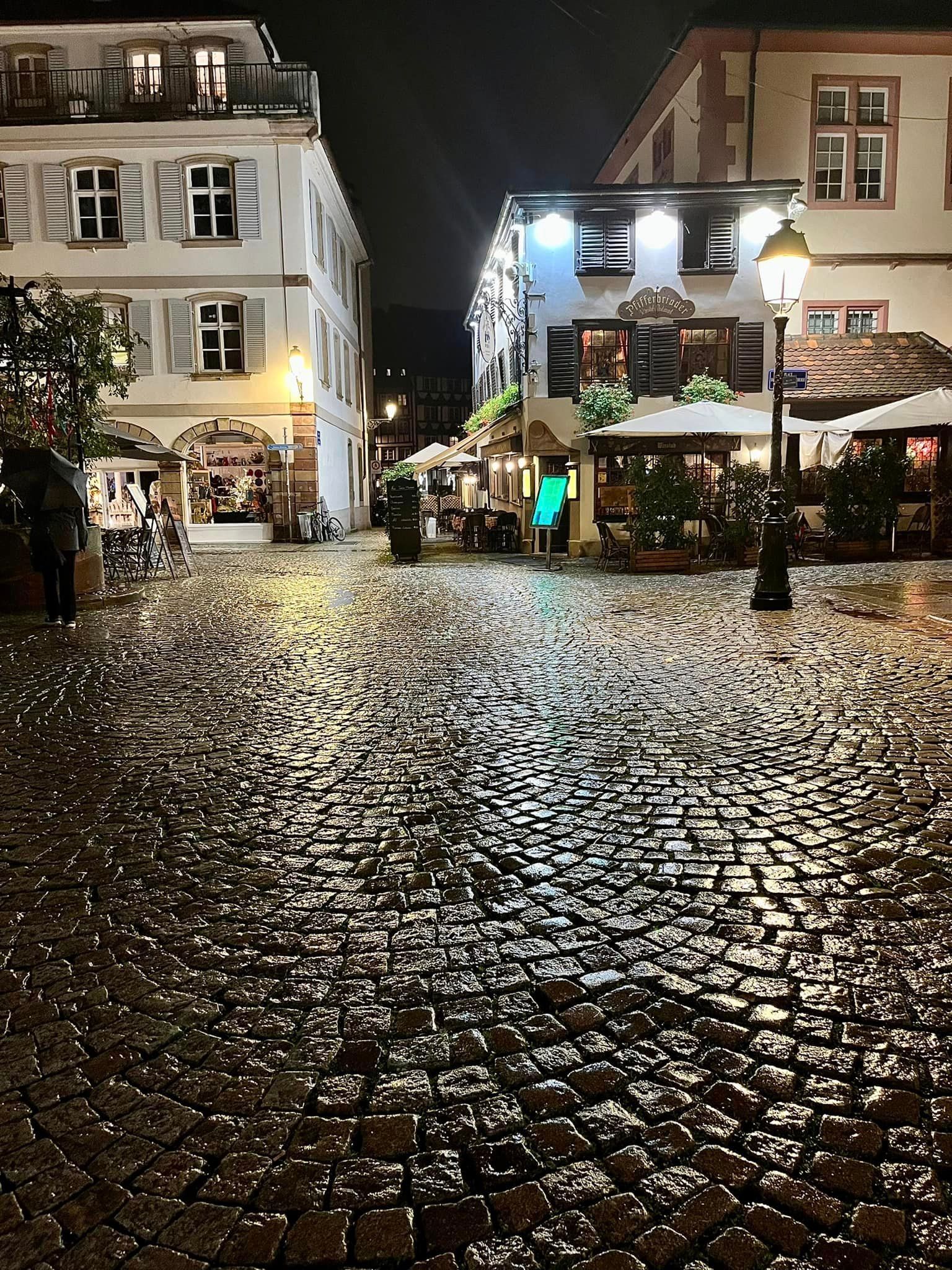 Strasbourg at night. Photo by Bobby Chitwood.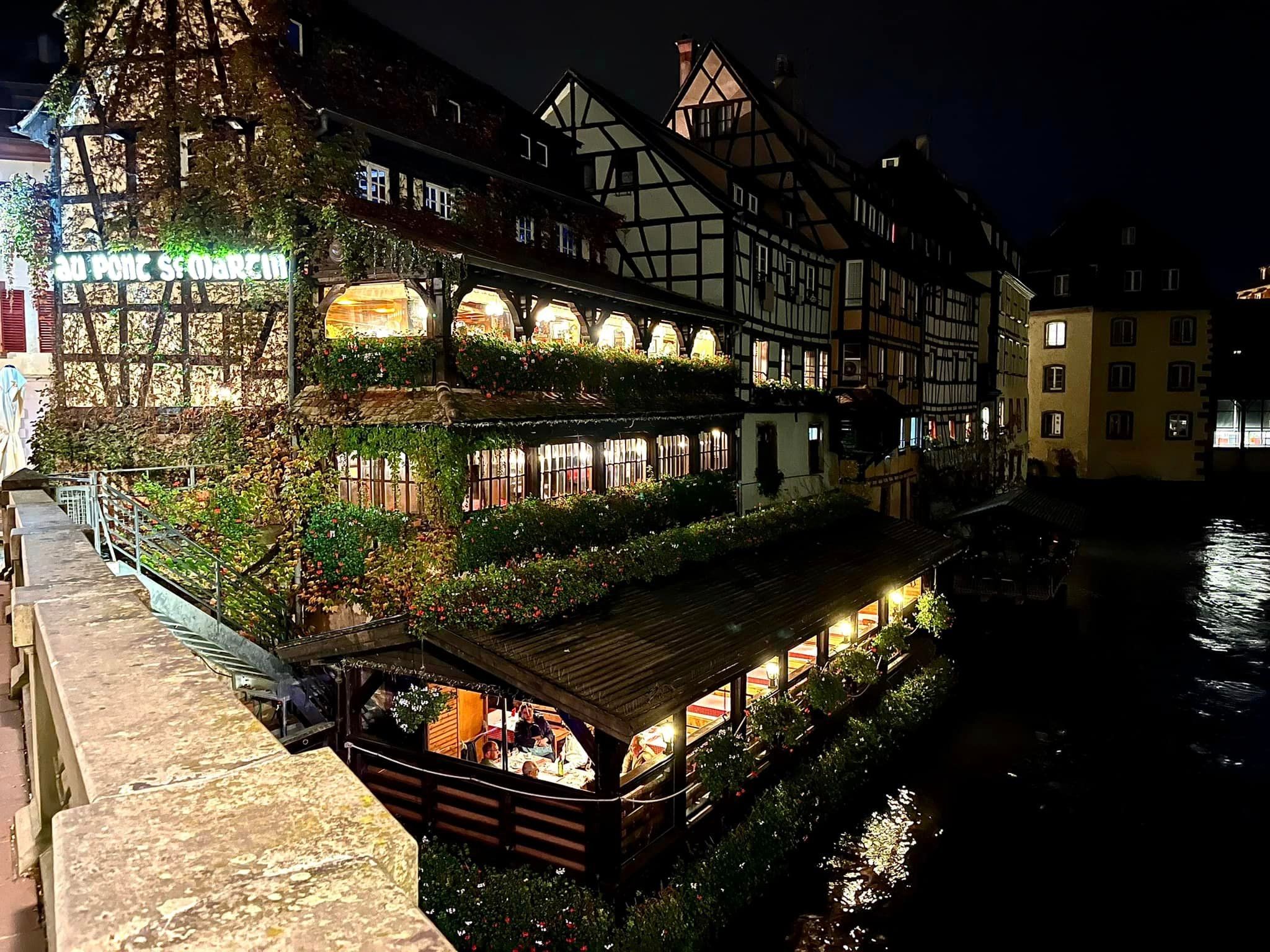 Restaurant on the river, Strasbourg.  Photo by Bobby Chitwood.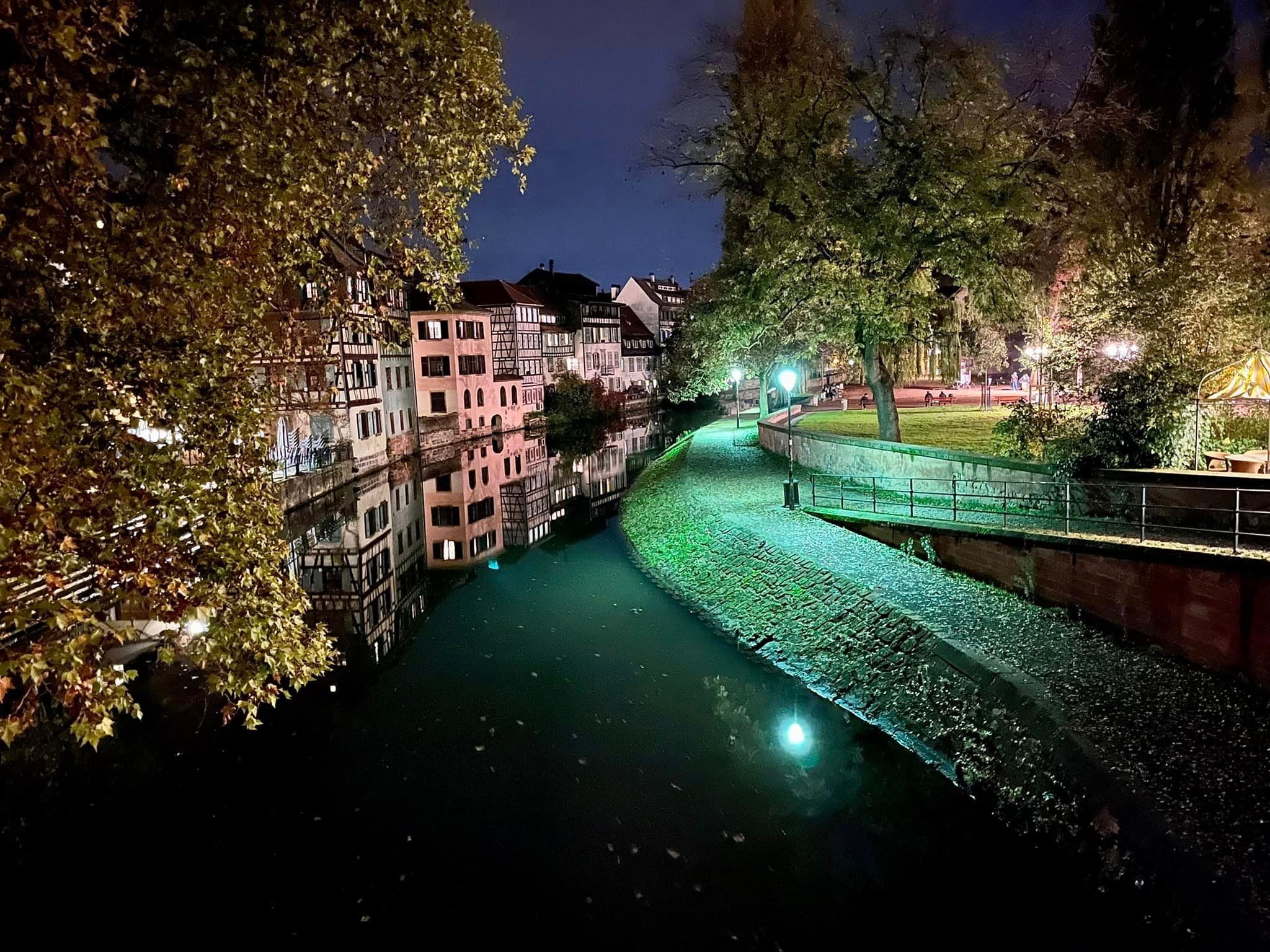 Strasbourg homes on the river. Photo by Bobby Chitwood.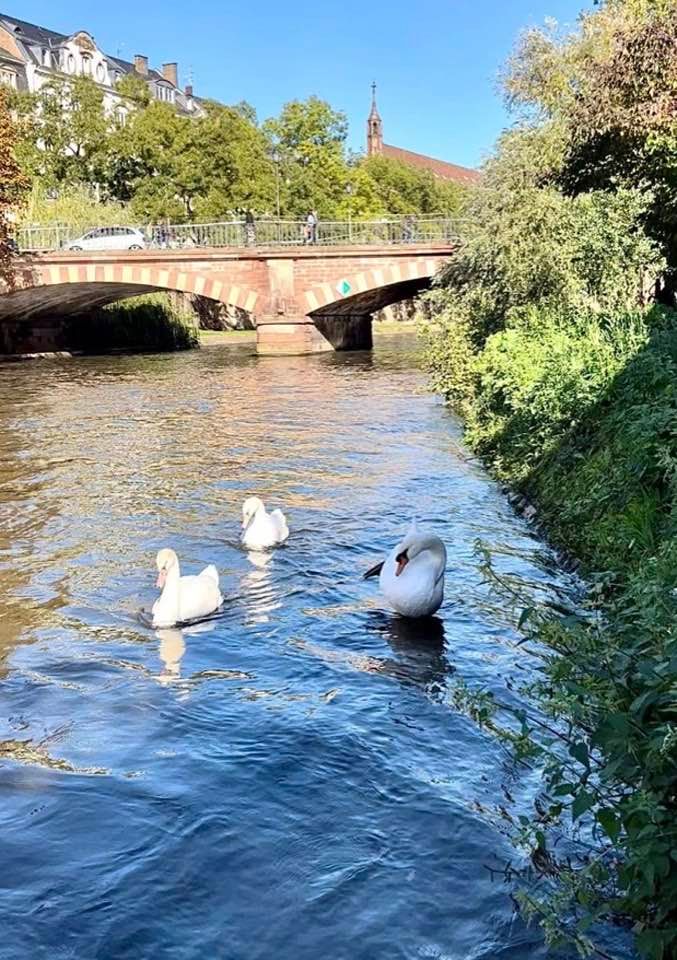 Swans on the river Strasbourg.  Photo by Bobby Chitwood.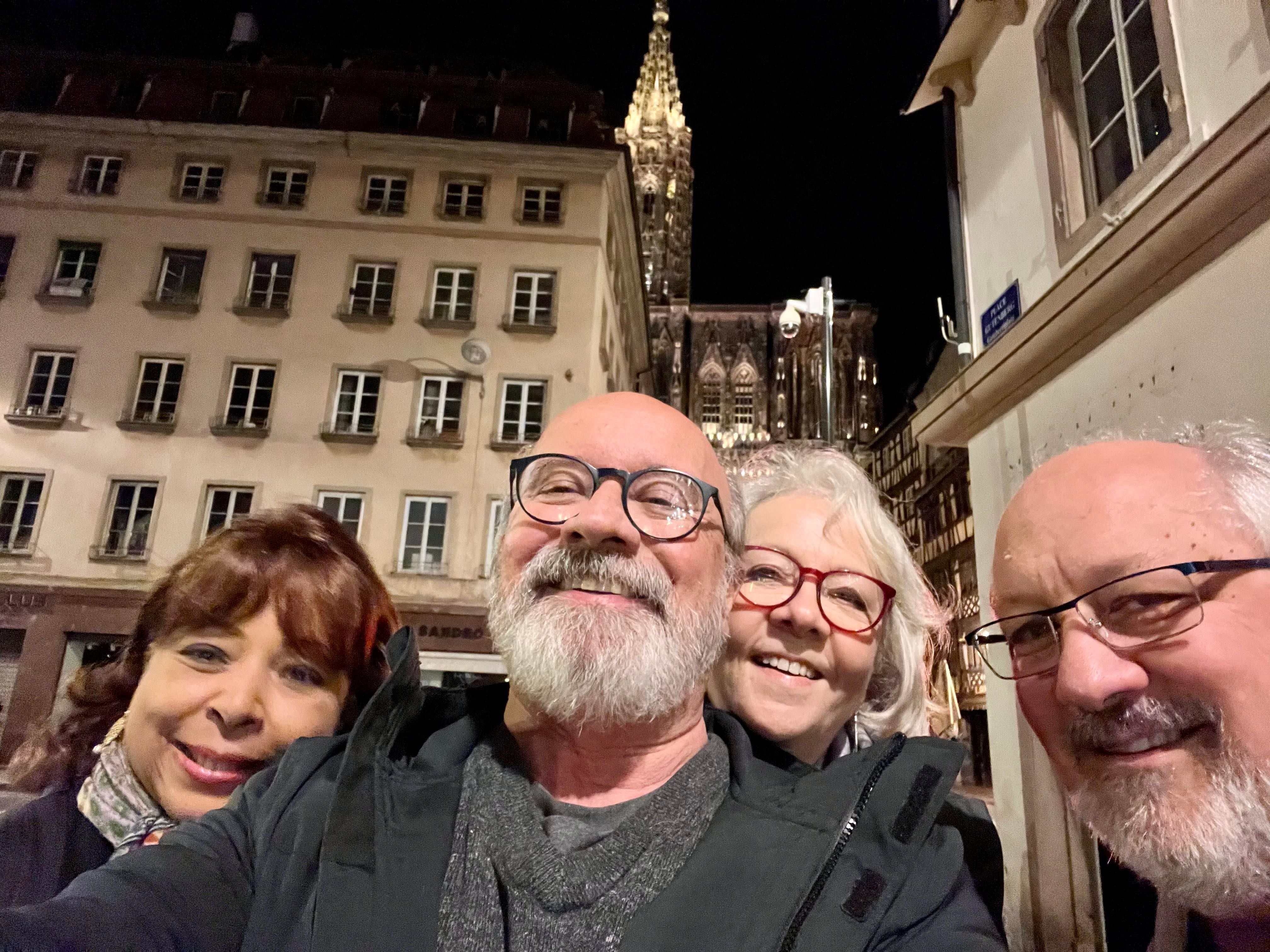 Leslie, Bobby, Sue & Gerard in Strasbourg, FR. 
I'm going to make a left hand turn here for a second because the gig we did the night before we left for Strasbourg is worth a few words.  We have done many, many private gigs over the years, but as Leslie remarked that night, this was the first time we ever played somewhere that we didn't know where we were playing or who we were playing for! It was unclear if it was a quite large private home or perhaps a dedicated event space.  We asked but no one could or would tell us.  Also we didn't know who we were working for or who was at the party. We did know the two other musicians that we worked with and we knew how we were going to get paid. That was the extent of our information. There was a rented Yamaha digital grand piano and a Bose PA system provided for us. So we played a set and then walked a few blocks to a restaurant where the people we worked for, whoever they were, had made dinner reservations for us. After a nice meal we returned and played another set and left. Très bizarre!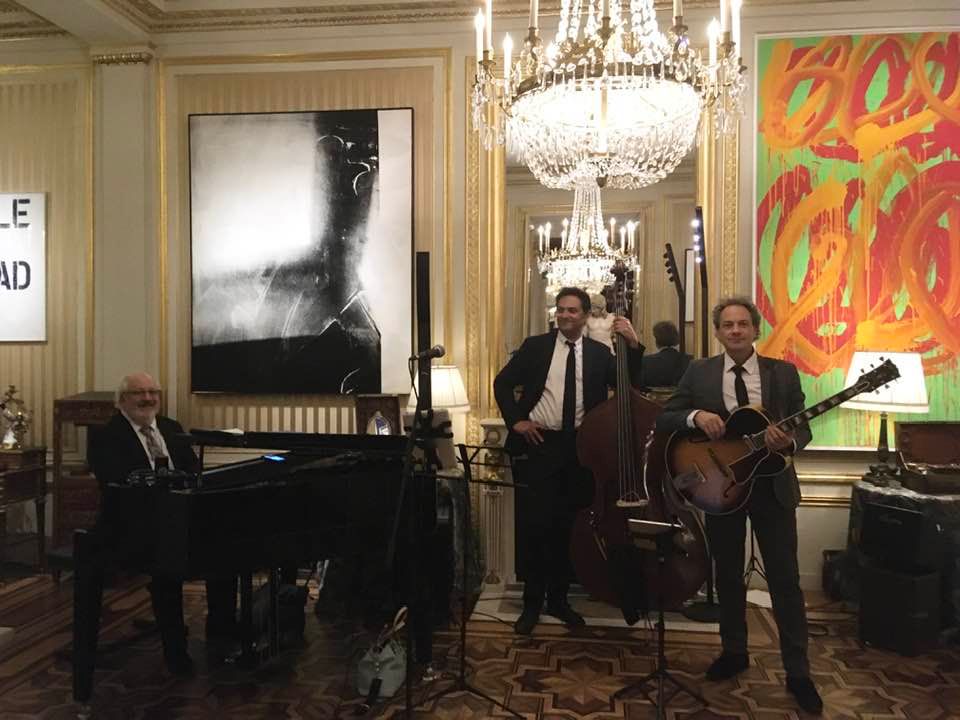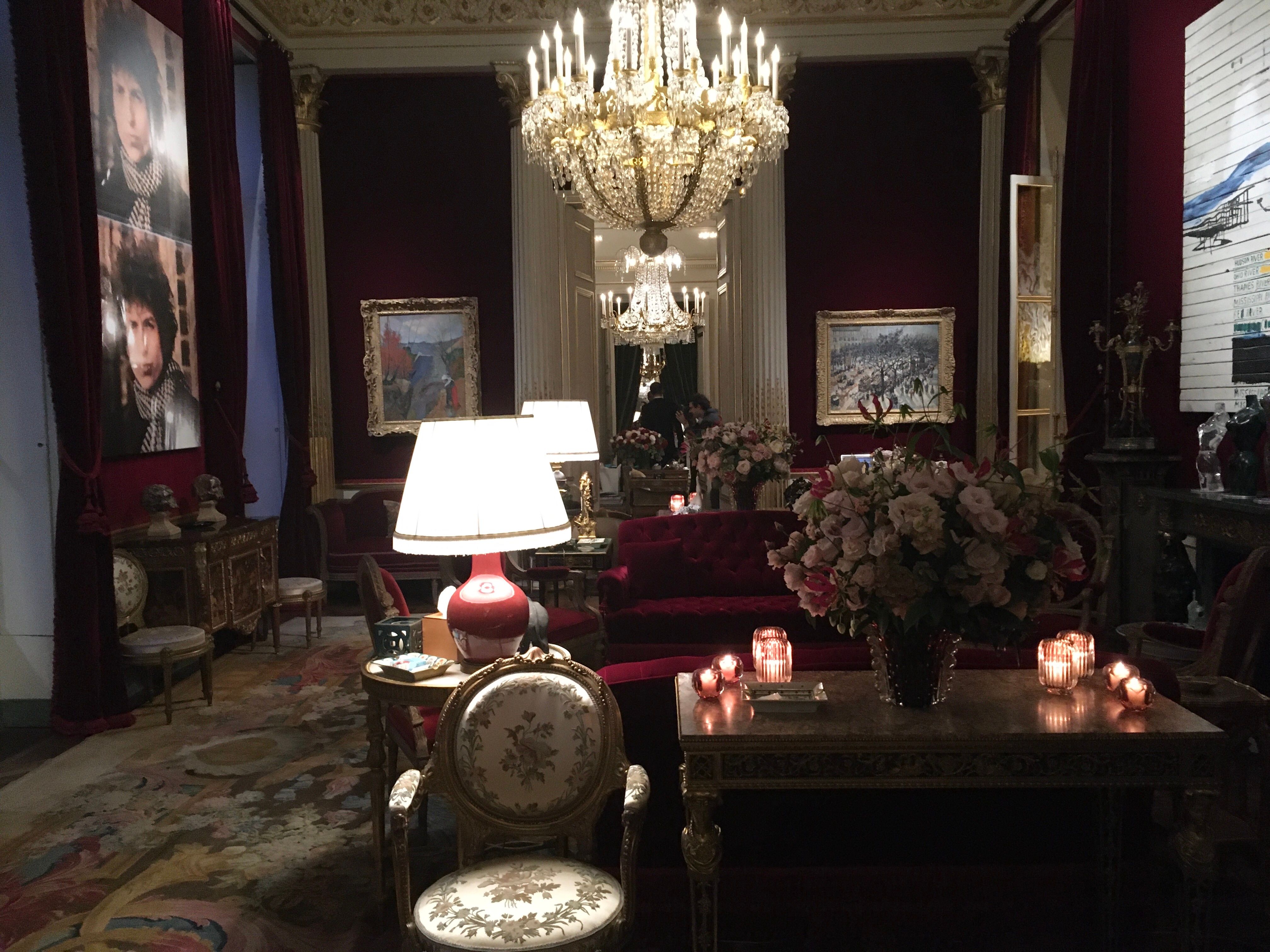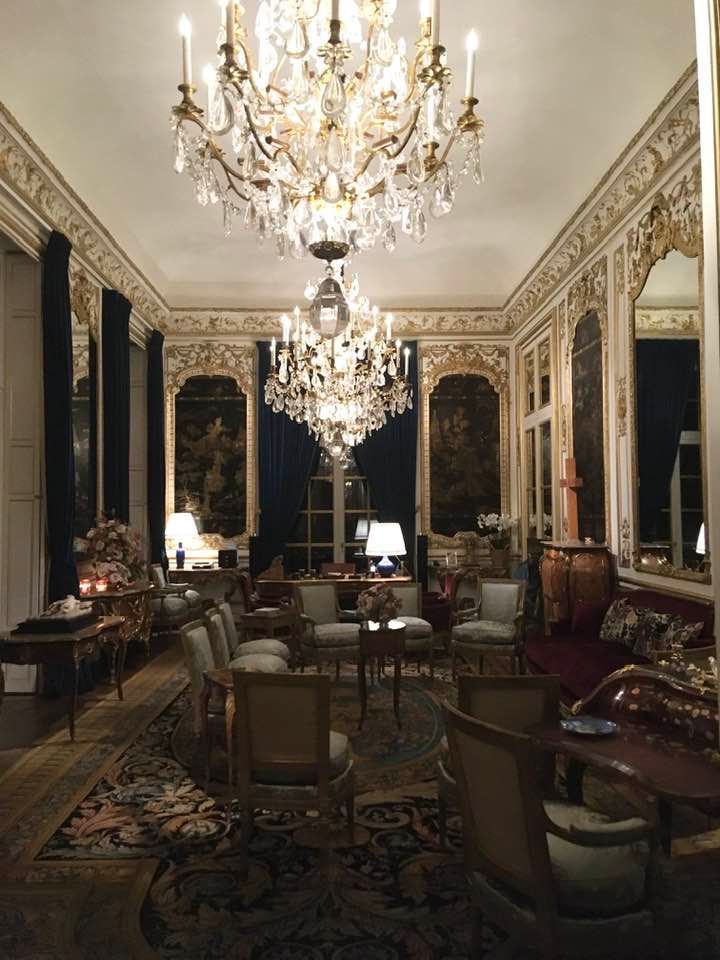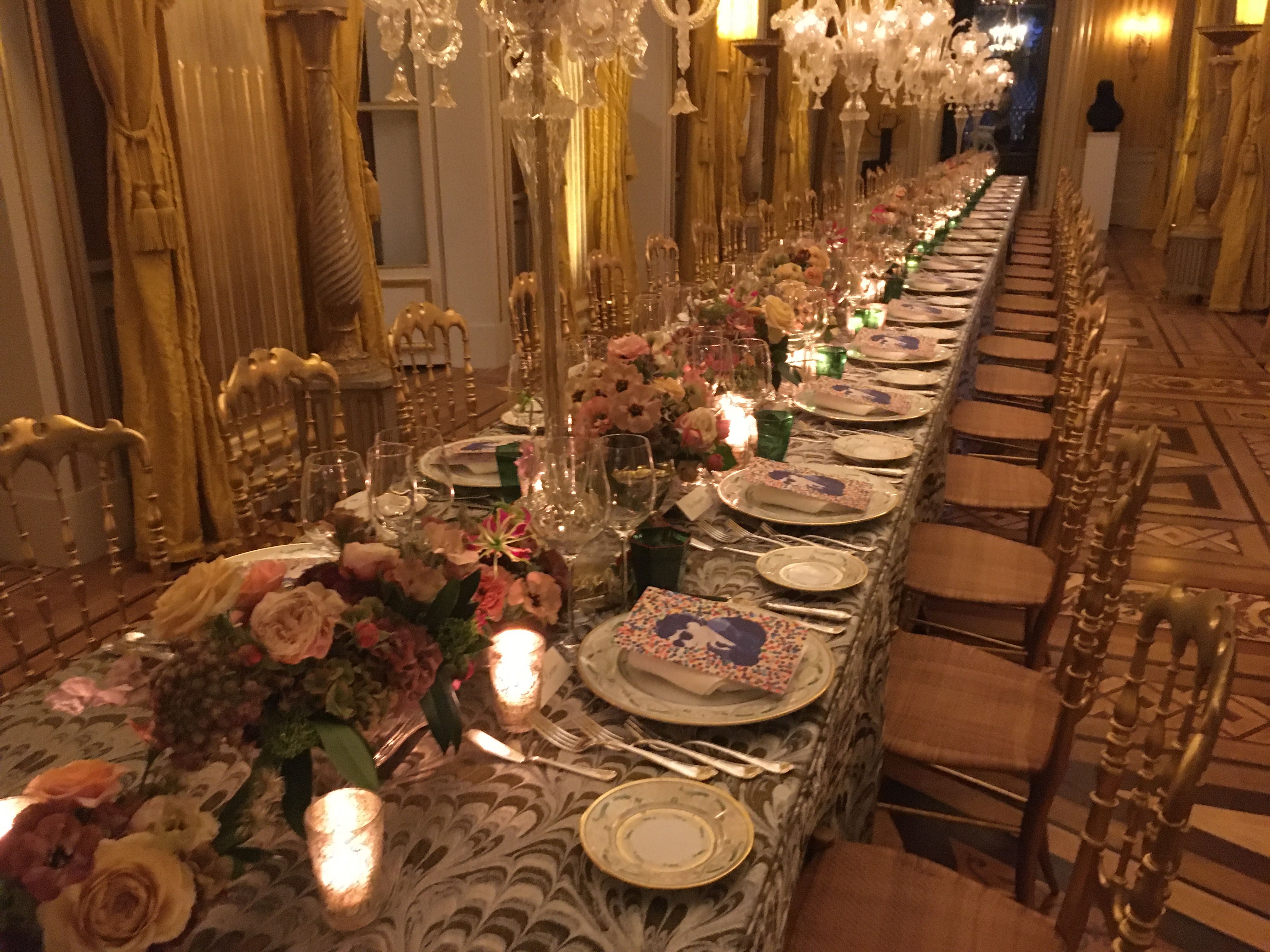 The above photos are from the gig we played before leaving for Strasbourg. 
1.) Gerard (piano) Jean-Claude (bass) & Nico (guitar). 
2.) Living room 
3.) Another Living room 
4.) Dining Room. 
So getting back to the Alsace region, Leslie and I have been asked back to play at the festival Au Grès Du Jazz which takes place in La Petite Pierre next August.  We are working with Rhoda Scott and a choir on a concert of gospel music. In order to rehearse with a local choir we will be making four or five trips to La Petite Pierre in Alsace between now and June. We are currently working on the music to prepare for a rehearsal with Rhoda in Paris. Later in November we will travel there for three days to rehearse with the choir for the first time. During the month of November we also have dates at Chez Papa Jazz Club and a night at Café Laurent. 
On December 3rd our quartet (Leslie, Gerard Peter Giron & Mourad Benhammou) will play at Sunside Jazz Club in Paris https://www.sunset-sunside.com/2022/12/artiste/1852/8830/ followed by a Funky Ella concert at the Cabaret Jazz Club in Courbevoie https://www.sortiracourbevoie.fr/detail/1863/leslie-lewis-funky-ella on December 12th.  We will end the year with five nights at Chez Papa Jazz Club. The last three nights including New Year's Eve will be with Peter Giron on contrebasse. 
On January 4th we start the year at the Cercle Suédois Wednesday night jazz series with our regular quartet with Peter and Mourad. https://cercle-suedois.com/fr/rivoli-mercredi-jazz-2/.  On January 11th I will play a solo piano set at Café Laurent, following that set Leslie will join me for two sets in duo.  Beginning in January each week night at Café Laurent will begin with a solo piano set followed by two duo sets with a singer. 
On February 4th Funky Ella will be back at Les 2 Pianos in Paris. In May Funky Ella will travel to Munster to play the Munster Jazz Festival and in August we will play in Saint-Jean de Maurienne. There will be more Funky Ella dates to follow.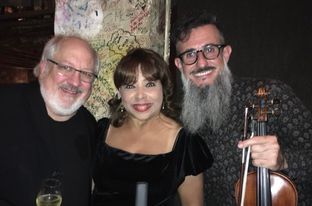 Gerard, Leslie & Luis at Chez Papa. Luis Mascaro violinist extraordinaire from Rotterdam sat in with us last month. We played a number of concerts with Luis when we all lived in California.  Now we get to play in Europe! 
Our Funky Ella CD can be streamed on any number of platforms but the main ones are: 
- Bandcamp: https://leslielewisgerardhagen.bandcamp.com/album/i-put-a-spell-on-you 
- Spotify: https://open.spotify.com/album/6gkHqDEBeQSm8akBXBtofv 
- Apple Music: https://music.apple.com/us/album/i-put-a-spell-on-you/1587307010?uo=4&app=itunes 
- Amazon: https://www.amazon.com/gp/product/B09H2V1Z3S 
- Deezer: https://www.deezer.com/us/album/26111448 
You can find out more information about our Funky Ella project at: www.funkyella.com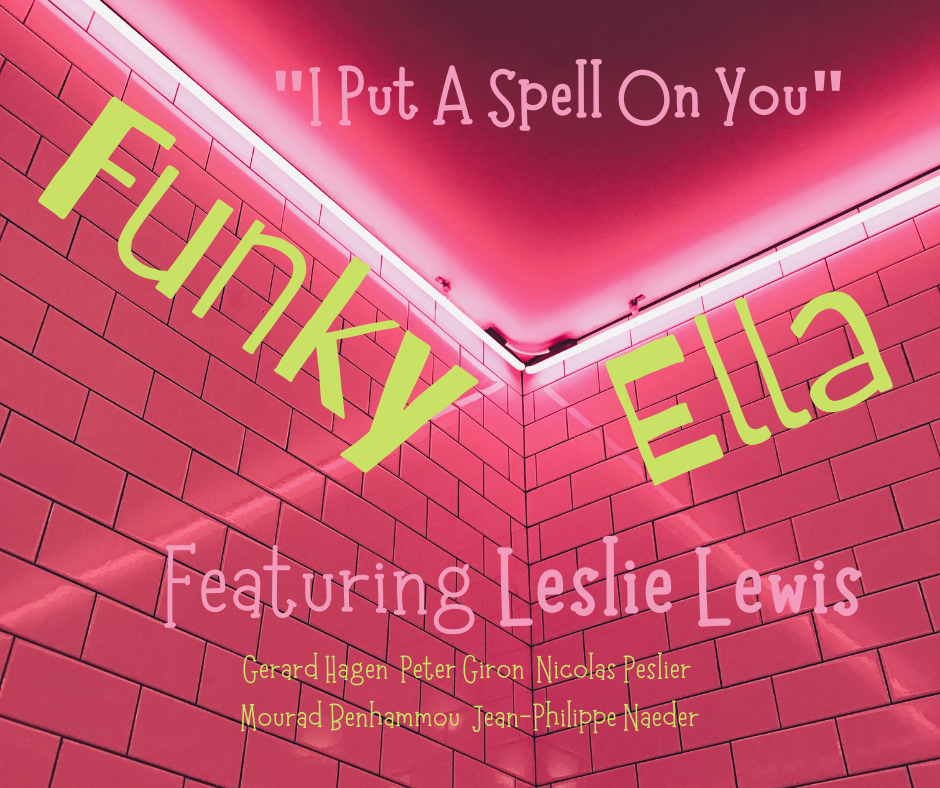 Cover of "I Put A Spell On You". 
Our calendar is available here: https://surfcovejazz.com/tour For those of you who are in Paris or if you are planning to be in Paris in November or December, on Nov.10-11-12 we are in Paris working at Chez Papa Jazz Club as a duo and with bassist Peter Giron. https://papajazzclub-paris.fr  On Nov. 22 we work as a duo at the Café Laurent. https://www.hoteldaubusson.com/cafe-laurent .  On December 3 our quartet is at Sunside Jazz Club in Paris. https://www.sunset-sunside.com/2022/12/artiste/1852/8830/  On December 6 we work as a duo at the Café Laurent. https://www.hoteldaubusson.com/cafe-laurent .  On December 12 Funky Ella is at the Cabaret Jazz Club in Courbevoie.  https://www.sortiracourbevoie.fr/detail/1863/leslie-lewis-funky-ella On December 27-28  Leslie and I are at Chez Papa Jazz Club and on December 29-30 & 31 we are there with bassist Peter Giron. https://papajazzclub-paris.fr   On January 4 our quartet is at the Cercle Suédois in Paris  https://cercle-suedois.com/fr/rivoli-mercredi-jazz-2/  So now you know where and when to find us. 
Thank you for giving us your time and attention, we appreciate it very much. Please check our website for news and updates. While you are there please sign up for our weekly email to learn where you can hear us. http://www.surfcovejazz.com   If you have any comments feel free to contact me, I enjoy hearing from you. This email appears on our website where you may also comment. http://www.surfcovejazz.com/blog/ We hope that you are all healthy and looking forward to the up-coming holiday season. As always thanks for staying in touch with us. 
Until next time,  Leslie et Gerard