Bonjour de Paris ...   
"Take a test, change your life, or at least where you sleep tonight."   
Chers Amis,   
Well that was interesting.  We have returned from two weeks playing music while cruising the Mediterranean Sea.  Our itinerary took us to Sicily, Italy, Crete, Greece and Sardinia. Circumstances required that previously scheduled stops in Corsica and Istanbul had to be canceled.  For me the days at sea were my favorite, as for Leslie, she was all about the jacuzzi and just being at sea.  This was not as easy as the previous cruise we did.  In fact it was quite a challenge due to the pandemic.  Leslie and I thought long and hard before making the decision to make this trip.  We had already turned down two earlier invitations to join this cruise but it was not the right time to go at that point. So when the producers finally decided that they could make October work we took a look at the conditions and decided we were comfortable enough to say yes. Keeping in mind that all summer long we witnessed the youth of Paris frequenting the bars as if the pandemic had never happened, and the bar owners happy to oblige.  So by September it wasn't like Paris was particularly safe from the virus, and in fact the growing concern about the rising infections had lead to mandatory early closing times for the bars and soon there will be a curfew to be enforced in a number of cities in France. Given the need for us to be able to move about the city for the few gigs that we have, as well as the start of the fall semester at IMEP, it was clear that short of sheltering in place and not working we were going to be at some level of risk no matter where we were.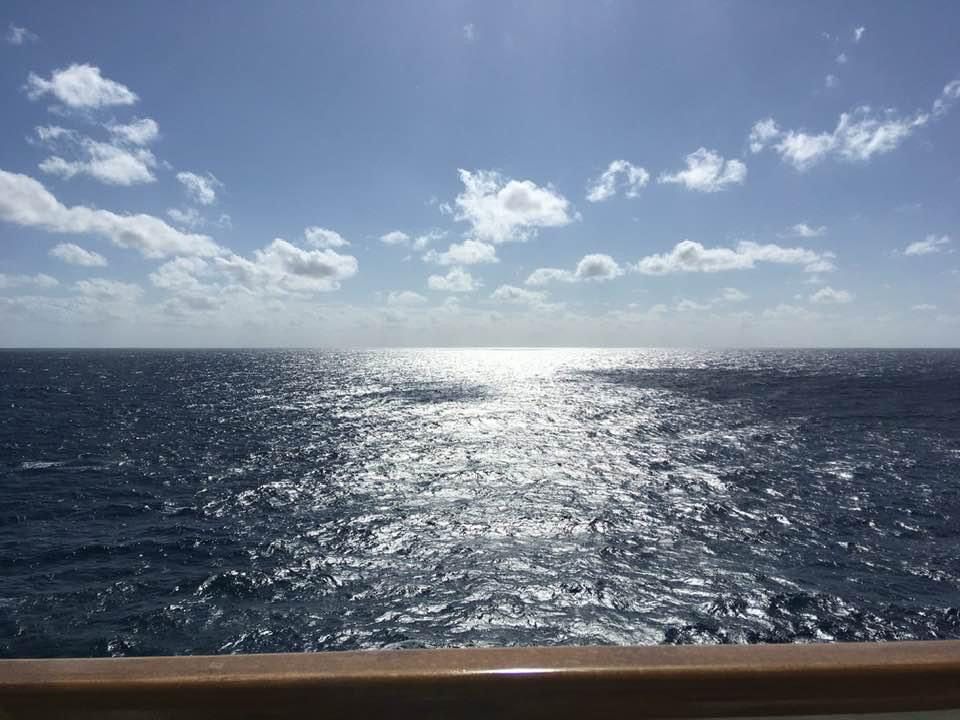 Photo taken from our deck.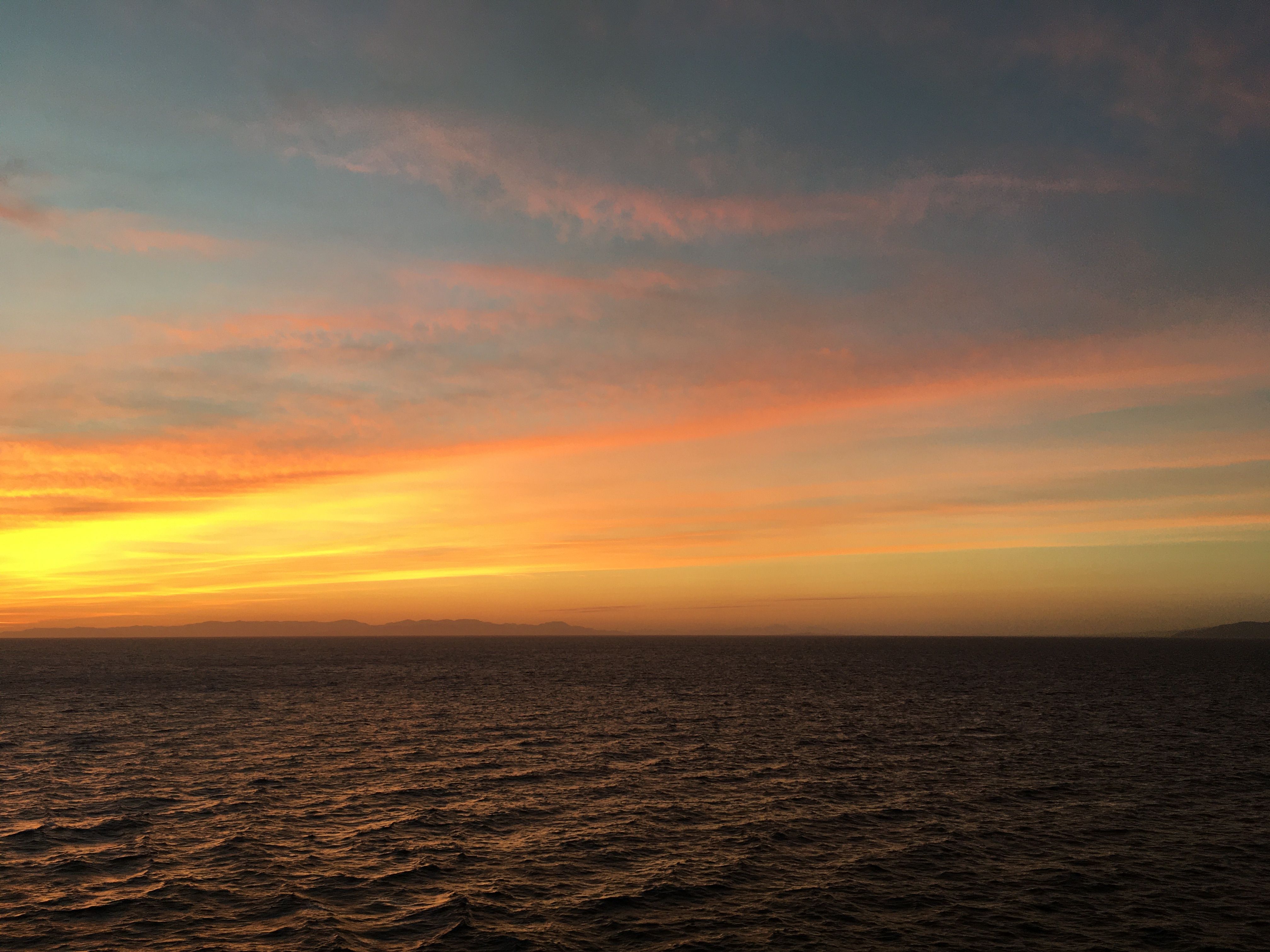 Sunset in Greece.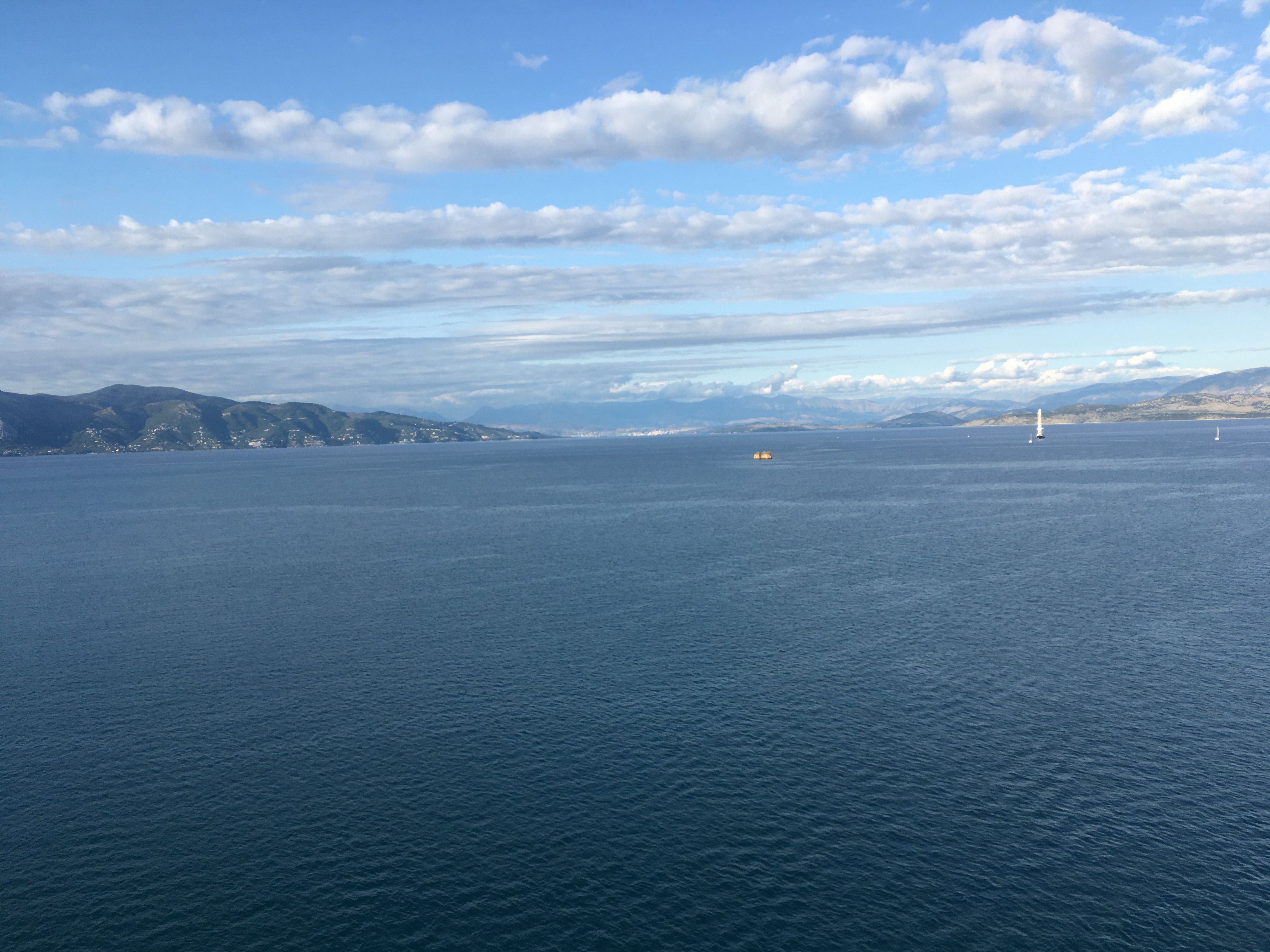 Greek Islands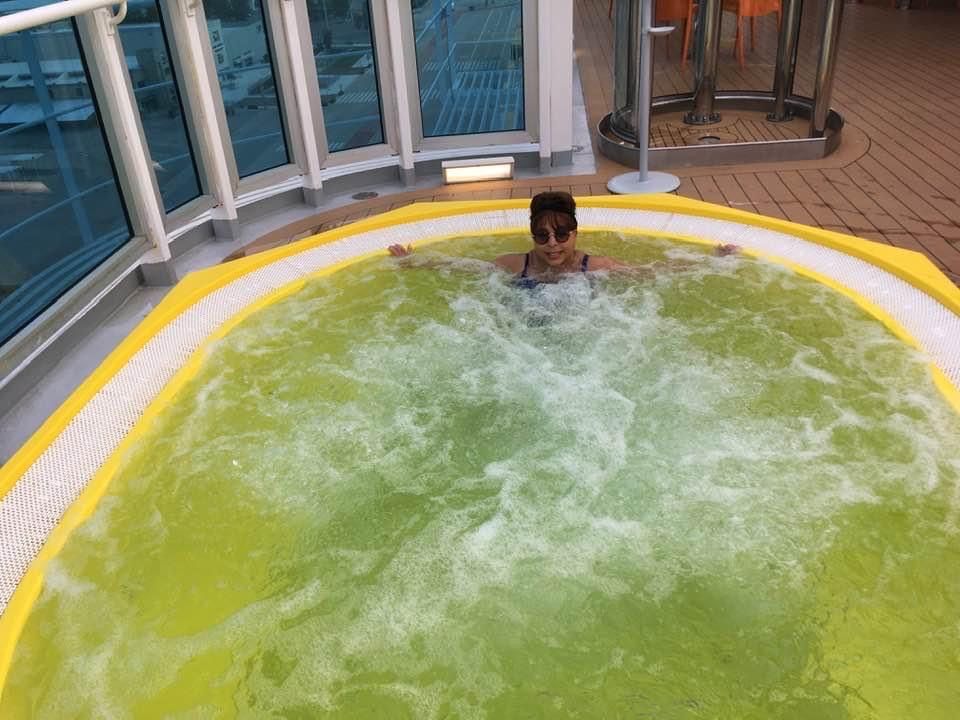 Leslie enjoying the jacuzzi.
The first sign that doing this cruise was going to add some stress to our lives came with the requirement that no more than 72 hours before leaving we had to have a negative COVID test result.  The number of COVID cases were rising fast, the inevitable result of the local populace frequenting the bars during the summer months. So when we went to get tested we were told that they would only test people who had symptoms or who had been in contact with someone who had symptoms. So we went on a search and found a laboratory that took appointments. The next hurdle was that most places said that it would take a week to receive the results. We were very fortunate to get the results in 24 hours.  Okay so with that problem solved we could take a breath and start packing!  On Sunday, September 27 with our negative test results in hand we arrived at 7:00 am at Gare de Lyon and joined thirty-five musicians on a train for the three and a half  hour trip to Marseille (yet another COVID hot spot). That was when we first heard the news that one of the singers was unable to make the trip due to a positive COVID test result.  The trip to Marseille was thankfully uneventful.  But there were soon to be a number of surprises, the first being that the Italian cruise line wouldn't dock the ship in Marseille due to that city's fast growing number of COVID cases. The ship was instead docked in Genoa, Italy. So the plan was to travel the five hour plus trip to Genoa by bus and meet the ship there. Before leaving Marseille we were taken from the train terminal by bus to the port of Marseille where there were makeshift tents set up with medical personnel and equipment.  Upon arrival we were tested twice and waited for the results.  One of the musicians tested positive resulting in the cruise line not accepting any of the people who rode from the train station to the port in the bus with him. We had the good fortune of riding in a different bus and therefor were cleared to continue on.  Keep in mind it was only a 15 minute ride from the train station to the port.  So those pour souls turned around and went back to Paris.  The rest of us having tested negative boarded a couple of buses and headed to Genoa.  It was late in the afternoon by the time we arrived at the port in Genoa.  There were a few other buses carrying musicians who traveled from other areas of France.  By the time we got through the check in lines and boarded the ship it was around 7:00 pm.  We had left our home in Paris 12 hours and thirty minutes earlier that day.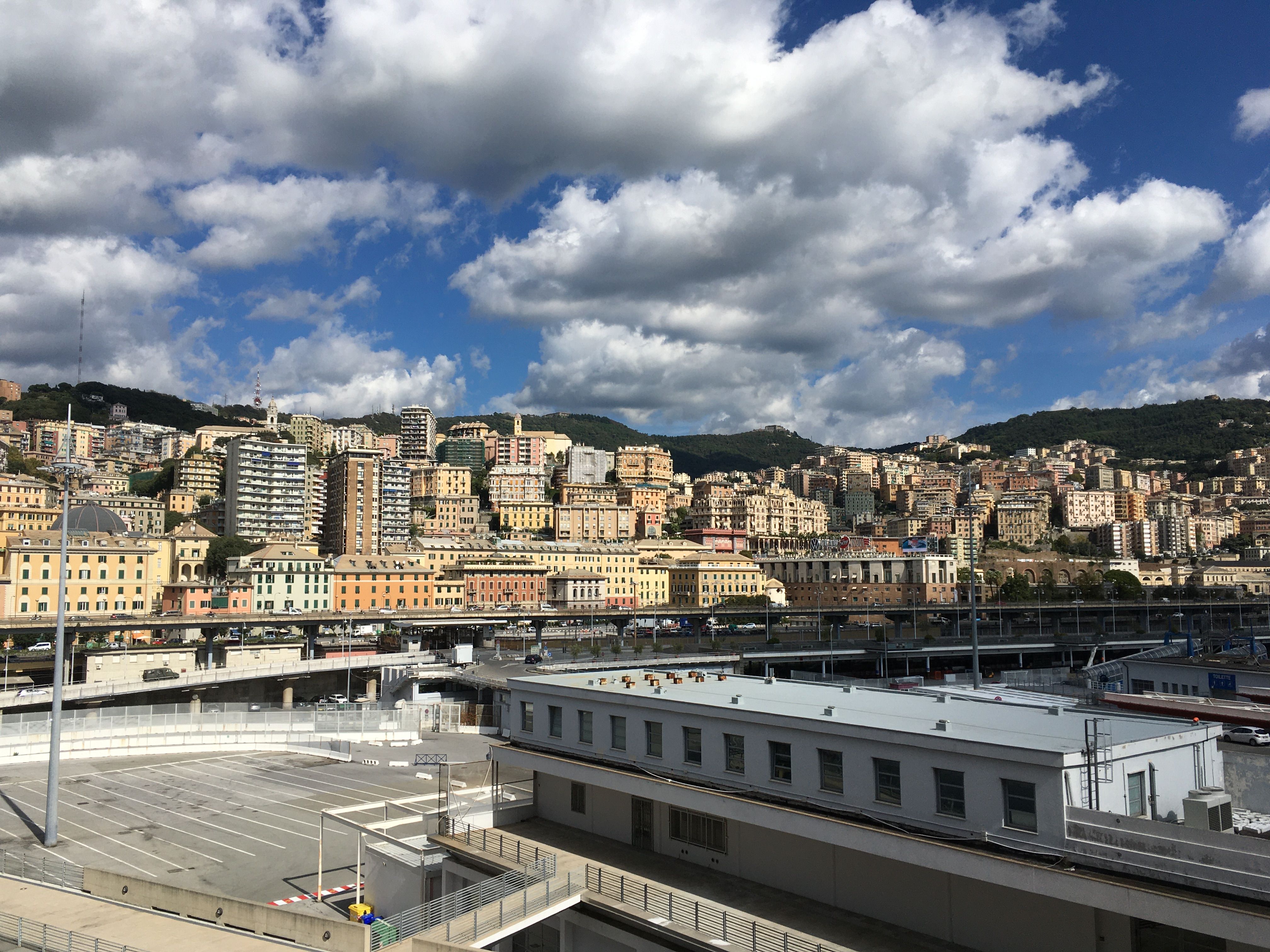 Port in Genoa, Italy.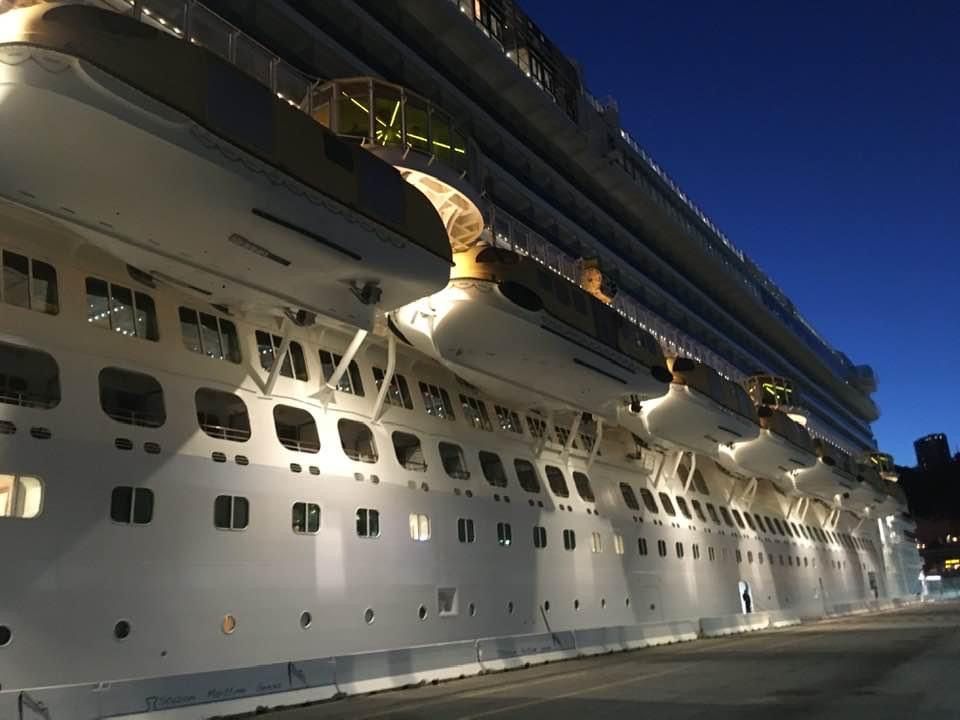 View of the ship as we boarded in Genoa, Italy.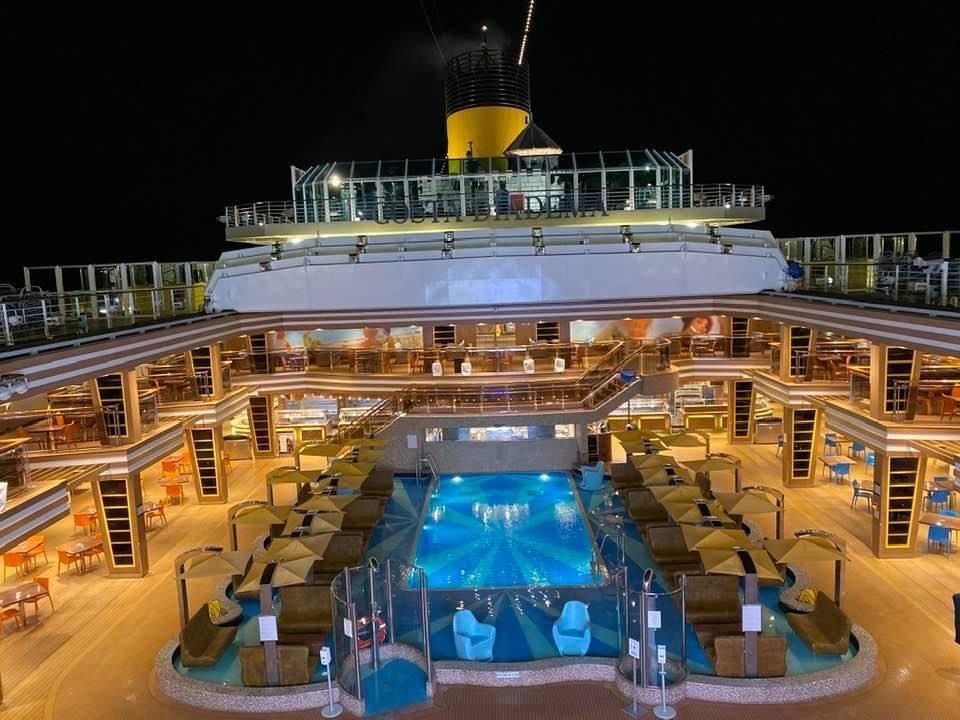 Poolside at night.
We were pleasantly surprised to find that we had a fairly large room, at least by cruise ship standards, or even by Paris apartment standards. There was a small terrace so we could sit outdoors, which we did quite a bit. The passengers would not arrive until the next day so we enjoyed a quiet dinner and an even more quiet night.  It would be the last quiet night we would have.  From that point on we needed to be flexible and accepting of schedule changes as new ensembles were formed to replace the musicians who were sent home before the cruise began. We were very fortunate in that we would be placed in a group of musicians that would change our band for the foreseeable future.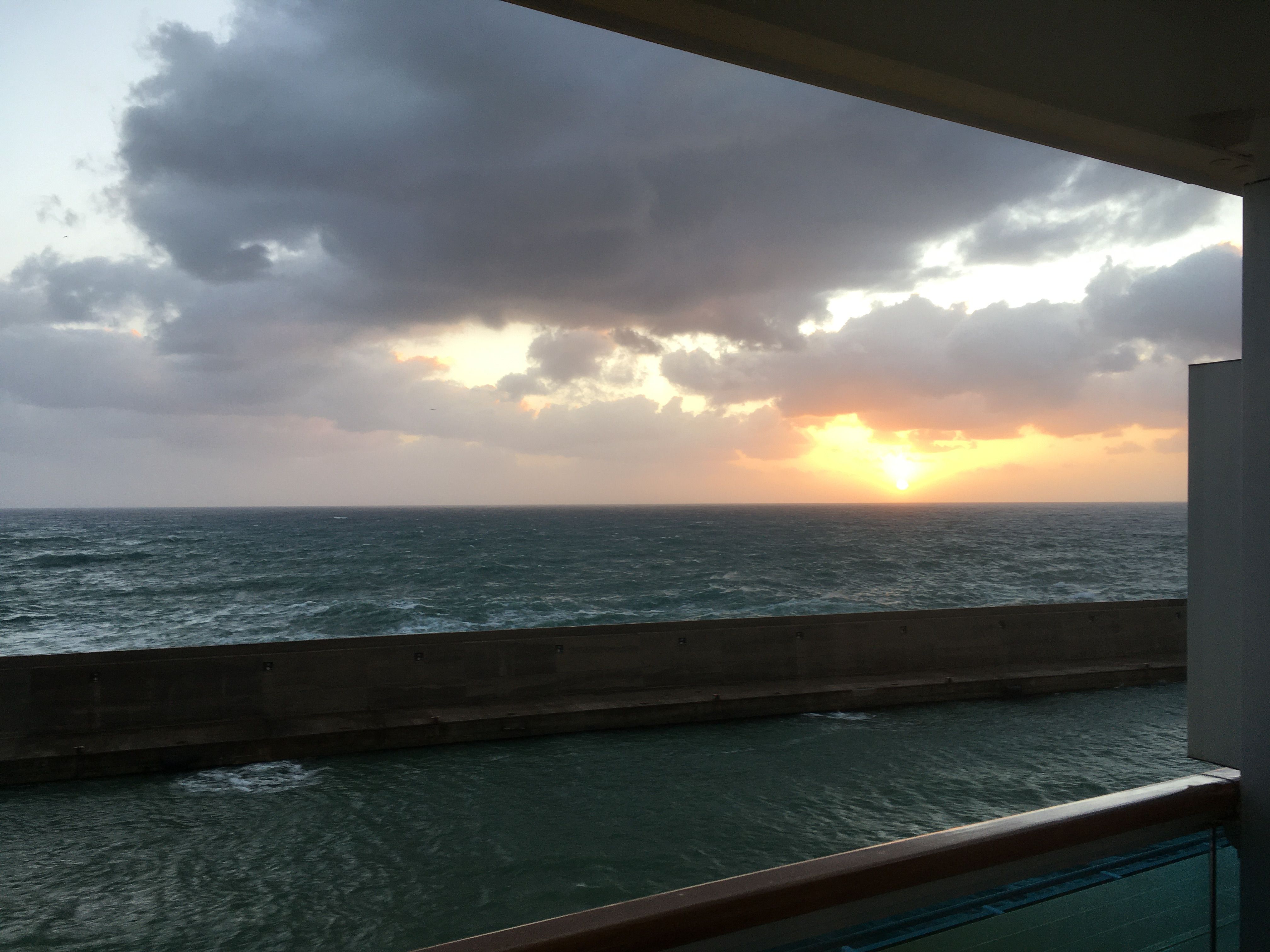 View from our deck, Lazio Italy.
The ship went to extremes to keep from having any Covid breakouts.  There were hand sanitizers at the entrance of every common area on board. The staff was constantly cleaning the ship day and night.  Masks were required everywhere except while eating or drinking.  Each week our terrace was sanitized.  Every so often you would see someone in a hazmat type suit fumigating the halls.  I don't even want to think of the chemicals we were breathing.  Once we had boarded the ship we were not allowed leave the ship to visit any of the port cities. We could take an excursion that was offered by the cruise line.  For those who left the ship with a group excursion there were more tests to take.  We opted to remain on board for the duration.  In all we were tested 5 times in two weeks.  Those passengers who tested positive faced the prospect of leaving the ship and being quarantined in a hotel for two weeks where ever the ship happened to be.  Needless to say Leslie and I feel very fortunate to have been healthy through all of this.  I have to say that I honestly doubt that I would have accepted the gig had I known it was possible that I would be left somewhere to be quarantined for two weeks.  Leslie says that she is not sure what she would have done. But we sure didn't ask all the pertinent questions before we left. 
So beyond all of that the trip was great!  No kidding, it was actually a lot of fun. The first concert I played was with an ensemble that included a drummer and bassist from Toulon that as it happened Leslie and I have worked with often.  The group included a guitarist that we also knew well and percussionist that we had just met.  Leslie came to listen to the concert and she agreed with my opinion that the group was a very good combination. That opinion was shared by the other musicians and so we decided to play as often as possible during the two week cruise.  We had so much fun playing that Leslie and I decided that when possible we would add the guitarist and percussionist to our Paris based band when we start touring again. Fortunately they are both based in Paris so the logistics are good. In addition they will be recording with us in Paris this December.  It will be the first of several sessions for our next CD.  While on the cruise we made an agreement to release this recording on a French label.  Leslie and I are very excited about the prospects for the expanded band and the new recording.  I am working on new arrangements to include them.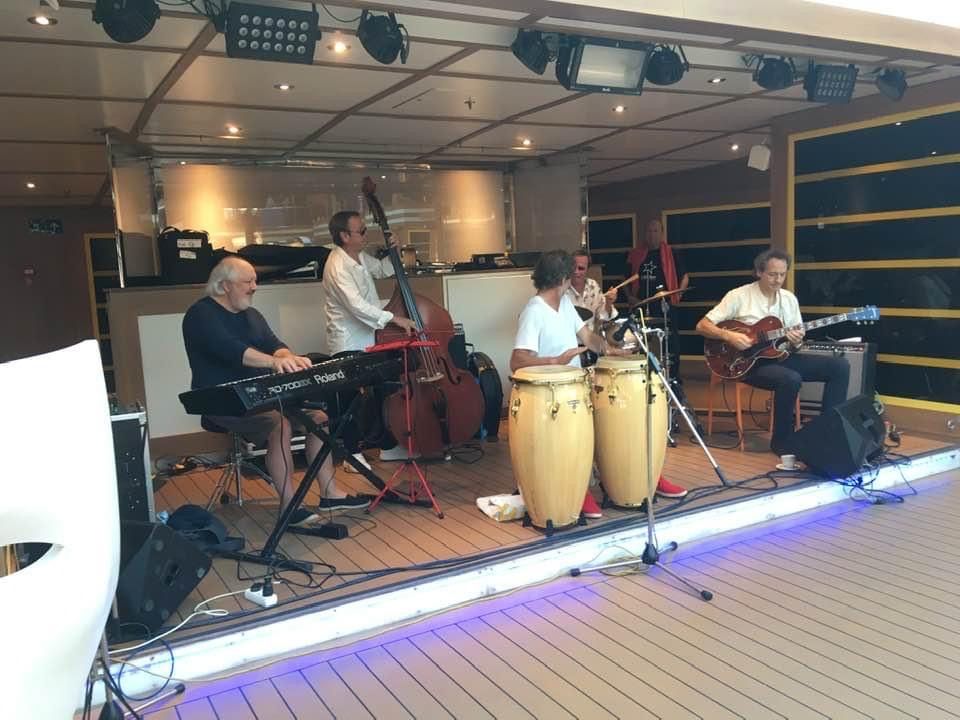 Instrumental set Poolside. Gerard, Christophe Le Van bass, Jean-Philippe Naeder percussion, Philippe Le Van drums, Nicolas Peslier guitar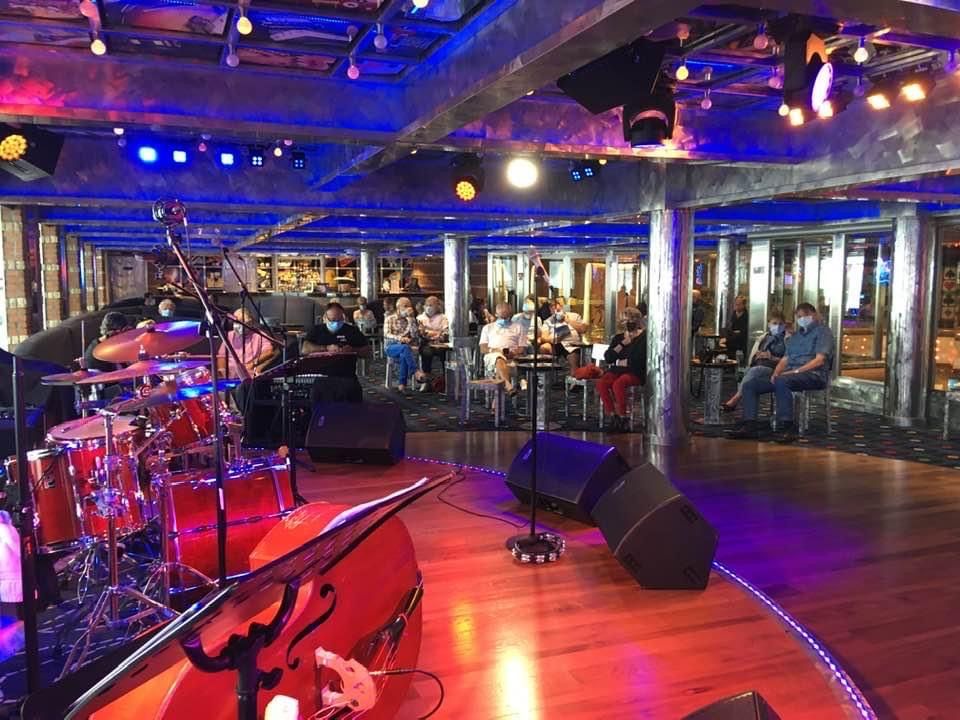 Pre-concert in the afternoon.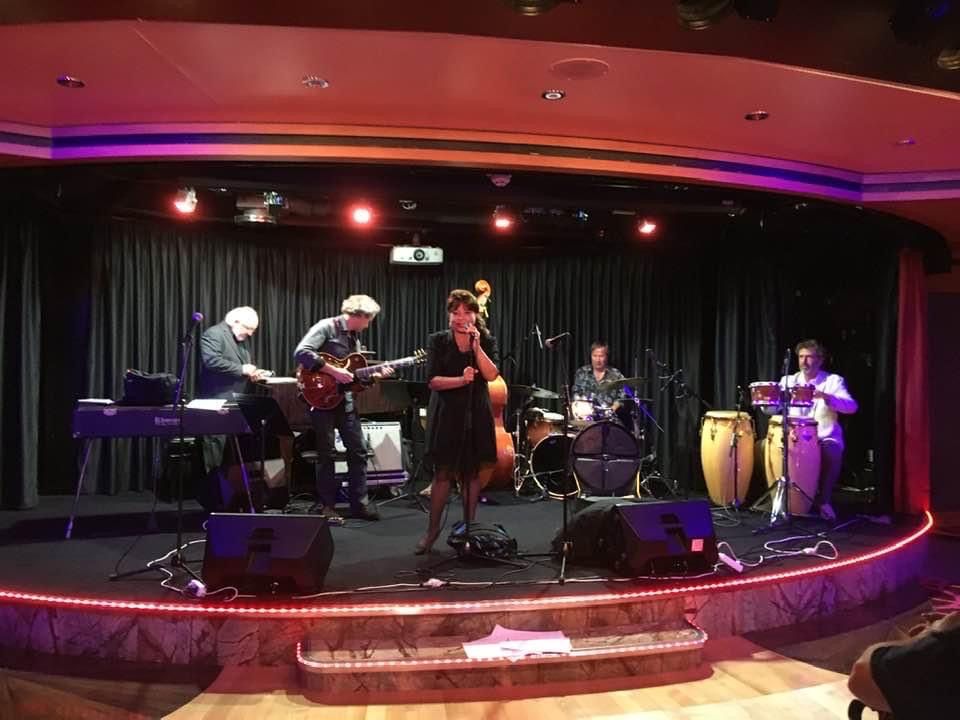 Before the late set, Gerard, Nico Peslier, Leslie, Christophe LeVan, Philippe LeVan, Jean-Phillipe Naeder.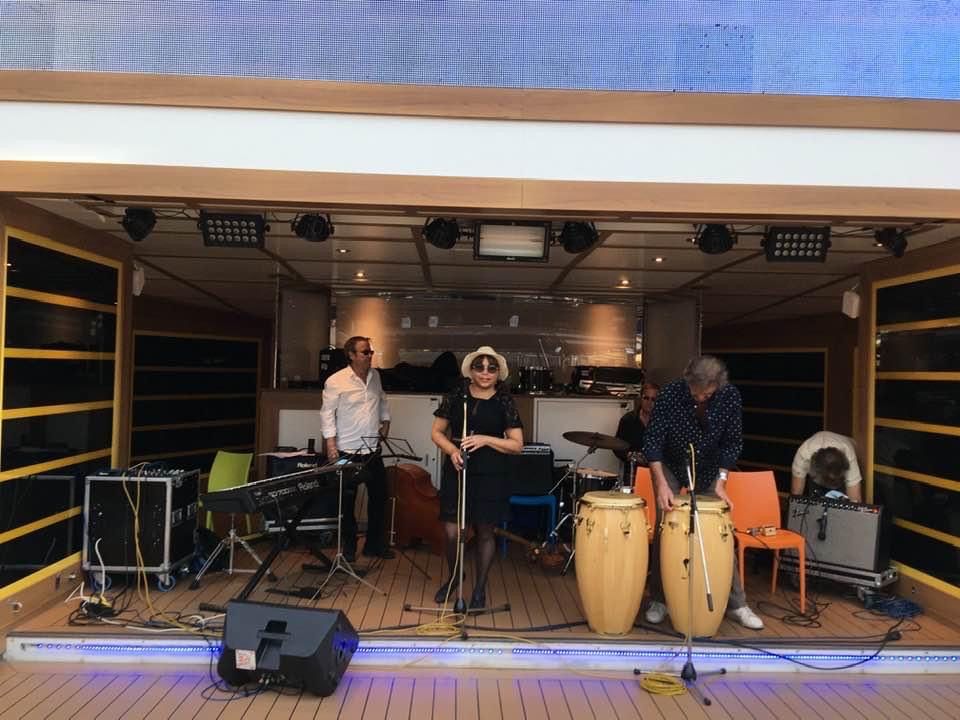 Leslie before a poolside set.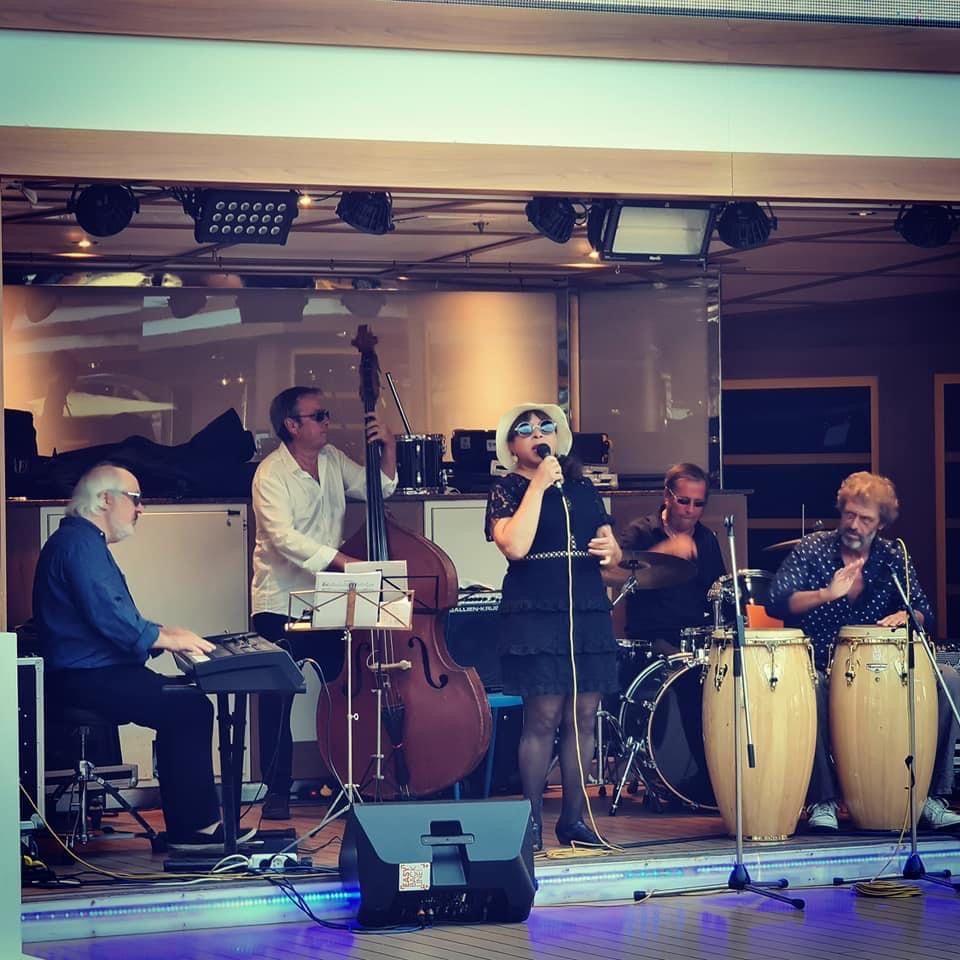 Gerard, Christophe LeVan, Leslie, Philippe LeVan, and Jean-Philippe Naeder, Nici Peslier not pictured.
During the cruise Leslie was featured on a concert with Rhoda Scott and also with a big band from Toulouse called Big Band Brass.  She sounded great with both groups.  We had four concerts together and I had the previously mentioned instrumental concert as well.  Every day there were concerts held poolside for late afternoon cocktails, followed by the main evening concert in the showroom and a late night set in one of the dance clubs that was converted to be a jazz club. Some days there was an 11:30 am poolside set, (which we were fortunate to never be scheduled to play) and somedays there was a mid afternoon concert in one of the clubs.  Finally we came to the last day of the cruise and we thought we had the day off when that morning Leslie received a text asking that she make an appearance with the big band during the last concert of the cruise.  It was only one song but it required that she spend several hours that afternoon doing a sound check and rehearsal and then of course the evening concert which affects dinner and so on.  Even though it cut into what should have been a day to relax, it was a good way to close the last concert in the showroom and a nice moment for a proud husband to enjoy from the audience.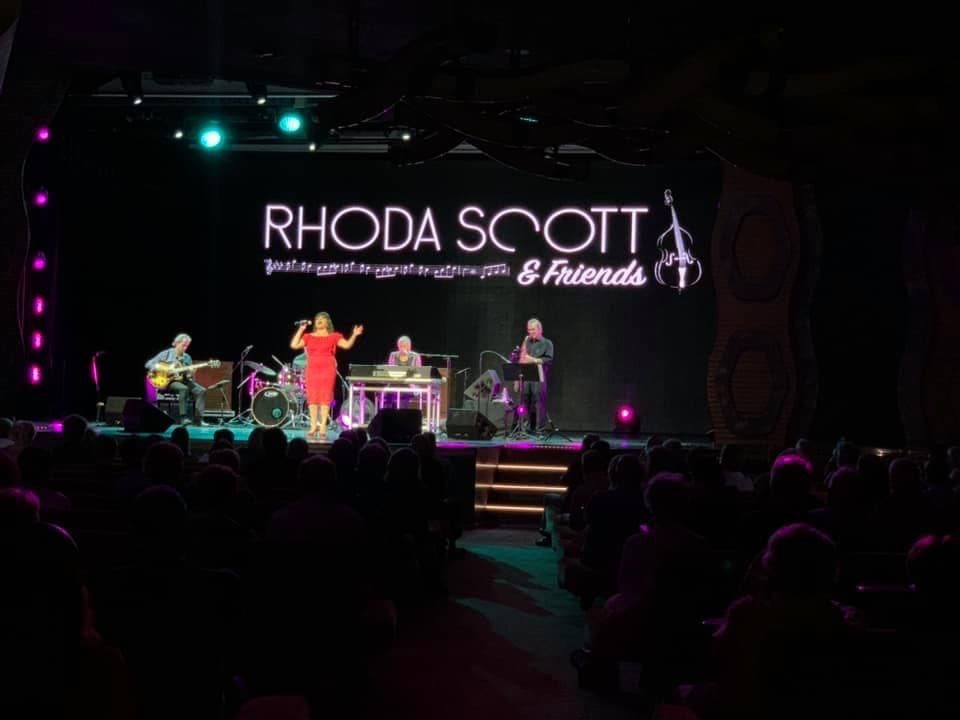 Leslie with Rhoda Scott.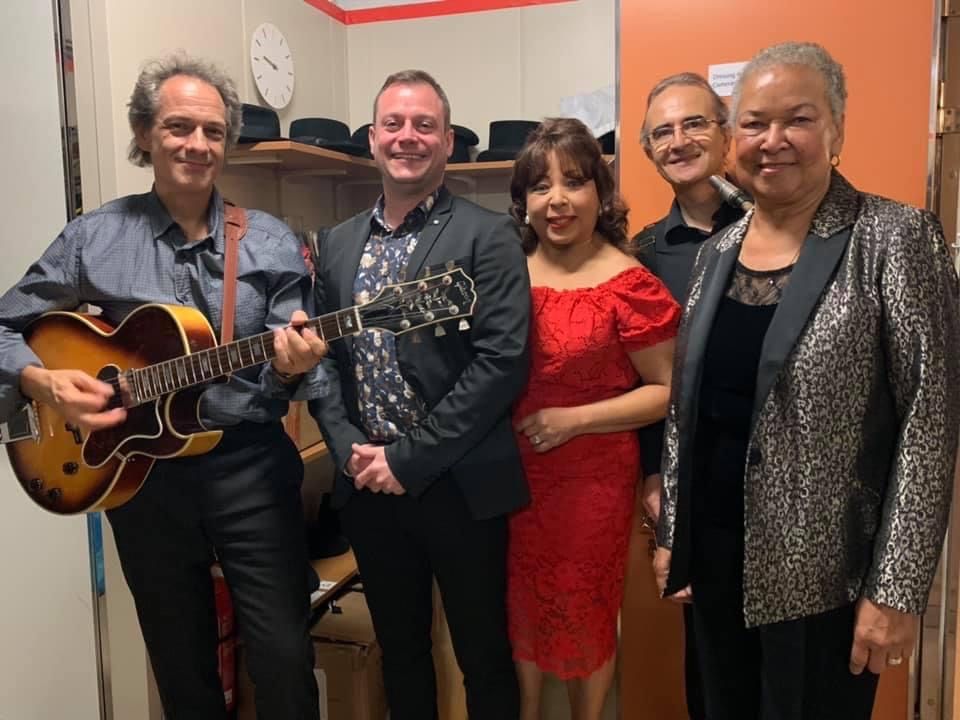 "Rhoda Scott & Friends" Nico Peslier guitar, Thomas Derouineau, Leslie, Philippe Chagne saxophone, Rhoda Scott.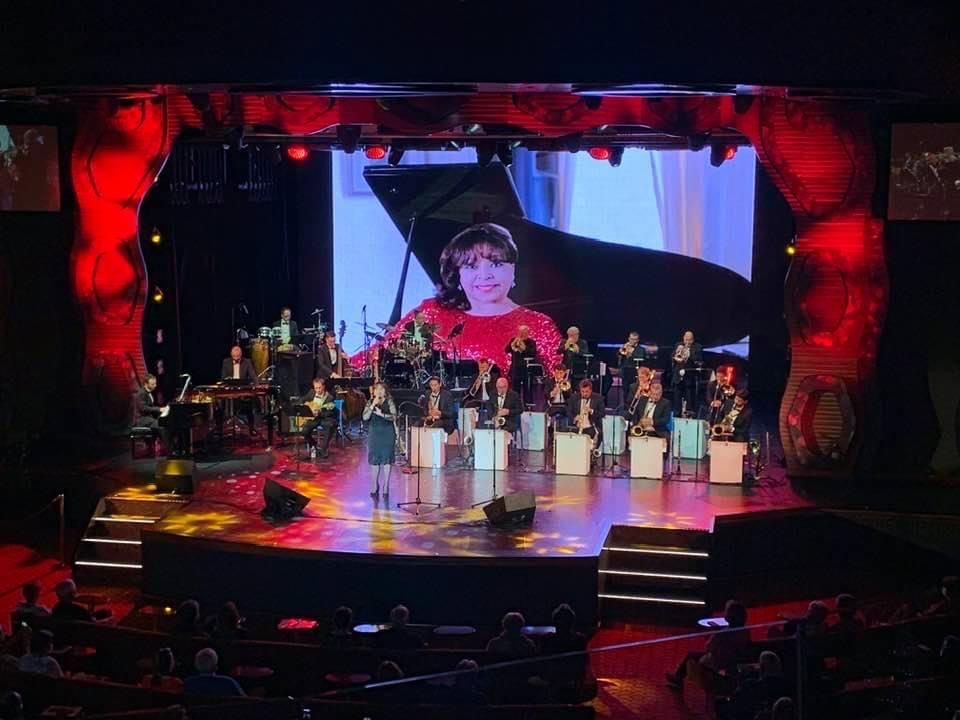 Leslie with Big Band Brass.
This week I begin my classes at IMEP.  Having missed the first two weeks of the semester I have some catching up to do.  The teaching conditions will be different from what was the pre-pandemic norm but then again every year is different anyway so there is always something new to manage, we're jazz musicians, it's what we do. 
Thank you for giving us your time and attention, we appreciate it very much. 
Please check our website for news and updates. While you are there please sign up for our weekly email blast to learn where you can hear us. http://www.surfcovejazz.com   
We hope that you are all healthy, safe and able to see better times coming ahead. Thanks for staying in touch with us.                
Until next time,  Leslie et Gerard