Bonjour de Paris ... 
         "Crazy Huh?"   
Chers Amis,  
Things have been incredibly busy here.  Paris is essentially back, (for now).  The streets are busy, as are the stores, restaurants, clubs and theatres. People are traveling again and in general things feel better now. There are some isolated areas in France that are still dealing with higher cases of Covid and the government is urging older people and those with special health conditions to get the booster vaccination.  Germany is seeing a rise in cases and the U.K. has been a mess pretty much through out this whole ordeal. One never knows what is coming next therefore I qualified my above statement that "Paris is back".    
For those of you who haven't been in Paris for a few years, you might be surprised by the number of bike lanes that have taken over the streets here.  There has been a vigorous push to make Paris even less vehicle friendly than it already was while simultaneously training people to use bikes and scooters to get around the city.  The result is that you have to be very cautious as you make your way about the city on foot because there are way more bikers who don't follow any rules of the road. Some of you will remember the "Whaky Races" cartoon from our childhood. Some parts of Paris resemble that cartoon. 
We have seen more and more friends and acquaintances from America visiting us at our gigs.  Our concerts are full, not just ours but many clubs and restaurants are doing very well.  The weekends at Chez Papa Jazz Club, one of the clubs we play monthly, are booked solid until the end of the year. One story that needs to be told concerns Bobby Chitwood and Sue Hilton our friends from Dallas.  They had just been in France and we of course got together for dinner and got caught up. So a few weeks later we were doing two nights at Sunside Jazz Club to debut the new band and recording. On our second night I walk on the bandstand to begin our first set, the room is sold out and it is a very intimate space, meaning that the audience in the front row are at best 3 or 4 feet away.  I sit at the piano and look out over the room and in the second row I see Bobby & Sue who had flown in that afternoon to surprise us.  I tried to get over to embrace them but I couldn't get that close.  When Leslie walked up on the stage I warned her that they were in the audience because I was concerned that seeing them just as she was about to launch into the first tune would take her out of the "performance mode" she gets in before a show.  It was such a great surprise and we were so overwhelmed that they would do something like that for us.  We were able to go out for a late night dinner after the concert and had a great evening, well actually early morning, with them. They stayed one more day and then flew back home.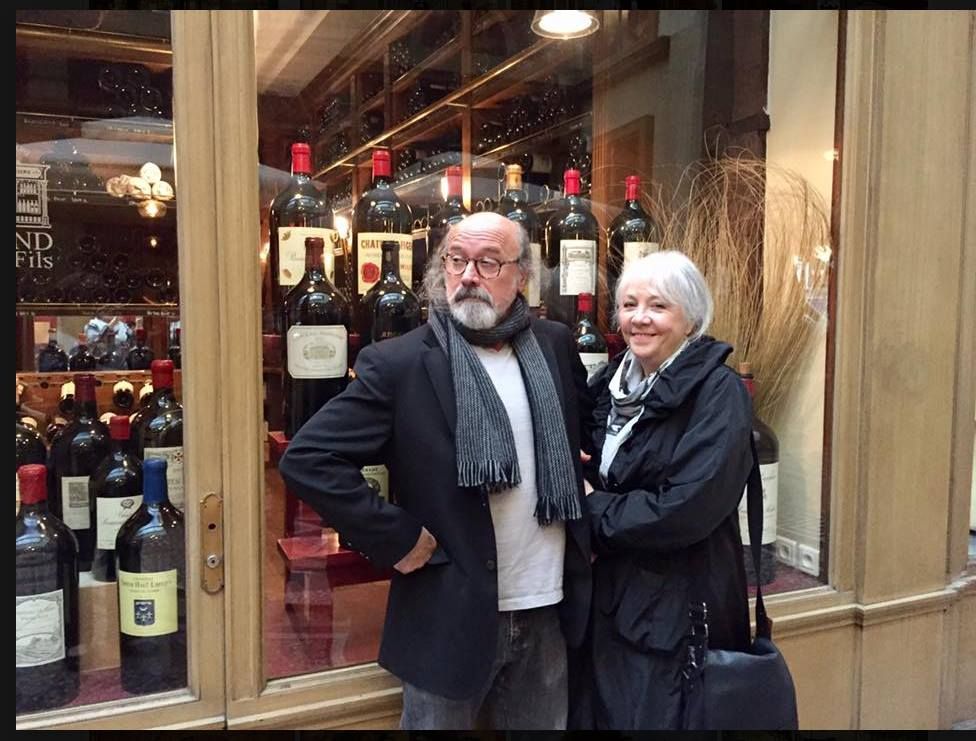 Bobby Chitwood & Sue Hilton in Paris. 
Our big news is the Paris debut of our "Funky Ella" project.  We did two sold out nights at Sunside Jazz Club on a Tuesday and Wednesday in late October.  It was such a blast!  From the very first tune, the band was feeding off of the energy in the room and in turn generating even more energy as the night progressed. Although from my perspective it was pretty loud, you would never know it from the audience response. The room was electric and so the volume seemed to be in keeping with the moment. The inclusion of a percussionist adds a whole new visual, as well as sonic, element.  Leslie knew that this would be a whole new experience for people who have been to hear us in past. So she  changed her appearance in her choice of clothing but also she changed the way the sets were paced in order to showcase the energy and visual elements of our new band.  Funky Ella has concerts booked into August and we are getting emails from promoters who are interested in booking the band into the 2022-2023 season.  So we are off to a good start.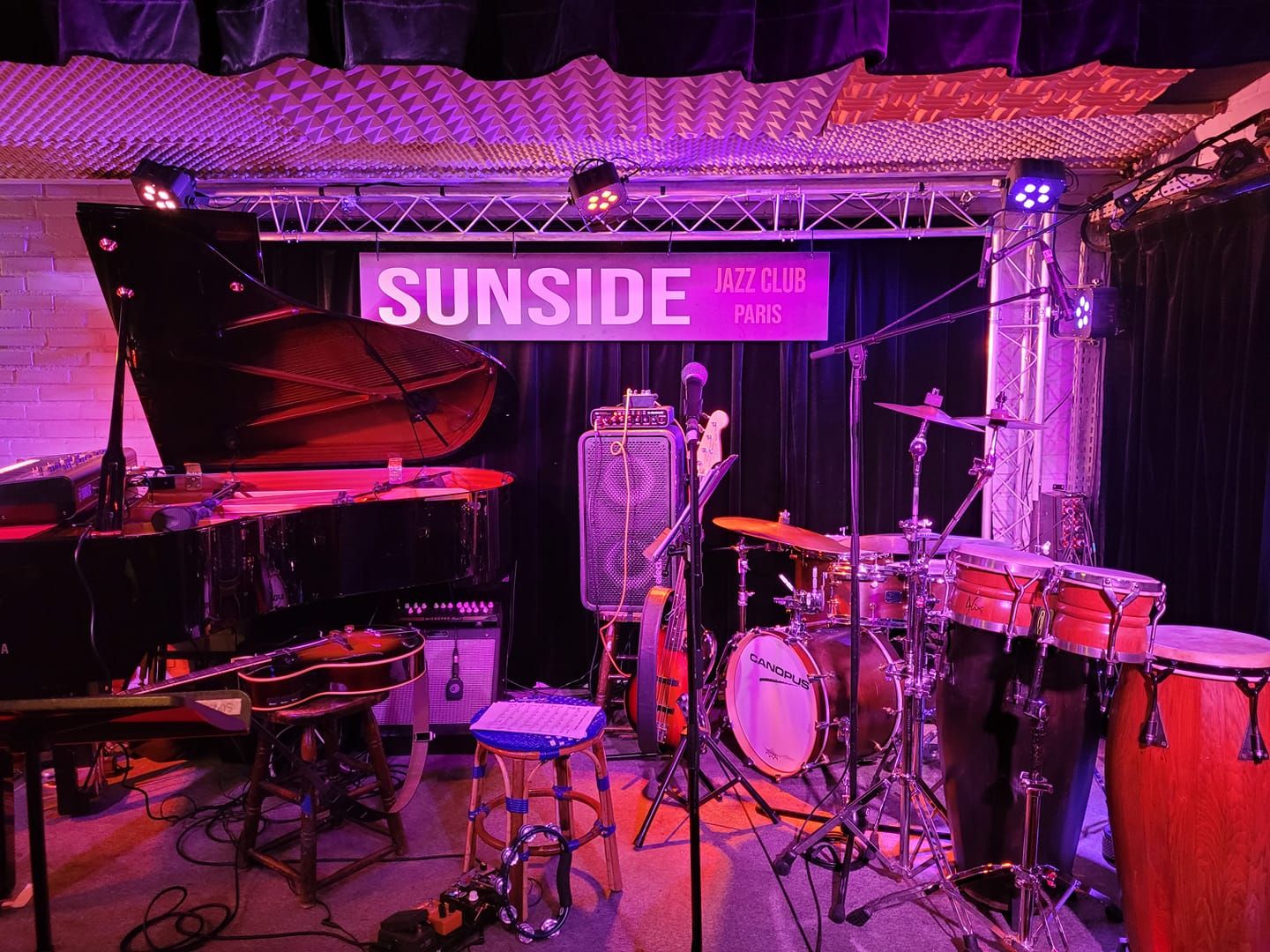 With help from the crew at Sunside Jazz Club we managed to fit a six piece band on a stage that is designed for a quartet.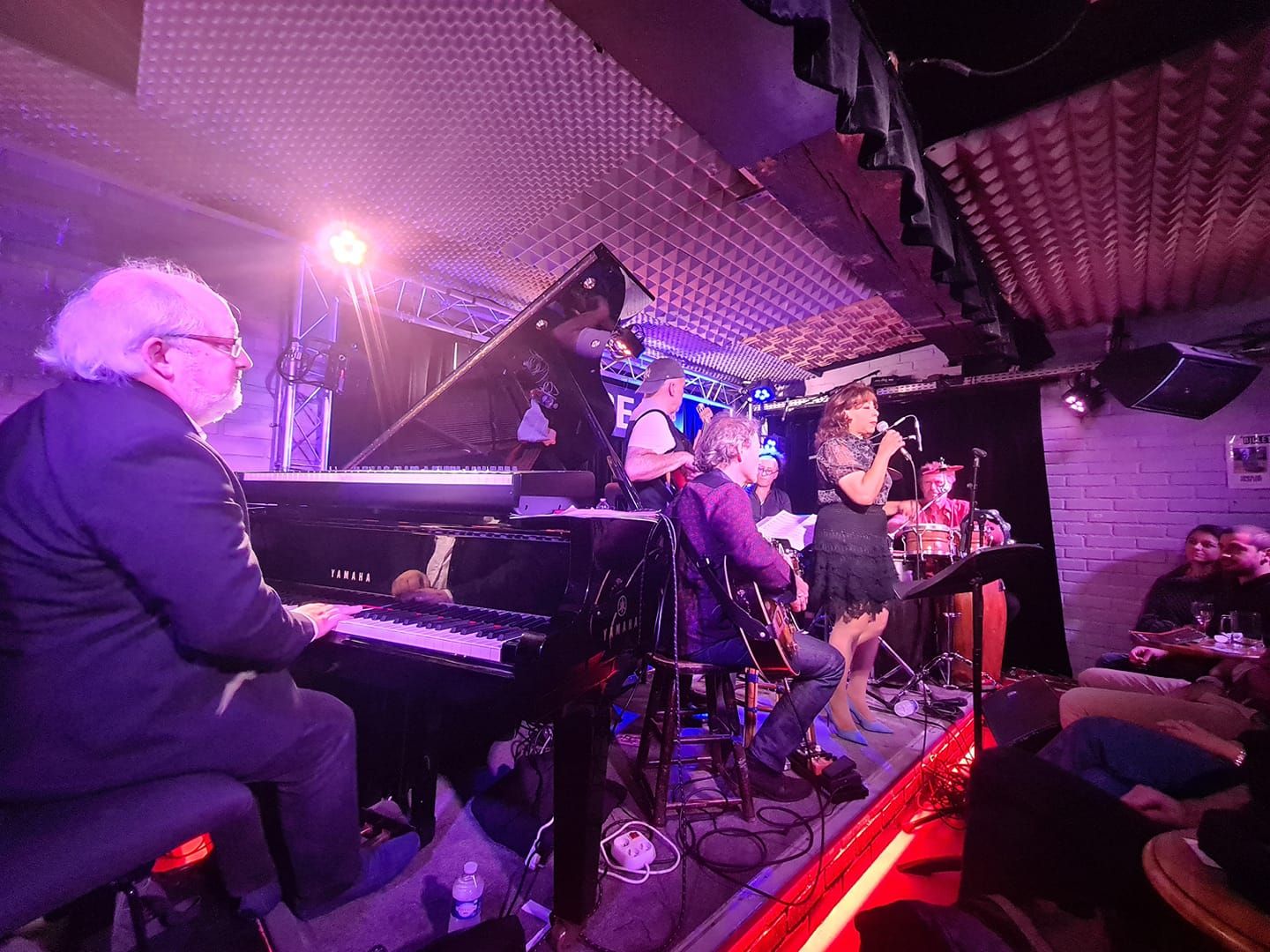 The "Funky Ella" band debuts in Paris to a sold out audience. 
Here is a short video from our first night at Sunside Jazz Club. 
Another short video from our first night at Sunside Jazz Club. 
The CD rollout continues with a push for print reviews and for streaming platforms.  So far the recording can be streamed on any number of platforms but the main ones are: 
- Bandcamp: https://leslielewisgerardhagen.bandcamp.com/album/i-put-a-spell-on-you 
- Spotify: https://open.spotify.com/album/6gkHqDEBeQSm8akBXBtofv 
- Apple Music: https://music.apple.com/us/album/i-put-a-spell-on-you/1587307010?uo=4&app=itunes 
- Amazon: https://www.amazon.com/gp/product/B09H2V1Z3S 
- Deezer: https://www.deezer.com/us/album/261114482 
Radio FIP played "Come Together" (after the Kurt Elling track-so you have to fast forward) during the ClubJazzAFIP:https://www.fip.fr/emissions/club-jazzafip/club-jazzafip-du-vendredi-24-septembre-2021 This is cool because radio FIP is a national broadcast that is well regarded. 
The magazine Jazz Hot, wrote a review.  (Sorry you will have to use Google translate if you are even interested, I just wanted you to know what was going on here) "I Put A Spell On You":https://www.jazzhot.net/PBCPPlayer.asp?ID=2213579#FunkyElla 
CD's are available for pre-order at FNAC in France: https://secure.fnac.com/SearchResult/ResultList.aspx?SCat=0%211&Search=leslie+lewis+funky+ella&sft=1&sa=0 
You can find out more information about our Funky Ella project at: www.funkyella.com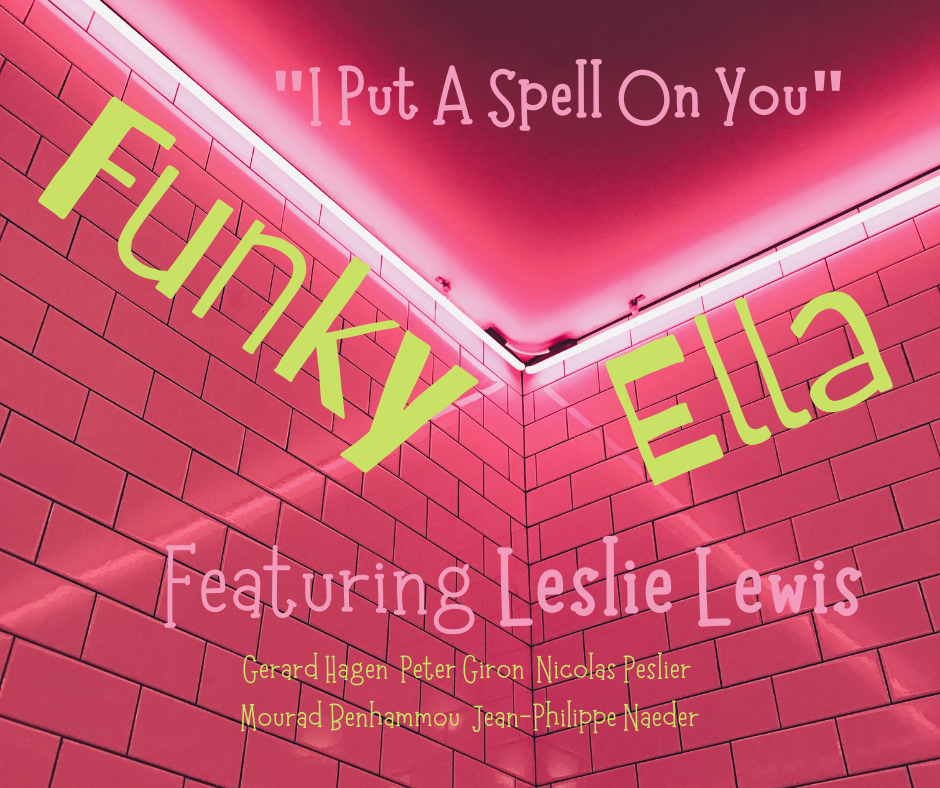 Cover of "I Put A Spell On You". 
A few weeks ago I bought a Yamaha CP73 stage piano, without going into all of the details why I chose this particular model, I'll just say that it ticked most of the boxes. I have never been interested in using a keyboard as a stand alone instrument, I have always owned one to use in those instances where a decent piano wasn't available.  However with the CP73 I did find a number of the sounds to be pretty engaging.  Enough so that I began to include some of them into the new arrangements that I wrote over the past few months.  Now that we are starting to book the Funky Ella band on some dates around France, I'm realizing that I am going to have to have that keyboard at those concerts.  So now I have given myself a whole new set of logistical problems. I'm wondering if we are going to end up touring in a van like the old days when I was 19 years old.  Back then it was a Dodge maxi-van.  Later this month some of us will be hopping in a van, and others will take the train to head to La Baule for the next "Funky Ella" concert.  It looks like we are going to have to figure out the planes, trains and vans thing very soon.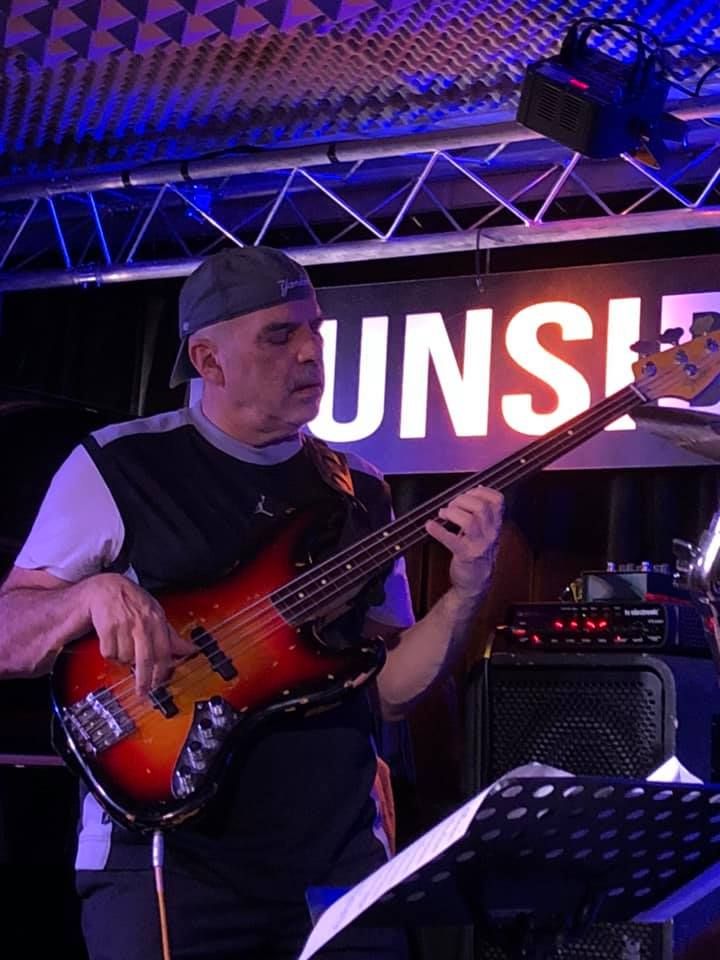 Bassist and New York Yankee fan, Peter Giron. 
Speaking of touring, Leslie and I were set to play two concerts in Minsk, Belarus in early December.  We were a little concerned because of the political unrest there but we had been before and besides a few crazy things that mainly provided some good stories, we got there and back home just fine.  But over the last few months things have gotten more militant and there is a very different political situation from the last time we went in 2019. Belarus has become even more isolated from the E.U.  The promoters had to book us on Turkish Airways and route us through Istanbul because no E.U. based airlines are able to fly into Belarus. So before going to our appointment with the visa section of the Belarus Embassy in Paris, I decided to check to see if the U.S. State Dept. had a travel advisory for Belarus. There are four levels of travel advisories that range from "exercise normal caution" to "do not go". Belarus was level 4 "Do Not Go".  So we canceled our appointment and the concerts and we are staying in Paris.  We did cover the expenses that the promoter incurred and figured that we had burned that bridge.  A couple of days ago they contacted us to see if we would come in April!  Crazy huh? 
Thank you for giving us your time and attention, we appreciate it very much. Please check our website for news and updates. While you are there please sign up for our weekly email blast to learn where you can hear us. http://www.surfcovejazz.com   We hope that you are all healthy, safe and looking forward to better times ahead. As always thanks for staying in touch with us. 
Until next time,  Leslie et Gerard